Holidays to Minorca
The island of Minorca (Menorca) is ideal for couples and a great choice for family holidays. The island remains a picturesque and almost tranquil holiday destination, the local planners managed to resist the high rise developments that its neighbouring islands fell victim to during the package tour boom of the sixties and seventies and because of that the island has remained largely unspoilt and relatively peaceful with a scattering of hotels and apartments in each resort. Many Minorca hotels offer a picturesque setting with glorious beaches and a family-orientated atmosphere. The island is made up of more than 100 beaches, pine forests, rocky outcrops, rolling hills and traditional fishing villages. Holidays in Minorca are not complete without a visit to the island's capital, Mahon with its 18th-century gin distillery and bustling local markets. One of Mahon's other claims to fame is that it is the site of the world's second deepest natural harbour.
Call FREE on 0800 849 1285 or click here for quote by email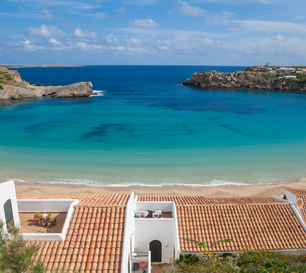 Arenal d'en Arenal d'en Castell and the neighbouring resort of Son Parc are located 12 miles North West of the airport and the capital of Minorca, Mahon.
An ideal choice for families with small children, they are attracted to the warm shallow waters of the horse shoe bay and its idyllic golden sandy beach that is well equipped with sun loungers, pedalos and windsurfers. more...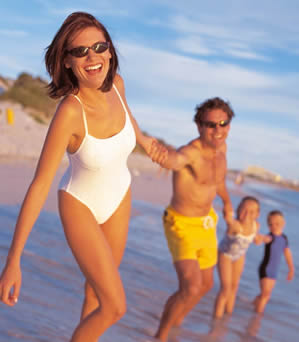 The resort of Cala'n Bosch is situated on Minorca's south west coast, approximately 10 kilometres south of the old capital Ciutadella. Cala'n Bosch is one of Minorca's most recent developed resorts, here you will find a couple of larger sized hotels such as the Valentin Star and Turquesa Mar however accommodation here is mainly self catering apartments and privately owned villas that are designed for families and couples.
Cala'n Bosch would be a great choice for a relaxing family beach holiday, especially those with older children.. more...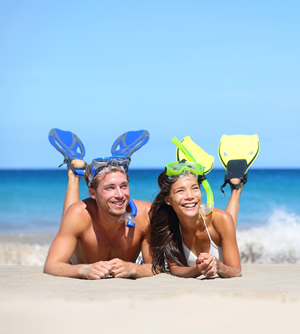 Cala'n Blanes has developed rapidly along with the neighbouring resorts of Cala'n Forcat and Los Delfines and over time they have formed in to one large resort, this new merged resort is now possibly the largest tourist development on the island of Minorca.
Situated only 5 Kilometres from Ciutadella on the extreme west coast of Minorca the three resorts are located around 50 Kilometres from Mahon and the island's airport more..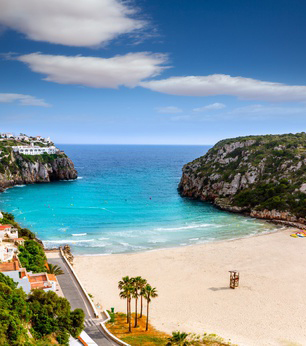 Cala'n Porter and Son Bou are two resorts situated on the south coast of Minorca. Cala'n Porter resort is positioned on some of Minorca's famous cliffs, making it a particularly memorable resort and if you're accommodation is on top of the cliffs then you will enjoy the great views!
However If you've mobility difficulties then this Minorca resort might pose a few problems as you have to go up and down many steps to get to the beach. There is a mini train doing the route for a few euros. more...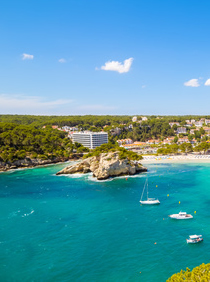 One of Minorca's most picturesque beaches is to be found at Cala Galdana. The horse shoe bay is surrounded by pine filled cliffs overlooking the sandy shoreline. It's a lovely resort, with much of the accommodation located at the top of the cliffs this guarantees some great views across the bay!
As with most resorts along the south west coast of Minorca there are steps to climb up and down from the beach, so if you've young children or mobility issues it's worth bearing this in mind. more...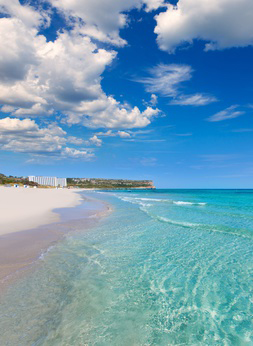 Son Bou like its adjacent twin Cala n' Porter is located on the south coast of Minorca, and around 12 miles west of Mahon and the airport. It has a large but welcoming white sandy beach. The beach is about 2 miles long and to the rear of the beach are the spectacular sand dunes and marshes which are a protected nature reserve.
Son Bou is a superb family resort, with ample shops, supermarkets and souvenir shops. However these amenities are located in two separate places as there are two commercial centres. One is found opposite the Sol Hotels and the other next to the self catering Son Jaime complex. more...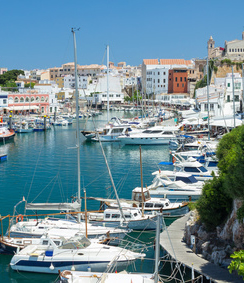 Excursions and things to do in Minorca
Holidays to Minorca have plenty to offer the visitor, with great sites to see both geographical and man-made. There are every type of water-sports, horse riding, boat trips, golf courses, sea fishing, jeep safaris and a multitude of activities to keep the most active of holiday makers happy.
Minorca's rich historical past provides endless opportunities to see architecture, visit museums, and archaeological sites. Our customers have recommended an island tour or car hire to see the amazing scenery that Minorca has to offer. Not to be missed are the views from Monte Toro and a visit to the port and Capital Mahon!