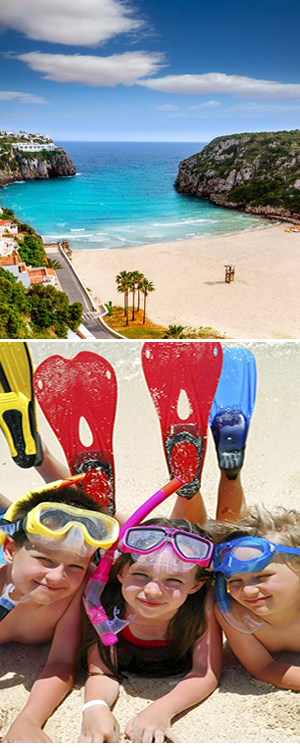 Holidays to Cala'n Porter
Cala'n Porter and Son Bou are two resorts situated on the south coast of Minorca. Cala'n Porter resort is positioned on some of Minorca's famous cliffs, making it a particularly memorable resort and if you're accommodation is on top of the cliffs then you will enjoy the great views! However If you've mobility difficulties then this Minorca resort might pose a few problems as you have to go up and down many steps to get to the beach. There is a mini tourist train doing the route so for a few euros you can relax up the incline. If you have a car there is some limited car parking by the beach.
Once down on the beach it is worth the effort. Cala'n Porter golden beach lies in a sheltered bay, encased by cliffs, there are pedalos and water sports available or you can swim in the warm clear waters. You can hire sunbeds and parasols and relax in the Mediterranean sunshine and for peace of mind there is a life guard on duty every day in the summer.
Cala'n Porter is a lively resort by Menorca standards, with a selection of lively bars, and a late night club. Don't get the wrong idea, the resort is generally low key, with most of the entertainment hotel based and all-inclusive for families. If it is important to your holiday enjoyment it is a good idea to check with us before you book your holiday if the accommodation provides entertainment.
Cala'n Porter is most popular with British visitors, and there are ample supermarkets with British food if you're not feeling too adventurous!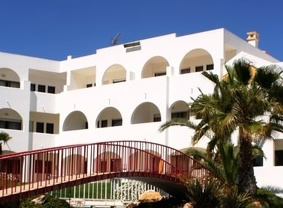 Whether you are looking for a cheap last minute holiday, an all inclusive family hotel or a luxury property, Minorca has a wide variety of holiday accommodation to suit everyone.
To see a list of our favourite Minorca hotels please click Minorca Hotels
Cala'n Porter - Google Maps
Search Cala'n Porter Hotels