Holidays to Majorca
Majorca is the largest of the Balearic Islands and is the most popular Spanish holiday destination for UK visitors. The island provides a wide range of holiday options from beach holidays in quaint sheltered coves, walking holidays through deserted olive groves or treks high in the Tramuntana mountains to all night party resorts with raucus bars and nightclubs.
Majorca has a rich history and heritage to explore alongside its obvious tourist attractions, the capital Palma is a delight and the glorious sunshine and beaches keep the enduring popularity of this amazing destination alive with over 8 million visitors arriving each year.
Call 01226 345381 or click for quote by email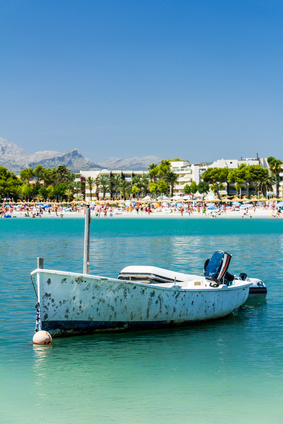 The popular holiday resort of Alcudia is set amid a six-mile stretch of beach, it has a quaint old town, charming harbour and a rich history.
Set in the north of Majorca, Alcudia's history includes occupation by the Romans, Greeks and Phoenicians and nowadays by British holidaymakers!

The old town in Alcudia is located within an ancient Moorish fort and features historic squares, street cafes and a small Roman amphitheater.
Alcudia's long beach stretches all the way to the resort of C'an Picafort, and offers glass bottom boat trips plus a range of water sports that include; windsurfing, pedalos, para-sailing, banana boats, jet skiing and snorkeling.

more...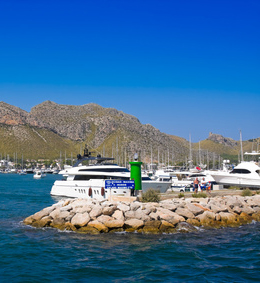 These two northern Majorca resorts are a popular choice for couples and families who really appreciate the great beaches and safe bathing. Puerto Pollensa has a wide range of attractions; great scenery and a relaxed atmosphere. The Tramuntana mountain range provides a stunning backdrop to the resort's sheltered horseshoe bay. The quiet cove of Cala San Vicente is one of Majorca's smallest resorts and is the perfect destination for a blissful holiday. more...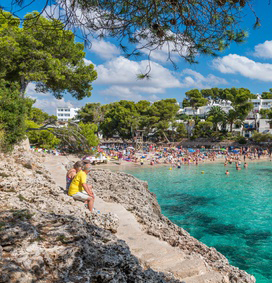 Located on the southeast coast of Majorca, this chic resort boasts a good range of shops and bars, a marina, yacht club and fine restaurants, you can still find some traditional whitewashed Spanish houses. During the day relax on the beautiful beaches or visit the marina, the perfect spot to unwind over a coffee and watch the sailing yachts cruise into the pretty harbour. more..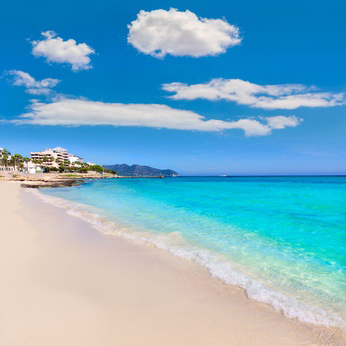 Cala Millor is the largest and most popular family holiday resort on the east coast of Majorca. Its sandy beach stretches for approximately one kilometre and is lined by hotels, apartments, bars and restaurants along the pleasant promenade. Many of the larger hotels are located at the southern end of the beach whilst the smaller establishments are found closer to the centre, where much of the resort's nightlife is also to be found. more...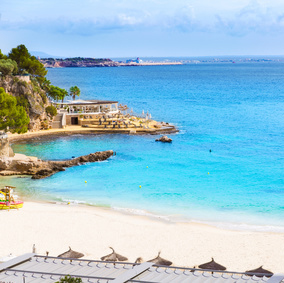 Illetas was one of the first resorts on Majorca, conveniently situated on the old coast road just outside the capital city of Palma and a mere 6 miles from the airport. Illetas is an almost forgotten gem of a holiday destination.It has a scattering of luxury four and five star hotels such as the Bon Sol, Melia De Mar and the Riu Bonanza Playa, the resort provides an ideal choice to combine a quality beach hotel by day and the delights of Palma by night.more...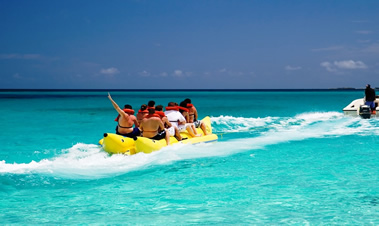 Holidays to Magalluf are definitely not for the faint hearted. During the summer holidays this action-packed resort is geared mainly to British holidaymakers, aged between 18 and 30, who come to soak up the sun by day and party in the bars and clubs by night. more...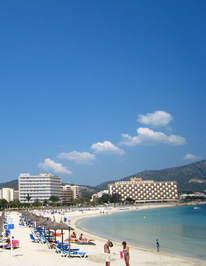 Bordering the lively resort of Magalluf and nine miles west of Palma lies the popular tourist resort of Palma Nova. This lively resort attracts families, couples and partygoers alike.
Situated on a picturesque crescent shaped bay, the golden sandy Palma Nova beach area is lined with shops, bars and restaurants.
Palma Nova has in fact three beaches in total, as well as Palma Nova beach there is Son Matias, and Son Caliu, all of which have been given a blue flag award for cleanliness. more...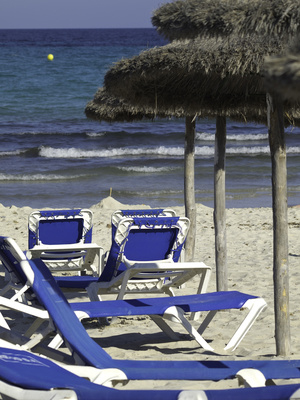 Sa Coma on Mallorca's east coast is a family friendly resort situated just south of the better known resort of Cala Millor. The journey from Palma Airport takes around one to one and half hours depending on the traffic. Sa Coma is popular predominately with both British and German holidaymakers.
Although there's a wide choice of accommodation here from modest apartments to the latest 5 star development (the Biomar Protur Gran Hotel and Spa). The resort hasn't grown into a mass tourism destination and is best suited for anyone looking for a 'chilled out' relaxed family holiday with access to a superb sandy beach. more...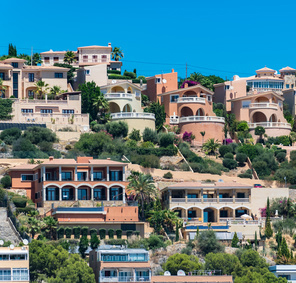 Santa Ponsa is located on the south west coast of the holiday island of Majorca around 20 kilometres west of the city of Palma. After the bustling resorts of Magaluf and Palma Nova Santa Ponsa is the third most popular resort with British tourists on Majorca's south west coast. It has plenty of Shops, restaurants and British bars throughout the resort but not nearly as many as the nearby lively resort of Magalluf. more...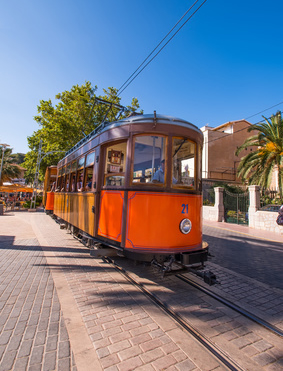 Excursions in Majorca
Holidays to Majorca have plenty to offer the visitor, with great sites to see both geographical and man-made. There are every type of water-sports, horse riding, boat trips, golf courses, sea fishing, submarine dives, jeep safaris and a multitude of activities to keep the most active of holiday makers happy.
Majorca's rich historical past provides endless opportunities to see architecture, visit museums, and amazing archeology. Our customers have recommended an island tour or car hire to see the amazing scenery that Majorca has to offer, with the north west coast, Cap de Formentor, Cala de San Vicente and Es trenc noted as particular highlights, the Caves of Drac are a popular excursion, the Pirates show in Palma Nova has had rave reviews for evening entertainment but a trip on the Soller railway and a visit to Palma and its Cathedral are hard to beat!