Holidays to Gran Canaria
Gran Canaria is an island of many contrasts, here you will find desert like sand dunes, golden beaches and emerald mountains, whitewashed tiny villages and large busy tourist resorts, quaint restaurants serving traditional Canarian dishes and fast food take aways, historic local festivals and the latest throbbing nightclubs, cool clear lakes and man made water parks.
Visit this wonderful island and discover the parts of the island that suit you, there is a wide choice of accommodation with the majority of visitors choose to stay in the good quality properties found in Gran Canaria's more established resorts of Puerto Rico, Maspalomas or Playa del Ingles or the smaller resorts of Playa Taurito and Puerto Mogan.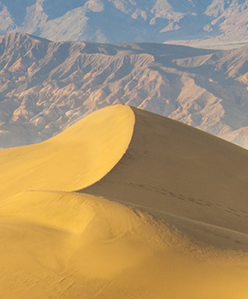 Maspalomas is a great holiday choice, the excellent year round weather is a major attraction for both Summer and winter breaks!
Located on the southern tip of Gran Canaria, the resort lies next to the neighbouring lively resort of Playa del Ingles. Maspalomas though, is the quieter and more upmarket option, the resort boasts the best four-mile (around 6 kilometres) stretch of golden, sandy beach on the island. Maspalomas holidays are not just for about beach-life, here you can recharge your battery and relax in one of the wide choice of quality 4 and 5 star hotels many of them offering spa treatments and a range of board arrangements to suit you including all inclusive holidays. More...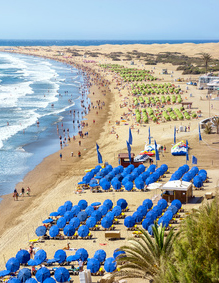 While Gran Canaria has a wonderful year round climate, the south of the island enjoys its own microclimate with generally better weather than other parts of the island. Situated in this region is Playa del Ingles this translates as 'the English beach' and the resort lives up to its translation as Playa del ingles is a very popular with English and British holidaymakers.
The resort has developed over the last 20 years into one of the largest and busiest in Europe, its main features are the wide, sandy beaches that stretch from the Maspalomas dunes in the south and San Agustin in the north. Playa del Ingles benefits from a wide choice of accommodation from self catering apartments right through to top quality 4 & 5 star properties Click to find out more...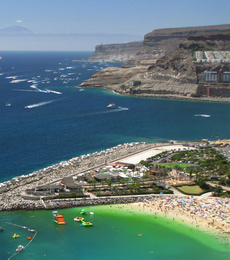 Puerto Rico is situated on the sunny south west coast of Gran Canaria. The resort of Playa del Ingles is approximately 8 miles away and the distance to the airport is around 30 miles. The resort is built along and up the sides of a valley, where white walled apartments and villas fill the two hills. Puerto Rico has two main beaches, Puerto Rico Beach and the delightful Amadores Beach. Puerto Rico is also home to 2 harbours, from where you can take boat trips and excursions.
The steep inclines in the resort mean that it is not really suitable for visitors with mobility problems. Click to find out more...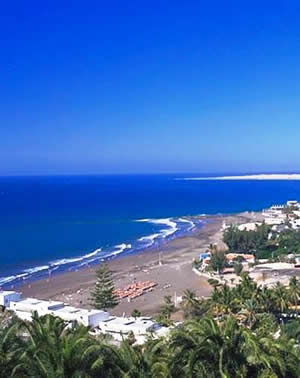 The compact and select holiday resort of San Agustin is located in the sunny south east corner of Gran Canaria and 19 miles south of the island's airport. Set just along the coast from the bustling resorts of Playa del Ingles and Maspalomas,
San Agustin is home to many quality apartments plus several luxury 4 and 5 star hotels and 2 Casinos.
The resort attracts couples and families looking for a quieter location yet within easy reach of the beaches and lively nightlife of Playa del Ingles Click to find out more...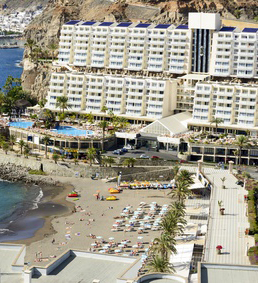 Situated on the south coast of Gran Canaria and 70 kilometres from the island's airport, Taurito is located between the resorts of Puerto Rico (9kms) and the picturesque resort of Puerto de Mogan (4m), Taurito with its beach (Playa Taurito) is most popular with German and British families and couples, with many returning every year to this small, quiet and rather calm Gran Canarian holiday destination.
The year round climate also makes Playa Taurito and the island of Gran Canaria a good choice for a winter holiday in the sun. Click to find out more...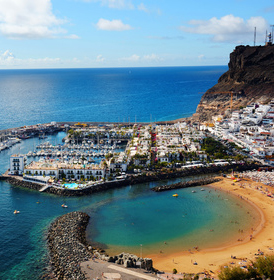 This picturesque resort has a great man made beach, a lovely yachting marina filled with ocean going craft, a good selection of shops and restaurants and a real vibe. Located on the sunny southwest coast the resort provides a great year round climate with plenty of sunshine. It takes around an hour by transfer coach to arrive here from the island's airport. The resort has a number of quaint bridges over its seawater inlet inviting the nickname of 'Little Venice'. Click to find out more...
Hotels & Apartments in Gran Canaria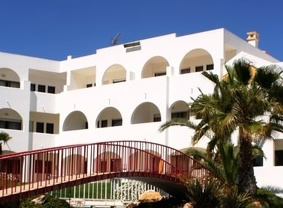 Whether you are looking for a cheap last minute holiday, an all inclusive family hotel or a luxury 4 or 5 star property,Gran Canaria has a wide choice of hotels and holiday accommodation to suit everyone.
To see a list of our favourite Gran Canaria hotels please click here Gran Canaria Hotels
Gran Canaria - Google Maps