Holidays to Maspalomas & Meloneras
Holidays in Gran Canaria offer excellent year round weather and the resort of Maspalomas and the neighbouring and almost merged resort of Meloneras are a popular choice, located on the southern tip of Gran Canaria, they sit next to the neighbouring and lively resort of Playa del Ingles.
Maspalomas and Meloneras are the quieter and more upmarket option, the resort boasts the best four-mile (around 6 kilometres) stretch of golden, sandy beach on the island. Maspalomas holidays are a great choice if you are looking for a luxury holiday in the Canary Islands, there is a good selection of quality 4 and 5 star hotels with many of them offering all inclusive holidays. The year round temperatures are also very appealing to visitors that enjoy a winter sunshine break.
Maspalomas is separated from Playa del Ingles by one of the islands most memorable features a dramatic site of spectacular sand dunes, this is a protected area that provides a habitat for some rare species of flora and fauna, and a favourite venue for nudists.
Along the seafront the promenade stretches as far as Playa del Ingles, this area is bustling with bars, shops, restaurants and night spots along with luxury hotels and villas. Maspalomas also offers plenty to do, there is an exhilarating aqua park and nearby are numerous other man made attractions such as amusement parks, nature parks, a golf course, an aquarium and theme parks.
The resort has become a popular place for the gay community, the beach has its own designated gay zone as has the sand dunes. The resort's annual week-long Gay Pride festival held every May has become world famous.
Maspalomas beach is broken into several sections, the first section perfect for families and children, the second and fourth often designated nudist beaches and the third for everyone. This is a resort perfectly suited to beach lovers and families, however you should be aware of the small number of nudist beaches and if this is not a concept you are comfortable with then maybe the resort of Puerto Rico would suit you better.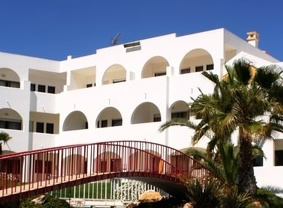 Whether you are looking for a cheap last minute holiday or a luxurious suite in a 5 star hotel you will find it in Gran Canaria. The resorts all have good self catering apartments, a wide choice of hotel styles and board arrangements including all inclusive properties. Gran Canaria is a great year round destination with accommodation to suit every budget.
To see a list of our favourite Gran Canaria hotels please click Gran Canaria Hotels
Search Maspalomas & Meloneras Now