Holidays to Playa del Ingles
While Gran Canaria has a wonderful climate throughout the year, the south of the island enjoys its own micro-climate with generally better weather than other parts of the island. Situated in this region is Playa del Ingles this translates as 'the English beach' and the resort lives up to its translation, Playa del Ingles is a very popular with English and other British holidaymakers.
The resort has developed over the last 20 years in to one of the largest and busiest in Europe, its main features are the wide and sandy beaches that stretch from the Maspalomas dunes to the south and San Agustin in the north.
The seafront is lined with bars, shops, and restaurants that mingle with apartments villas and hotels, the resort is continuing to grow each year and to house the growing numbers it is no surprise to see the skyline filled with high-rise buildings. Playa del Ingles has plenty to see and do, and with year round sunshine it is no surprise that the resort is so popular. The seafront is lined by the lovely pedestrian promenade, the Paseo Costa Canaria, planted with palms and lush green gardens.
Holidays to Playa del Ingles are geared for the younger crowd, but it is a resort that attracts sun worshipers as it has a great climate all year round, families would also enjoy the variety of activities on the island. Playa del Ingles is full of bars, clubs and pubs, there is something for everyone. For families there are a number of bars along the promenade offering entertainment without being too hectic. For the 18 to 30 market there are endless amounts of bars, clubs and pubs to choose from, nightclubs such as Cream and Pascha are open to the early hours, there are also English, Irish and Scottish bars for those who like a touch of home.
If you enjoy dining out a Playa del Ingles holiday caters for all tastes with a range of restaurants varying from fast food for the on the go holiday makers, to fine dining for those of you who enjoy a relaxing lunch or dinner. Traditional English/ Irish/ Italian/ Chinese and local Spanish restaurants can be found either lining the promenade or in the centre.
There are a number of commercial shopping centre's including Yumbo the largest in which you will find duty free stores, imitation designer stalls and a myriad of other goods. Also located there are bars restaurants and clubs.
For those that like to visit local markets, the market days here are twice a week on Wednesday and Saturday.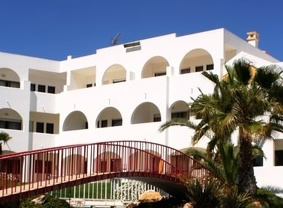 Whether you are looking for a cheap last minute holiday or a luxurious suite in a 5 star hotel you will find it in Gran Canaria. The resorts all have good self catering apartments, a wide choice of hotel styles and board arrangements including all inclusive properties. Gran Canaria is a great year round destination with accommodation to suit every budget.
To see a list of our favourite Gran Canaria hotels please click Gran Canaria Hotels
Playa del Ingles - Google Maps
Search Playa Del Ingles Now