Holidays to Puerto de Mogan
Puerto de Mogan has so much to appeal for a small resort. There are many attributes, firstly it is picturesque, it has a good beach, enchanting yacht marina, good shops and restaurants and a real holiday vibe.
Located on the sunny south-west coast the resort provides a great year round climate. It takes around 45 minutes to an hour by transfer coach to arrive here from the island's airport. The resort has the nickname of little Venice due to the bridges that cross its seawater inlet. You can stroll around the quaint old town and view the lovely homes and cottages many strewn with colourful Hibiscus.
The beach with its lovely sand (imported from the Sahara) provides safe bathing in the cool Atlantic waters, there are sun loungers and parasols for hire as well as pedaloes and canoes. For those who prefer a little more excitement, there are jet-skis, parascending, sport fishing and even a submarine trip round a local wreck! There are boat trips and dolphin spotting excursions and you can learn to Scuba dive. If you would like to venture further afield speak to us about local car hire before your departure.
Puerto de Mogan has a great choice of cafes and restaurants many providing Canarian dishes with locally caught fish. You can also find Chinese, Italian and German restaurants. Night life is low key although several bars and eateries have live music and Sports TV on certain nights of the week. The resort attracts families and couples and is generally quite quiet and laid back. The bandstand in the Plaza by the marina is the venue for a few musical events including occasional jazz weeks held throughout the year.
The one day of the week when the resort is guaranteed to be busy is Friday. This is when a large outside market fills the resorts plazas and streets with stalls selling a wide range of items including; shoes, watches, clothes and leather goods and a multitude of souvenirs, bargain hunters will love it!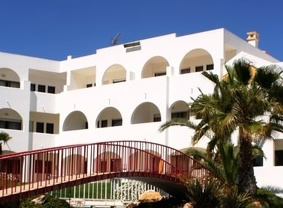 Whether you are looking for a cheap last minute holiday or a luxurious suite in a 5 star hotel you will find it in Gran Canaria. The resorts all have good self catering apartments, a wide choice of hotel styles and board arrangements including all inclusive properties. Gran Canaria is a great year round destination with accommodation to suit every budget.
To see a list of our favourite Gran Canaria hotels please click Gran Canaria Hotels
Puerto de Mogan - Google Maps