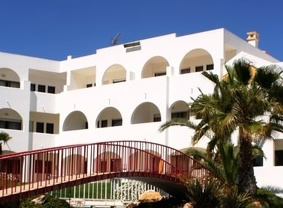 Whether you are looking for a cheap last minute holiday or a luxurious suite in a 5 star hotel you will find it in Lanzarote, the resorts all have good self catering apartments, a wide choice of hotel styles and board arrangements including all inclusive properties. Lanzarote is a great year round destination with accommodation to suit every budget.
To see a list of our favourite Lanzarote hotels please click Lanzarote Hotels

Holidays to Puerto del Carmen
Puerto del Carmen lies on the east coast of Lanzarote only 20 to 30 minutes from Arrecife Airport and is the biggest and liveliest resort on the island. It is set below a range of steep hills on the south coast of Lanzarote and has a super year round climate.
Holidays in Puerto del Carmen have remained popular over the years because of several factors, the long beach and its facilities, the busy night-life and the availability of a large stock of good value accommodation.
The resorts main feature is a spectacular 6 kilometre stretch of golden beaches which includes the Strip, where shops, bars and restaurants of every type can be found. The Old Town retains some of its old world charm but has become a little bit lost in this busy holiday complex. Puerto del Carmen is the centre of the Lanzarote's night-life and, being centrally located, is within easy distance of all the islands key attractions.
This popular holiday resort attracts mainly families, young couples, occasionally groups of older teenagers and those in their early 20's, It is ideal for all ages looking for fun in the sun. Puerto del Carmen is the main night-life spot on the island and most evenings it is lively as tourists from other resorts come to enjoy its bars and clubs. The strip includes a number of English, Irish and Scottish bars.
The Centre Atlantico is the place to go for cocktail bars and can be a good spot to start the evening. Serious clubbers may prefer Caesars. There are also a variety of live music venues and karaoke bars. Although it is the centre of the islands night-life Puerto del Carmen is not considered a rowdy resort.
For dining out you will find most restaurants are on the Strip, they serve everything from local cuisine to fast food, including Chinese, Mexican and Indian food. There are many fine restaurants near the harbour in the Old Town.
If you enjoy shopping Puerto del Carmen is packed with shops of all kinds, ranging from duty-free electrical stores and tourist stalls, clothes shops and boutiques. There is a Sunday market in the town of Teguise which can be reached by taxi or organised excursion.
Puerto del Carmen - Google Map