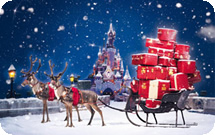 "Disney's Enchanted Christmas 2013
The Christmas celebrations begin in early November at Disneyland® Paris with seasonal decorations and the wonderful Dream Parade that includes beloved Disney characters and of course Santa Claus. Come and sample the wonderful atmosphere at this magical time of year, gather around the giant Christmas tree and create those special family memories that will last a lifetime...
Book today call free: 0800 849 1245 or click for a quote by email.
Christmas Meals & Magic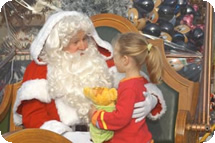 The parks, hotels and parades are dressed for Christmas from early November through to the beginning of January and the magical combination of Christmas and Disneyland is a recipe for family fun not to be missed! Santa Claus is the focus of the Christmas parade and along with all your favourite Disney characters make this a special time of year to visit Disneyland in Paris.
If you are lucky enough to be in the parks on Christmas Eve there is a special Christmas show at Buffalo Bill's Wild West Show as well as special Christmas meals available in several Disney hotels and in the Disney Village, early booking is advisable please ask us for a quote. Also on Christmas day a Merry Christmas Lunch at the Hotel New York is available for pre-booking, this traditional and enchanting 4 course lunch is attended by Disney Characters and with Goofy dressed as Santa Claus there will never be a Christmas time quite like it! Some of the options detailed above are only pre-sold with a package please contact us for further information.
Why not go by coach, with local pick-ups available this could be a magical Christmas... See info and prices on our special 2 night departures at Christmas time
Disneyland Paris Christmas time
For New Year holidays at Disneyland Paris please click New Year to find out more.