Walt Disney Studios® Park
Delve into the incredible world of movies and animation at Walt Disney Studios Park.
With some dazzling recreations of Hollywood sights, first-rate restaurants and amazing entertainment, you'll feel like you've hit the big time yourself. You'll experience stunning effects, unforgettable rides and awesome animation on a five-star adventure offering fun for all the family.
There are several production zones to explore, carry on reading for a taste of all that's on offer!
Call us on 01226 345383 or click for a quote via email or message us on Facebook
Backlot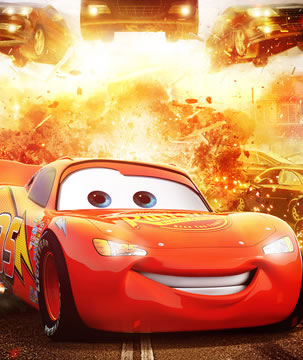 Discover the secrets behind daring stunts on screen and see how dazzling special effects are created in your favourite films.
Here you can marvel at an action-packed display of courageous feats on four wheels, get your pulse racing as you try out one of our biggest thrills, enjoy a meal worthy of the stars and more...
Read on to get a taste of all that's on offer at Backlot!
Attractions
Crank up the volume – and adrenaline – on the Rock 'n' Roller Coaster Starring Aerosmith.
Jump on board a Soundtracker with built-in speakers and get ready to feel the music of the legendary rockers as you never have before. You'll blast through hits including Love In An Elevator and Walk This Way on this high-speed roller coaster that hits 100km/h in just 3 seconds.
Don't forget to stop by Rock Around The Shop to pick up band T-shirts and must-have accessories after your high speed ride!
At Backlot, you also have the chance to hang out with a world famous superhero! Don't miss out on the chance to meet Spider-Man and have your picture taken for the front page of the Daily Bugle.
Entertainment
There's high-octane high jinx on four wheels in the Moteurs... Action! stunt spectacular, which features daredevil thrills and spills – and even a leap through fire.
Make sure you're strapped in as the drivers skid and swerve their way around the course and give you a thrilling glimpse into the incredible world of stunts. Keep an eye out for some of the most famous Disney motors flying by!
Dining
An American experience awaits at the Café des Cascadeurs, a 1950s diner housed in an Airstream caravan. After all the stunts and special effects, you're going to need some serious sustenance.
The premium burgers and bottomless cold drinks on offer here won't disappoint.
Find out how the stars relax when they're off set by heading to the Disney Blockbuster Café.
It's an industrial props warehouse turned excellent eatery with costumes and scenery taken from movie hits such as Iron Man and Pirates of the Caribbean. Whether you choose sandwiches, pizza or pasta, you're going to need a big appetite.
Call 01226 345383 to book your visit
Production Courtyard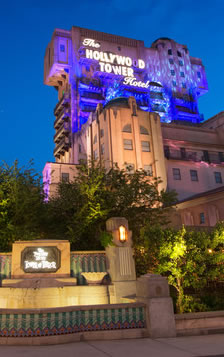 Immerse yourself in the magic of the movies at the Production Courtyard.
From the beginnings of film to modern-day masterpieces, the world of cinema is celebrated here.
Thrill-seekers will want to visit the creepy Hollywood Tower Hotel and join a behind-the-scenes tour with a dramatic difference.
All this – and so much more – waits to be discovered when you visit the Production Courtyard
Attractions
Check into the Hollywood Tower Hotel which has fallen into ruin since a mysterious incident forced it to close in 1939...
As you ride the elevator towards the top of the tower, the lift is suddenly seized by a mystic power and you're sent flying up and down. Along the way, you'll glimpse the hotel's ghostly guests and experience some thoroughly creepy paranormal activity. If you love big thrill rides, you'll be screaming out for more.
Hop onboard Studio Tram Tour: Behind the Magic for a real behind-the-scenes look at how films are made. Marvel at full-scale movie sets and props as you embark on a tour around Production Courtyard, but beware as you enter Catastrophe Canyon where disaster awaits!
Entertainment
If you love the movies, Cinemagique is the show for you. It's a thrilling journey through some of the silver screen's finest moments, featuring classics from the silent era as well as the blockbusters of today.
It's all brought to life by talented actors who jump between stage and screen for a truly unforgettable experience.
Don't miss the opportunity to pay a visit to one of the galaxy's chief troublemakers at Stitch Live! You can chat and sing along with the mischievous alien in this super show and prepare to be amazed as Stitch even plays tricks on the audience!
Disney Junior Live On Stage gives your little ones the chance to get up close to some of the stars of their favourite TV shows. Taking their place on the giant storybook stage, Mickey, Minnie and Goofy lead you on a journey full of song and dance.
Dining
The glitzy Restaurant des Stars serves up traditional French cuisine in art deco surroundings decorated with pictures of famous faces from the world of cinema. Seats fill up fast at this all-you-can-eat buffet, be sure to book in advance.
Call 01226 345383 to book your visit
Toon Studio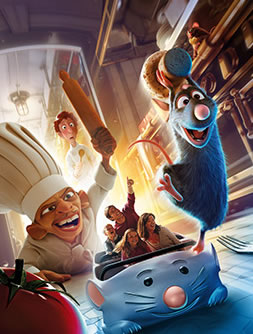 Immerse yourself in the amazing world of Disney animation at Toon Studio.
Where classic characters star in dazzling recreations of some of the world's best-loved Disney moments – and where the artists who help to create them are celebrated in glory.
You'll get incredible insight into the Disney animation process and learn how to sprinkle a bit of magic over your own artistic creations.
Here's just a taste of all that's on offer when you visit Toon Studio.
Attractions
Things are heating up in the kitchen as you join the gang from Ratatouille for a five-star serving of foodie fun. You're shrunk down to the size of a rat before heading out into the wonderful world of Gusteau's restaurant in the heart of Paris.
Then hop on board a giant turtle shell at Crush's Coaster and prepare for a wet and wild ride with some familiar faces from Finding Nemo. Dive deep beneath the waters of Australia for a tour of the Great Barrier Reef with Nemo and Squirt.
At the Disney Animation Studio you can go behind the scenes to learn how some of Disney's most famous characters are created. Plus, if you're feeling inspired, you'll have the chance to get creative yourself – perfect family fun for all.
You can also take your place at the starting line for a race around the desert town of Radiator Springs with none other than Lightning McQueen. At Cars Quatre Roues Rallye, get behind the wheel of your favourite motor from Cars and hold on for a speedy thrill ride.
There's plenty of fun to be had at Toy Story Playland, where you'll find loads of exciting rides and toys to keep you entertained. With huge blades of grass and giant pebbles, you'll feel as though you're right there in Andy's backyard with Buzz and Woody.
Entertainment
Join Mickey and other beloved Disney Characters for a spectacular show exclusive to Disneyland Paris. In Mickey and the Magician, Mickey is cleaning up a great Magician's atelier when all of a sudden his dream of becoming a Magician himself takes over! A truly magical experience for the whole family to enjoy!
Dining
Bistrot Chez Rèmy is just one of the great restaurants to choose from and offers the chance to see the world from a whole new perspective. With giant champagne corks serving as seats and huge jam jar lids for tables, you'll feel just like Rèmy and his rodent friends from Ratatouille.
It's not just the décor that's big – there's also the chance to indulge in some larger-than-life flavours. Tuck into a special menu of seasonal salads, cuts of beef, brie de meaux and the star dish itself – ratatouille. There's also a big selection of delicious desserts to tempt you.