Discover fun around the clock-and even up in the air-in an entertainment district that's like no other. Starting at the Disney Park gates and going until late, there's something for the whole family with shopping, restaurants, dancing, shows, a cinema and more.
Buffalo Bill's Wild West Show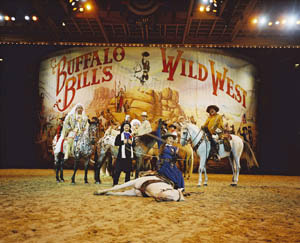 Take your seats for a classic cowboy meal and relive the tales of how the West was won with Mickey Mouse, Minnie, Goofy, Chip 'n' Dale... and Buffalo Bill! This interactive dinner show will have you on the edge of your seats with live animals, cowboy stunts and a stunning backdrop.
The show takes place at 6.30pm and 9.30pm each evening (apart from Wednesdays/Thursdays) in the Disney® Village, so stop by and savour traditional Tex-Mex cuisine served in western-style tins.
Choose Best View (Category 1) seats for the best views of how the West was fun!
Call 01226 345383 to book your visit
Grab Something to Eat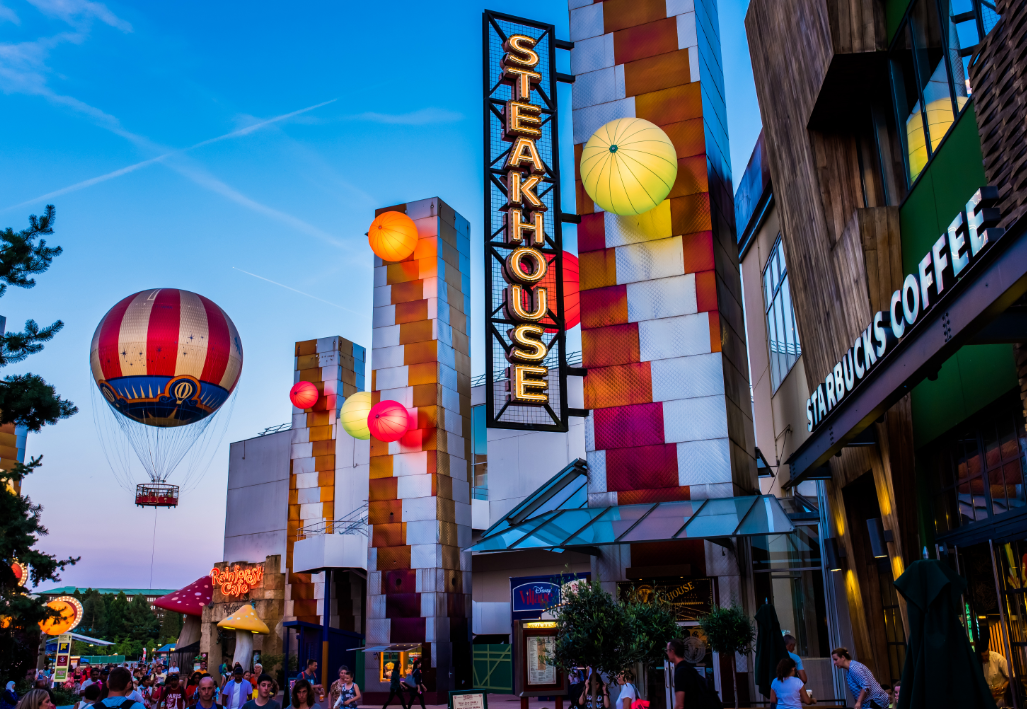 Annette's Diner: Rock Around the Clock: Enjoy the 1950s "Happy Days" atmosphere, featuring giant hamburgers, hot dogs, milkshakes, and real American breakfasts served by waiting staff on roller skates! Visitors are swept back to the time of bebop, rock & roll, the twist, bobby socks and two-tone shoes.
Billy Bob's Country Western Saloon: The unmissable Disney Village bar: Enjoy a selection of beers, soft drinks and flavoured nachos at Billy Bob's Country Western Saloon. Swing open the saloon doors, settle in and take to the dance floor to shake your hips to the lively dance rhythms.
La Grange at Billy Bob's Country Western Saloon: Take a Walk on The Wild Side: It's feast meets the Wild West in this authentic wooden frontier saloon. Liquor barrels, stag antlers and historic photos of the badlands decorate the place, whilst live music beats from the bar below. But it's the copious all-you-can-eat buffet including delicious meats, fish, veg, Tex-Mex specialties and desserts that will have you riding back for more.
The Steakhouse: a Menu Packed with Big Flavour: You're going to need a healthy appetite for this downtown Chicago jazz restaurant. Here, you'll discover American-style grilled meat and a whole lot more, all presented on fancy platters within a setting themed on the windy city's famous theatres and gentlemen's clubs.
VAPIANO: PASTA / PIZZA / BAR: Vapiano offers a tasty Italian cuisine with homemade dishes in a cosy and friendly atmosphere. At the heart of a modern and green atmosphere, meet friends or family by our multi-centenary olive tree or around our large oak tables and enjoy the freshness of our Italian dishes, cooked in front of you by our Vapianisti. From the pastas, pizzas or risottos to the dolci, everything is homemade by our chefs with fresh products delivered every day and can be adapted according to your desires. If you prefer to eat at home, that's not a problem, we also offer a delivery service and click & collect.
Rainforest Café Disneyland Paris: A Wild Place to Shop and Eat: Southwestern fare with a tropical twist awaits you amid this dense jungle filled with animals.

Feel far away yet at home all at once with delectable new dishes and familiar American-style eats the whole family will love. Then swing by the Disneyland Paris Rainforest Cafe shop, where you can pick up plush animals, themed clothing and tropical trinkets to commemorate your Amazon adventure.
Plus many more including: McDonald's, Starbucks, Five Guys, Earl of Sandwich, & Planey Hollywood!
Call 01226 345383 to book your visit
Take in Some Top Entertainment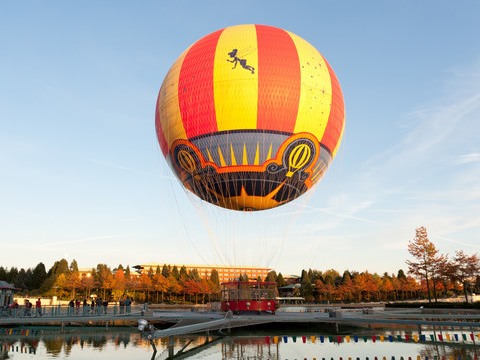 Disney Gaumont cinema: The Complex: Housing 15 huge cinema screens fully loaded with the latest sound technology, this is the ultimate place to recline in comfort, or jump to the edge of your seat, and experience cinema at its best.
Imax® Laser: The ultimate cinema experience: Dive right into the heart of the action with the new Imax Laser system, which produces more vibrant, clean and clear pictures. Paired with a cutting-edge immersive audio system, the Imax Laser offers guests the best conditions to enjoy the latest films!
PanoraMagique: now Taking Off Over Lake Disney®: PanoraMagique offers up to 30 guests at a time (depending on weather conditions) the chance to enjoy a 6-minute ride filled with unrivalled 360º views over Disneyland® Paris-sometimes as far away as 20km! Moored on Lake Disney in Disney Village®, this helium-filled sphere offers a truly uplifting experience for everyone.
Call 01226 345383 to book your visit
Hit the Shops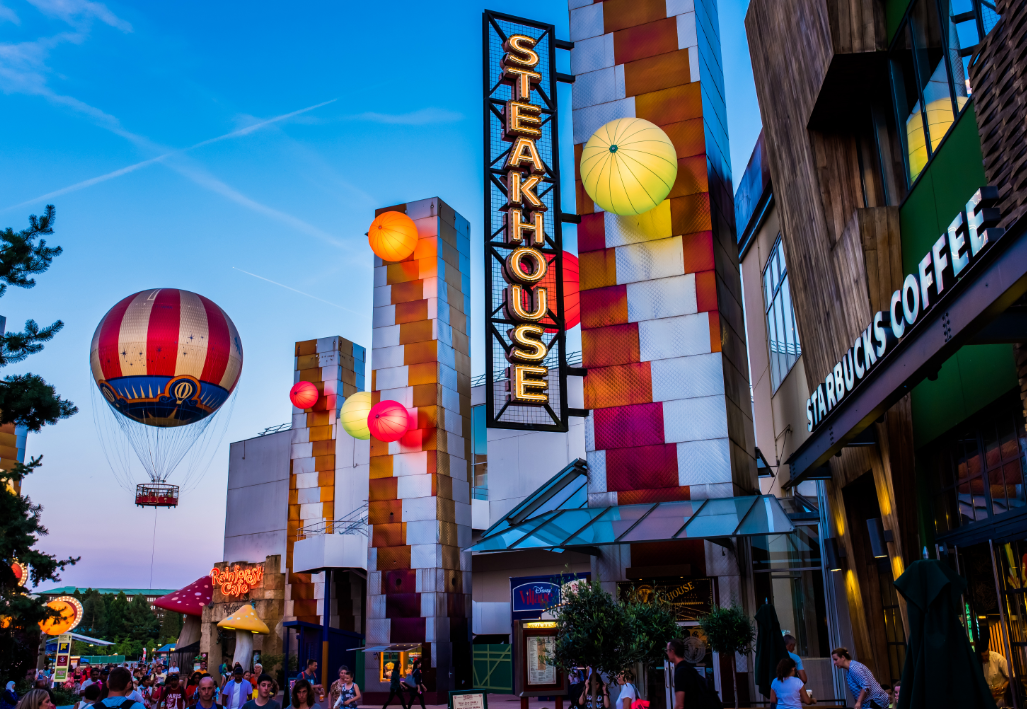 Disney Store: All the Disney worlds together in one shop! Rediscover famous Disney franchises through their plush toys, tableware and accessories, or become a Jedi apprentice by creating your own lightsaber at the dedicated Star Wars area.
World of Disney: Bring a little bit of Disneyland Paris home with you! Let yourself be tempted by a wide selection of Disney products when you visit this vast travel-themed shop in Disney Village.
The Disney Gallery: A collector's paradise! You'll find pins, collectibles and decorative items, as well as the Art on Demand service that allows you to create your own Disney work of art! Disney PhotoPass™ service available.
Disney Fashion: This fashion boutique in Disney Village is the place to go to discover the latest collections of clothing, Pandora jewellery, vintage products and Disney accessories. Don't forget to stop by the Customization corner!
The LEGO®​ Store: You are the Master Builder! Discover the world of Disney's in LEGO form, ready to reconstruct your favourite scenes at home or create new adventures made from your wildest dreams. A massive selection of sets and individual figures.
Plus More!
Call 01226 345383 to book your visit