There's always something to keep you entertained at Disneyland Paris when you're not hitting the parks.
Whether you want to shop, get sporty, catch the latest blockbuster or treat yourself to a delicious meal, you'll find something to keep all ages happy.
Buffalo Bill's Wild West Show... with Mickey and Friends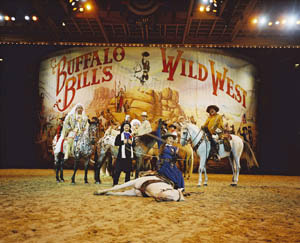 Take your seats for a classic cowboy meal and relive the tales of how the West was won with Mickey Mouse, Minnie, Goofy, Chip 'n' Dale... and Buffalo Bill! This interactive dinner show will have you on the edge of your seats with live animals, cowboy stunts and a stunning backdrop.
The show takes place at 6.30pm and 9.30pm each evening (apart from Wednesdays/Thursdays) in the Disney® Village, so stop by and savour traditional Tex-Mex cuisine served in western-style tins.
Choose Best View (Category 1) seats for the best views of how the West was fun!
Call 01226 345383 to book your visit
Grab Something to Eat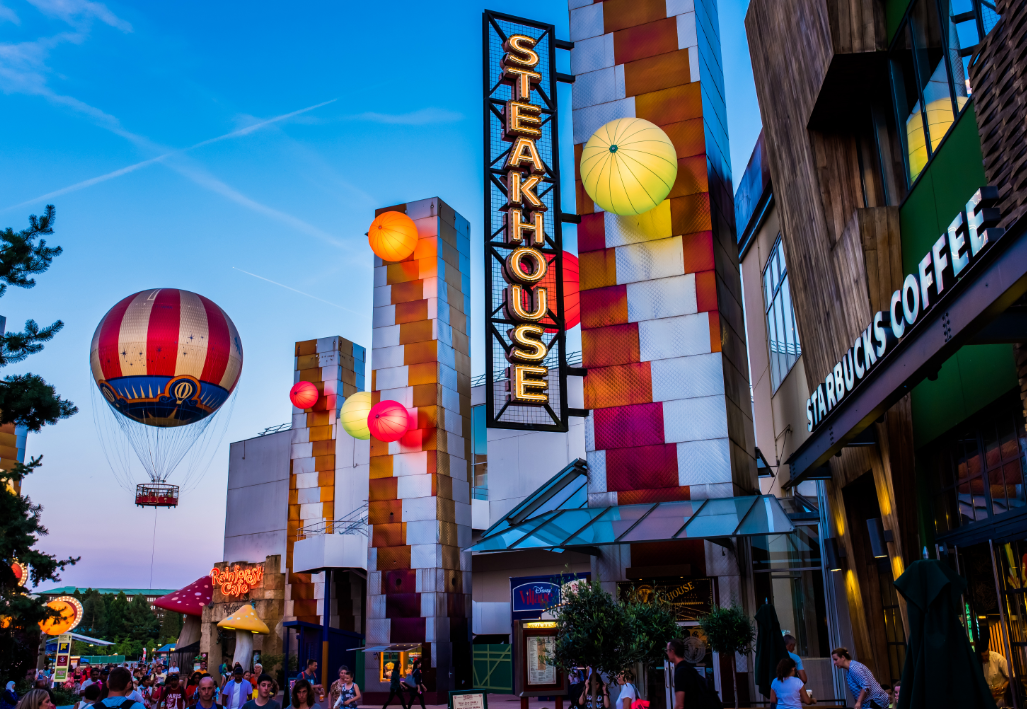 You'll feel as though you're home on the ranch as you tuck into some traditional all-American fare while watching the thrilling live-action Buffalo Bill's Wild West Show...with Mickey & Friends!
Saddle up and head way out west for the chance to see timeless tales from the American frontier brought to life, with some real cowboy cuisine.
You'll see famous faces such as Chief Sitting Bull, Annie Oakley and the Rough Riders and of course your host Buffalo Bill himself. Look out for special-guest appearances from the likes of Mickey Mouse and Goofy.
If you've ever thought about seeing your name in lights on the big screen, then Planet Hollywood® is the place for you. You'll feel as though you're starring in your own neon-lit walk of fame as you're surrounded by costumes, props, memorabilia and more from the world of the movies.
You'll be dining from an all-star menu that features American culinary classics, while party pop tunes help to make you feel as though you're right in the heart of Hollywood.
You can also eat with the animals at the Rainforest Café®, where exotic birds, elephants and gorillas join hungry explorers on a taste trip right into the heart of the Amazon rainforest. Enjoy tropical treats and firm family favourites beneath the lush treetops of the rainforest.
Don't miss out on the opportunity to join Mickey Mouse and his friends for a magical meal at Café Mickey. A must-do for all Disney fans, you can choose from Italian-American delicacies such as pizza, pasta and great desserts.
Call 01226 345383 to book your visit
Take in Some Top Entertainment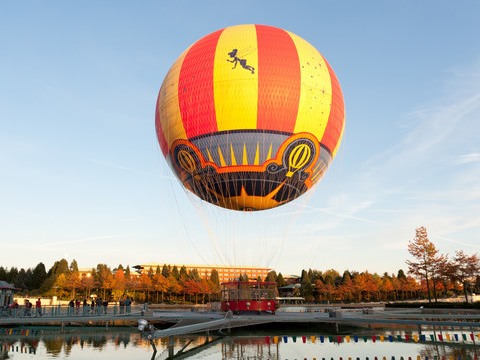 Our state-of-the-art Gaumont Cinema Complex boasts 15 screens to keep you entertained when you're not busy enjoying the parks.
With the latest in sound technology, you can get even closer to the action, making this the perfect place to spend some relaxing downtime.
Movie magic gets taken to a whole new level at our IMAX screen, the largest of its kind in the whole of France.
Catch the latest releases and some exclusive titles in mind-boggling size and detail and feel like you're right there on set with all your favourite stars.
Head up, up and away for the ride of lifetime on the giant PanoraMagique hot-air balloon. One of the biggest in the world, the balloon can accommodate up to 30 people and allows you to see a whole new side to Disneyland Paris.
You'll cruise over the Disney Lake to enjoy 360-degree panoramic views on a 6-minute voyage of discovery. Trips are dependent on weather conditions.
There's a range of top games to enjoy at the Stadium arcade that cater for the whole family, from driving simulators to sports challenges and dance machines.
Call 01226 345383 to book your visit
Hit the Shops
Step into the World of Disney to stock up on exclusive merchandise. This one-stop shop for all things Disney features everything from Mickey Ears to character costumes.
You can also give your wardrobe a magic Disney touch with everything from trendy T-shirts to awesome accessories when visiting Disney Fashion.
Over at The Disney Gallery, you'll find limited-edition prints, models and animation cells that capture some timeless Disney moments. You can order prints of iconic Disney artwork and have them delivered direct to your door thanks to the Art on Demand service.
For something extra special to help you remember your stay, pay a visit to the World of Toys. With Disney costumes, souvenirs and loads of toys and gifts, it's a kids' shopping paradise.
To build up your own world of adventure in miniature brick form, check out The LEGO Store, where there are sets and individual minifigures of your favourite Disney scenes and characters.
Call 01226 345383 to book your visit