Disneyland® Park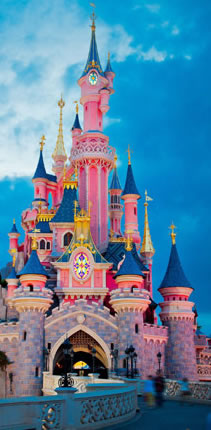 Be transported to a world that inspires the imagination, where wonder and enchantment fill the air all year round. With Sleeping Beauty Castle at the heart of this fairy-tale setting, the attractions, shows, parades and restaurants will immerse you in the Disney magic you know and love.
The story begins with a stroll back in time to the early 1900s on Main Street U.S.A®. Here you can live the charm of small town America just like the good ol' days. In Frontierland, saddle up for some serious fun, 'cause this here's the Wild West! Yee Ha!
Grab your compass and set sail for an Adventureland full of swashbuckling thrills and mysterious chills… out of Africa and into the depths of an untamed Indian jungle.
Ready to live a tale as old as time? Dust off your wings and take flight into Fantasyland. A place where you'll believe in make-believe. Where Disney princes and princesses are real.
Turn the page, charter a course into the past and live extraordinary visions of the future in Discoveryland. From The Earth to the Moon and Back. 3-2-1- blast off! Happy endings are just the beginning at Disneyland® Park. Where enchantment lives.
SEE WHAT'S HAPPENING AT DISNEYLAND® PARIS?
Call us on 01226 345383 or
Discoveryland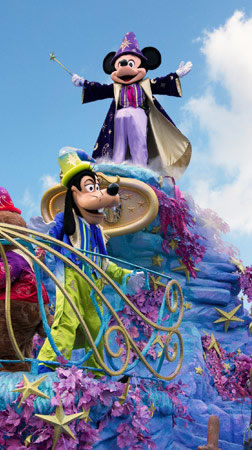 Travel Back In Time to the Future... You're about to travel through time and space, toward the vast outer reaches of Discoveryland. This is a timeless land imagined by great visionaries and dreamers, a Disney universe of extraordinary and extraterrestrial fun. Your launch pad: Space Mountain: Misson 2. Destination: From the Earth to the Moon 3-2-1… Blastoff! It's official- you're an astronaut on a high-speed, intergalactic rocket ride into Jules Verne's visionary classic story.
In another galaxy far, far away… what you thought would be a leisurely trip to the Moon of Endor on a Star Tours robot-piloted Starspeeder 3000, quickly turns into a heroic light-speed adventure through asteroids and toward the Death Star! Mission complete! But before you return to Earth, go into orbit and see one of the greatest views in all of Disneyland Park aboard Orbitron. According to cosmic forecasts, conditions are ideal for a landing inside Le Visionarium. Here, you'll time travel across the vast expanse of innovation and technology.
Over at the Imagination Institute, you'll see how big the world really is when you're transformed into another dimension in Honey, I Shrunk the Audience. Now that's an innovation! Envisioned by science-fiction writers of the 1900s, the future is now in Discoveryland.
SEE WHAT'S HAPPENING AT DISNEYLAND® PARIS?
Call us on 01226 345383 or
Adventure Land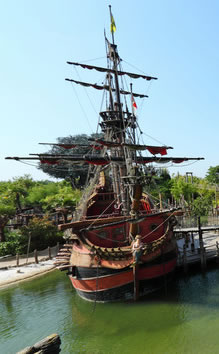 Take an expedition to exotic, far away places and let curiosity be your guide... From Africa to Asia, the lush, tropical islands of the South Pacific to the Caribbean,you're on a hunt for hidden Disney treasures and ancient fables you've only dreamed of. Welcome, fellow Adventurers! To Adventureland.
Yo ho, Yo ho! A Pirate's life for you? Prepare for rough waters - it's fun on the high seas with Pirates of the Caribbean. Join the rowdiest crew of swashbucklers ever in the siege of a Spanish fort. It's a fierce sea battle to the finish. So keep your wits about you or walk the plank!
Grab your compass and steer north! Just when you thought it was safe to sail the waters again… you're on board Captain Hook's Galley, a Pirate Ship anchored by Skull Rock. And then suddenly… - Land ho!- Washed ashore, pass by African huts toward Adventure Isle. Here you'll discover mysterious caves and uncover the secrets of Disney's Treasure Island.
Climb winding branches that lead to the Swiss Family Robinson's tree house and see what it's really like to live as a castaway. But an escape or escapade - is only a rickety rope suspension bridge away.
Phew! You've made it! Time to cross the borders of imagination into a wild, untamed Indian jungle. Deep within, lies a lost and angry civilization, asleep for thousand of years... and you've just awoken it. Quick! Take the challenge and live the story of Indiana Jones TM and the Temple of Peril. It's a cliff-hanging, high-speed ride through ancient torch-lit ruins. And a fast track to discover the hero inside you.
Meanwhile, a whole new world awaits on the golden streets of Agrabah. 'Abracadabra!- The tales of Arabian Nights and Disney's Aladdin are brought to life before you. Don't forget your magic carpet.
SEE WHAT'S HAPPENING AT DISNEYLAND® PARIS?
Call us on 01226 345383 or
Frontierland
Prepare the wagons, and (while you''e at it partner) saddle up! You're headed West to stake your claim within the vast, uncharted territory of fun.
Howdy folks! - Welcome to Frontierland - the great American West. Yee ha! There's thrills in them thar hills. So get ready to roam prairies, navigate rivers and meet the natives and critters inhabiting this land. Look yonder it's gold country and Thunder Mesa, a bustling 19th century boom-town. Get there by the mighty Rivers of the Far West aboard the steamboat Mark Twain or the riverboat Molly Brown.
Back on dry land, map your own course on a runaway mine cart, plunging, twisting and turning into the depths of Big Thunder Mountain. In town, brush up on your shootin' skills at Rustler Roundup Shootin' Gallery. Then at high noon or sunset, scoot on down to The Lucky Nugget Saloon and chow down, western-style, on some honest-to-goodness grub.
That's the spirit! More spirits dead ahead at Phantom Manor - 999 ghosts to be precise. Sounds like a full house. But there's always room for one more. Guess who? You BOO! Boom or bust, wild or wooly, come live the magic of Disney's Frontierland. Where legends live!
SEE WHAT'S HAPPENING AT DISNEYLAND® PARIS?
Call us on 01226 345383 or
Fantasyland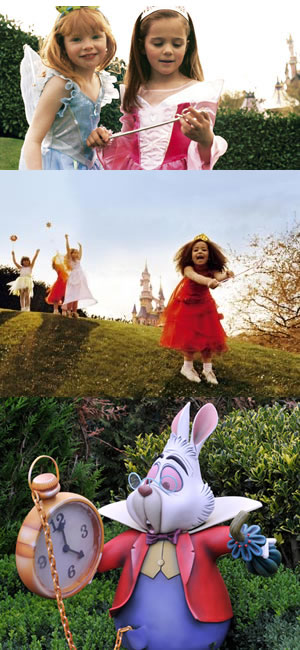 Deep in the heart of Disneyland® Park lies an enchanted world where the pages of your favourite Disney fairytales come to life, once upon a time, in Fantasyland.
Enter Sleeping Beauty Castle and you are there! Sprinkle yourself with pixie dust. Dust off your wings. And prepare for take off. On Peter Pan's Flight, you'll shoot for the stars, soaring high over the rooftops of London and into Never Land.
A short story away is Pinocchio's Fantastic Journey to a legendary world where dreams really do come true, if you wish upon a star. There are also non-stop flights of fantasy with Dumbo the Flying Elephant, now boarding… - so cruise around the world in much less than a day. It's possible - it's a small world after all!
Hi ho, hi ho it's off into a new tale we go… - In the depths of the Black Forest, relive the magic of Disney's Snow White and the Seven Dwarfs. Just beware of a grizzly old woman bearing gifts (especially red apples!)
If spinning is your cup of tea, take a whirl on The Mad Hatter's Tea Cups - you might just get dizzy enough to find your way out of Alice's Curious Labyrinth. But watch out for the wicked Queen of Hearts or it's "off with your head!"
SEE WHAT'S HAPPENING AT DISNEYLAND® PARIS?
Call us on 01226 345383 or