Walt Disney Studios® Park
Walt Disney Studios® Park

Walt Disney Studios® Park
Welcome to Walt Disney Studios® Park... Where it's Lights! Camera! 360° Magic! Everywhere! All the time! Step through the Studio Gates and let your imagination soar. Time to immerse yourself in the never-ending, always-fascinating world of movies, animation and television. Four Production Zones. One single focus: ENTERTAINMENT!
Act one: Front Lot - "Make up! Wardrobe!" Laugh, clap and marvel at a tribute to the best of Tinsel Town. You're on-set at Disney Studio 1 for the shooting of a motion picture production. Props, sets & famous facades surround you. It's your moment to shine!
Act two: Production Courtyard - "Places everyone!" Get a behind-the-scenes take on what could be tomorrow's blockbuster movie. Or see how television is made in Television Production Tour at Walt Disney Television Studios. Feel movie magic come alive on the Studio Tram Tour featuring Catastrophe Canyon. Or Journey into the movies at CinéMagique.
Act three: Animation Courtyard - "Roll camera!" You won't believe your eyes as the Art of Disney Animation bursts to life. Watch closely: you'll learn the tricks of the trade. Live legendary Disney moments in the theatrical world of illusion at Animagique. And take flight on Flying Carpets over Agrabah.
Act four: Back-lot - "Action!" Quick, there's no chance to rehearse! The spotlight is on you. Hold on tight! There's non-stop adventure coming your way. Survive a meteor shower on Armageddon Special Effects. Rock 'n' roll into the fastest G-force musical adventure ever on-board Rock 'n' Roller Coaster Starring Aerosmith.
Feel the heat of an explosive "Moteurs… Action! Stunt Show Spectacular®". "Encore, Encore!" "Cut! It's a wrap." You just had a starring role in non-stop action attractions!
SEE WHAT'S HAPPENING AT DISNEYLAND® PARIS?
Call us on 0800 849 1425 or
Ratatouille The Adventure

Shrink down to the size of Remy and duck, dive, dodge and scurry to safety in a dazzling chase across a gigantic kitchen. Pull your tails in and feast your senses on this brand new 4D experience at Disney Ratatouille. Remy and friends have cooked up a delicious storm. But it's not long before they and you are discovered by Chef Skinner, who chases you through the sights, sounds and smells of Gusteau's famous Parisian restaurant. New from 2014, this is a Disneylicious adventure that's sure to leave you hungry for more. Bon appetit!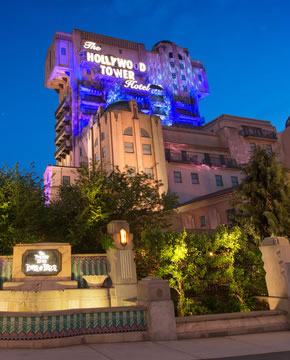 The Twilight Zone Tower of Terror™*
Brave the creepy facade of a once-glamorous hotel for a jolt back in time. Board a phantom elevator, shoot up 13 floors and brace yourself for a thrilling plummet…but beware! The experience just got scarier. You rocket back up, only to plummet down yet again. You dare to ride once more, but wait! That's not what happened before. That's right, now the Tower is in control. Drop in if you dare!
*Inspired by The Twilight Zone®, a registered trademark of CBS, Inc. All rights reserved. Height restrictions apply
Moteurs... Action! Stunt Show Spectacular
Prepare yourself. Take a deep breath... and whatever you do, don't close your eyes. You're about to see some of the world's best stunts up-close! Feel your heart pound as the latest show from the mastermind behind Movieland's most memorable action-packed stunts, zooms into top gear. Watch in jaw-dropping wonder as action and adventure explode onto the scene.
Blink and you'll miss a thrill-filled, high-octane car chase through the quiet streets of a Mediterranean village. Watch out! Careening motorcycles and speeding cars ahead. Phew, that was close! But it's not over yet. Ready for the sequel? It's fast, frightening and fearless! Watch as our hero battles to escape from near impossible predicaments. Will he do it? How can he possibly? One thing's for sure, there's an ending with a dramatic spin… and we mean spin! Stunt Show Spectacular… Now starring at Walt Disney Studios® Park.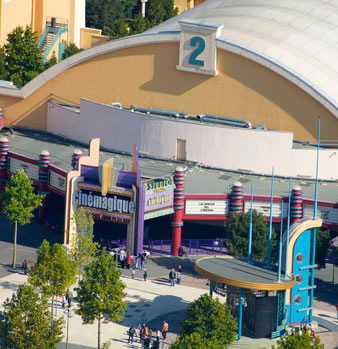 Cinemagique
Step inside the silver screen at CinéMagique and live some of the most magical movie moments of all time. From silent pictures to today's blockbuster hits, CinéMagique takes you on a close encounter with movie legends. You'll sing in the rain and smile all the way. There's even a twist or two. It's enough to put stars in your eyes. Then, for the big moment! You're on the edge of your seat for a major cinematic break-through! This 'reel' is real and it's "larger than life." What's the big ending? You'll have to live 'uh' see it, to believe it. Expect the unexpected at CinéMagique - Where happy endings are just the beginning…, now starring at Walt Disney Studios® Park.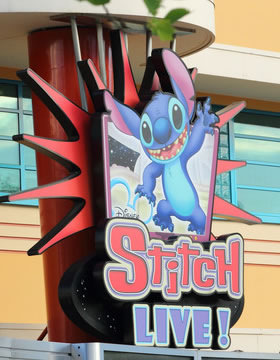 Stich Live!
Kowabunga earth families! Surf's up - and so are the laughs - with Stitch Live, the wild Character experience at Walt Disney Studios® Park. Expect the unexpected, because this countdown to chaos is sure to have you up in arms - all 4 of them! Be among the first to have a blast at this unique show where out-of-this-world animation meets an out-of-control troublemaker: Stitch!
Get ready to have a ball as Stitch interacts with you in real time from his digital world. That's right! The new galactic code says this is no "Lay low and Stitch", because you're part of the alientertainment that features live impromptu chat-tastrophes between you and the animated Master of Mischief himself!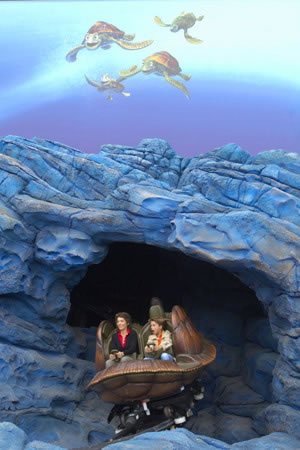 Crush's Coaster - Feel the rush with Nemo and Squirt
Hang loose with Nemo and Squirt on the new rip-roaring ride, Crush's Coaster*, inspired by Disney' Pixar's Finding Nemo. Get ready to plunge into the underwater world of Nemo and Squirt. A world full of adventure, fun and hidden "dangers"… oh yes, and a few thousand fish. Here, you'll "sea" life a little differently as you twist and turn over colourful coral reefs with Squirt, Nemo and friends. But don't close your eyes… or you'll miss the fun as you dive straight down into the inky darkness of the deep to explore a sunken submarine nestling in an underwater minefield. Watch out - you'll have to keep your eyes peeled to avoid coming face-to-face with Bruce, the vegetarian shark and his snapping mates.
*Inspired by Disney' Pixar's Finding Nemo - Height restrictions apply.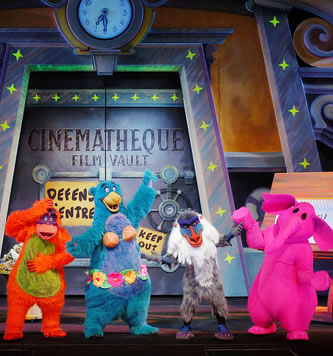 Animagique
Prepare for a journey into a world where the magic of animation and imagination is real. In a black light fantasyland of mirrors and avant-garde special effects, amazing puppets and Disney characters come alive like never before and draw you into a magic poetry of some of the best loved Disney classics like The Jungle Book, Pinocchio and Dumbo the Flying Elephant. Discover a new dimension in animation that takes you beyond the screen and into your imagination - Animagique… now starring at Walt Disney Studios® Park.