Season of The Force at Disneyland® Paris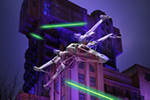 Season of The Force 2018
From January to March 2018, Disneyland® Paris awakens with the Season of the Force. Summon your inner Jedi and lead your young Padawans to Walt Disney Studios® Park for an intergalactic extravaganza, where a spectacular nighttime show blasts you to the heart of the Star Wars saga. During the day, the light or dark side, you must choose. But be sure to pick wisely, as the fearful First Order march perilously close and stormtroopers patrol the streets. And if it's more of the Force you're after, fulfil your destiny at the Jedi Training Academy in Disneyland® Park.
Let the Force light up your night
Make your way to Walt Disney Studios® Park for a sensational show in front of Hollywood Tower Hotel, as light projection, special effects and live characters turn darkness into spectacular scenes from the Star Wars saga.
The light or dark side, you must choose
Let the Force guide you to Production Courtyard in Walt Disney Studios® Park for an extraordinary example of galactic might. Will you submit to the dark side? Or does your path lead to the light side?
Behold the power of the dark side
Blast off to Walt Disney Studios® Park and witness the wicked wonder of Captain Phasma leading a battalion of stormtroopers on an iconic military march

Are you the rebel they're looking for?
Keep a cool head in Walt Disney Studios® Park because some stormtroopers are patrolling Production Courtyard and they're on the hunt for rebel spies.
Young Padawan, a Jedi you will become
The Jedi Training Academy is ready to welcome aspiring Padawans aged 7 to 12 to learn to use the Force from a true Jedi Master. But beware, Darth Vader and his Stormtroopers are lurking. Will your kids be ready in time?
For more details & to book call 0800 849 1245
Springtime at Disneyland® Paris

Swing along to Goofy's Garden Party
Disneyland® Park is alive and blossoming as Mother Nature invites you to swing along to Goofy's Garden Party. Fully dressed in their spring finery, Mickey and friends form a colourful floral cavalcade with vehicles bedecked with flowers. Dancing up Main Street, U.S.A.® On selected days only, see program for more information.
Saint.David's Welsh Festival
Celebrate St David's Day in style at Disneyland® Paris with this fantastic festival of all things Welsh. Inspired by the land of towering mountains and green valleys, Mickey and Minnie dress up in their best Welsh costumes and set the scene for three action packed days filled with fun. The best of Wales comes alive in the magic of Disney with music, culture and crafts, face painting and fireworks – it's red, white and green as you've never, ever seen!
Saint Patrick's Day Festival
Rejoice in the enchanting emerald tones of St. Patrick's Day. On March 17th 2017, famous Disney faces dress especially for the occasion, singing and dancing along to traditional Celtic harmonies. And when the night draws in, Sleeping Beauty Castle illuminates with colour in an amazing fireworks finale.
For more details and to book call 0800 849 1245 or click for a quote by email.
Autumn at Disneyland® Paris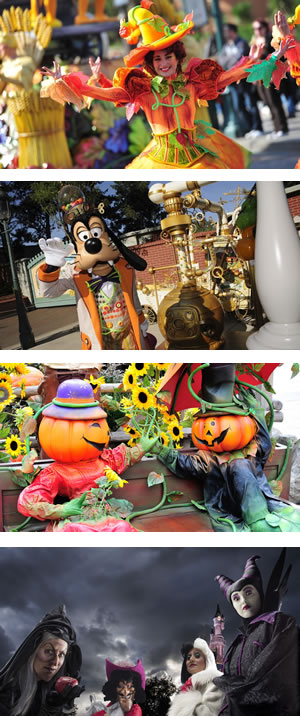 Disney's Halloween Festival
This October and also on sale for October 2018, parents as well as their pumpkins can enjoy double the trick 'n' treats from dawn to dusk, as Disneyland® Park features happy harvest hoopla every morning and hair-raising Halloween villainous fun in the afternoon!
Feast your eyes on the cornucopia of Disney Characters festooned in eye-popping autumn attire playfully parading along Main Street, U.S.A.® in a swirl of seasonal sensations sure to get everyone gleefully in the mood.
Romp through the fun-filled Halloween ambiance at Disneyland® Park bewitchingly bespoke with two types of spooktacular surprises – from jolly Jack- o'- lanterns ghoulish ghosts around every corner.
Celebrate Halloween at Disneyland Paris on October 31st, a totally unique experience is brewing so don't miss out. Dress up in your favourite costume and explore the Maleficient shadows of the Park from 5pm until well past the witching hour! Spooky-licious!
Access to the Disneyland Park starting at 5pm for those with valid tickets to this special evening.
For more details and to book call 0800 849 1245 or click for a quote by email.
Wintertime at Disneyland® Paris

Disney's Enchanted Christmas
The Christmas celebrations begin in early November at Disneyland® Paris with seasonal decorations and the wonderful Dream Parade that includes beloved Disney characters and of course Santa Claus. Come and sample the wonderful atmosphere at this magical time of year, gather around the giant Christmas tree and create those special family memories that will last a lifetime...
Brush up your etiquette for brand new royal encounters. Practice your curtsies for the Princess Promenade and enjoy an audience with Anna and Elsa from Frozen as they hold court at the Princess Pavilion!

The parks, hotels and parades are dressed for Christmas from early November through to the beginning of January and the magical combination of Christmas and Disneyland is a recipe for family fun not to be missed! Santa Claus is the focus of the Christmas parade and along with all your favourite Disney characters make this a special time of year to visit Disneyland® Paris.
If you are lucky enough to be in the parks on Christmas Eve there is a special Christmas show at Buffalo Bill's Wild West Show as well as special Christmas meals available in several Disney hotels and in the Disney Village®, early booking is advisable please ask us for a quote. Also on Christmas day a Merry Christmas Lunch at Disney's Hotel New York® is available for pre-booking, this traditional and enchanting 4 course lunch is attended by Disney Characters and with Goofy dressed as Santa Claus there will never be a Christmas time quite like it! Some of the options detailed above are only pre-sold with a package please contact us for further information.
New Years Eve Celebrations
Why not say goodbye to 2017 and welcome in the new year at Disneyland® Paris, the parks and hotels are still sparkling with Christmas decorations and you can see beloved Disney Characters in the Disney's Once upon a Dream Parade. Come and share magical moments around the giant Christmas tree see the fireworks and take home memories that will last a lifetime... hello Disneyland Paris 2018!
New Years Eve Meals & Magic
Goofy and Pal We recommend you book early for that special celebration on New Years Eve at Buffalo Bill's Wild West Show, enjoy a delicious Texan style meal while enjoying a festive moment with Buffalo Bill, Sitting Bull, Annie Oakley and Mickey and friends. Other dining options include a character dinner at Disney's Hotel New Yor or Disney's Newport Bay Club. Special New Years Eve meals are also available at the Disneyland® Hotel, Disney's Hotel New York, Disney's Newport Bay Club, Disney's Sequoia Lodge, Disney's Hotel Cheyenne and in the Disney Village® at La Grange at Billy Bob's Country Western Saloon. Several restaurants in Disneyland® Park will also be holding special New Years Eve meals again early booking is advisable.
Please note* - The hotel dinners are only available to hotel guests and only in the hotel in which they are staying.
For more details and to book call 0800 849 1245 or click for a quote by email.
Disneyland Paris - 25th Anniversary
Something sensational is taking over Disneyland® Paris from 26thMarch 2017
Prepare to go starry-eyed as a celebration with 25 years of magic in the making transforms Disneyland® Park into a spectacularly sparkly surprise. During this extraordinary year, stars illuminate the sky above a magical kingdom glistening with the glow of a thousand stories. Classic tales shine brighter than ever and new adventures twinkle to life, lighting the way to a dazzling display that can only be Disneyland® Paris. This is your time to shine. A once in a lifetime opportunity to live the magic like never before.
NEW! The spectacularly sparkly Disney Illuminations show
Gaze in awe at Sleeping Beauty Castle as Mickey leads you through a dazzling Disney Illuminations extravaganza. Magnificent fireworks, incredible light projections and stunning special effects bring classic Disney tales and new stories to life, including Star Wars, Frozen and Pirates of the Caribbean.
NEW! Disney Stars on Parade shines bright for our 25th
March your little showstoppers to Disneyland® Park for Disney Stars on Parade. Jump for joy as Mickey and friends glide by on fabulous new floats, including a fire-breathing dragon, that tell Disney stories like never before.
NEW! Star Tours re-awakens!
Prepare for even more excitement in that galaxy far, far away, when Star Tours: The Adventures Continue* comes to Discoveryland. With more than 70 different mission combinations, you'll travel to the exotic worlds of Jakku, Hoth, Tatooine, the Death Star and so many more! Join Star Wars characters on this thrilling 3D attraction where every destination will offer unique surprises.
*Star Tours : L'Aventure Continue
NEW! Star Wars takes over Space Mountain
Launch yourself into Star Wars Hyperspace Mountain for an epic takeover of a classic space attraction. Enlist in the Rebel Alliance and blast your way through a swarm of Imperial TIE fighters before doing battle with a menacing Star Destroyer.
Opening date : Spring 2017, please call us for more information
NEW! Where Disney stars shine brightest
Celebrate 25 years of magic with Mickey presents: "Happy Anniversary Disneyland® Paris". Mickey has gathered Chip & Dale, Goofy and loads more of his famous friends for a sparkly 25th Anniversary show you'll never forget.
NEW! A fairy tale waltz with Disney Princesses
Lead your young monarchs to Royal Castle Stage in Disneyland® Park for The Starlit Princess Waltz, where a royalty of Disney princesses, including Belle, Cinderella, Aurora and Snow White, throw a majestic ball to celebrate our 25th Anniversary.