Disneyland® Paris Winter 2018/2019
Disney Winter Offer - What's The Offer?
Book early and get up to 2 Days and 2 Nights Free + Free for Kids Under 7!*

Book early for the best choice of dates and Disney® Hotels,
& avoid the stress of last-minute holiday planning!
Your package includes:
Accommodation In A Disney Hotel

Also benefit from Meet 'n' Greet with Disney Characters at your hotel¹

Free Fastpass² for every member of your party

Tickets for both Disney Parks for each day.
You will also benefit from:
Book today call free: 0800 849 1245 or click for a quote by email.
Disney Winter Offer 2018/2019 - Details
Available for booking until 11th April 2018 on a 2-, 3- or 4- night package and get up to 2 more nights AND 2 more days to explore both Disney Parks for FREE for the whole party, plus, Free for Kids under 7!

What do I get with these offers?

For the price of a 2 night/3 day package get a; 3 night/4 day package or a 4 night/5 day package

For the price of a 3 night/4 day get a; 4 night/5 day package or a 5 night/6 day package

For the price of a 4 night/5 day get a; 5 night/6 day package or a 6 night/7 day package

Available during school holidays except on certain dates!

This offer is available in at least 1 Disney hotel per arrival date. Length of stay requirements may apply. If this offer is not available on your requested stay, please select another hotel or arrival date or length of stay or contact us for more details.
Terms & Conditions
When is this offer valid for?
*<<Up to 2 Nights & 2 days Free>> is valid for new bookings made until 11 th April 2018 for arrivals from 7 th November 2018 to 30 th September 2019. <<Free for Kids Under 7>>. Kids under 7 get a free package including hotel accommodation and entrance to both Disney ® Parks for the duration of the stay. Breakfast is not included except if you stay in a Disney Hotel Club room or a Suite. Valid for a minimum of one paying adult per room booked, up to the maximum occupancy of the room. Proof of your children's age(s) (under 7 years on the arrival date) will be required at check-in. Transport can be added but is not free for children aged 2 and above on Flights, whilst Eurostar is not free for children aged 4 and above. Insurance and options can be added but are not free for children aged 3 and above. Offer not available for Arrivals from 21 st December 2018 through to 5 th January 2019.

Summer 2018 prices apply. Contact us for the applicable pricing seasons.

Where is this offer available and for which length of stay?
This offer is available in at least one Disney ® Hotel per arrival date. Length of stay requirements may apply. Please contact us to find out which hotel and length of stay your requested offer applies to at the time of booking. The additional nights and days must be taken at the end of your stay. Valid for all room types or cabins except Castle Club rooms at Disneyland ® Hotel, family rooms at Disney's Hotel Santa Fe and all Suites.

This offer does not cover local taxes. Local taxes are payable per adult (from 18 years old and above) for each night of your stay, including any free night(s) offered.

All offers are subject to availability and Disneyland Paris terms and conditions.

Breakfast is only included when you have booked a room at the Compass Club, The Empire State Club or the Golden Forest Club. Contact us for applicable pricing seasons. The further information contained applies throughout the validity period and are subject to change as of the 20 th March 2018. Option prices and conditions after this date will not be available later in the season. Please contact for further information.

This offer is not combinable with any other offer.

(1) Meet up with Mickey, Minnie and friends. Cuddle up and strike a pose in a range of distinctive settings for snapshots to cherish forever. Have you autograph book ready, as they love making friends from all over the world. You can even enjoy attractions before the official opening times of Disneyland® Park and Walt Disney Studios® Park. The key to unlocking all these magical experiences is simply to stay in a Disney® Hotel! Conditions are subject to those at the time of publishing.

(2) Fastpass ® : For more information about all Fastpasses available visit www.disneylandparis.com . Check the "Guide to the parks" upon arrival for details regarding which attractions this service applies to. This service is only available with a Park ticket valid for the same day. You may only have one Fastpass® issued at a time. Another Fastpass ® ticket can only be obtained once the previous ticket has expired or been used. Subject to availability.

(3) Extra Magic Time: Check in to a Disney® Hotel and enjoy extra magic each day of your stay! Gain exclusive access to parts of the Disney® Parks long before anyone else. Extra Magic Time is subject to availability and may vary across Disney® Parks.

(4) Except at the Davy Crockett Ranch
Disneyland Paris Winter 2018/2019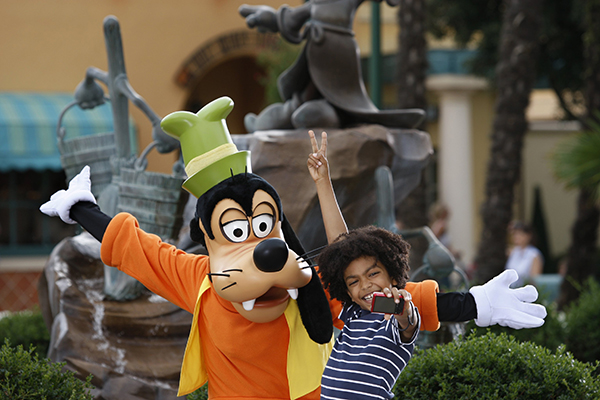 Welcome to Disneyland® Paris Holidays:
Travel Empire are award winning Disneyland® Paris specialists, we can arrange hotels at Disneyland® Paris to suit your budget and package that memorable short break or weekend. We can also arrange transportation from the UK including coach, self drive, Eurostar, or flights from your local airport. In addition we can book passes to the Disney theme parks with or without travel arrangements.
Book today call free: 0800 849 1245 or click for a quote by email.
Get a Quote - Disneyland - Paris
Need a hand?
Can't find what you're looking for?
Need some help or advice?
Give us a call on 0800 849 1285
to speak to one of our team