Disney's Davy Crockett Ranch
Important Information
From 8 January to 31 July 2018, Disney's Davy Crockett Ranch will be undergoing refurbishments and the swimming pool and hotel restaurant, Crockett's Tavern, will be closed.

During this period, guests will be able to enjoy all the other pools in the resort, except the pool at the Disneyland Hotel. Guests will also be able to take advantage of one evening's free entry to Villages Nature Paris, including the Aqualagon, from 4.00 p.m. on the day of their choice. Free parking will be available at the Disney Hotels and at Villages Nature during their visit.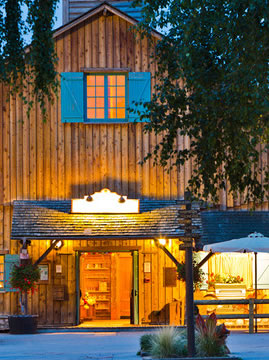 Disney's Davy Crockett Ranch
Settle in for a cosy stay at Disney's Davy Crockett Ranch, a self-catering home-from-home in a beautiful natural setting.
Strike out for the freedom of the frontier at Disney's Davy Crockett Ranch®. It's a retreat into nature with plenty of Disney magic - a short drive from the Disney® Parks, you'll stay in your own cabin in the woods like a pioneer in the American colonial era.
As well as cosy accommodation, there's a tropical-themed pool with cascades and a jacuzzi, and plenty of games to play with the family, like ping-pong, basketball and tennis. Plus, an outdoor playground where kids can let loose.
Book today!
Call free on 0800 849 1245 or click for a quote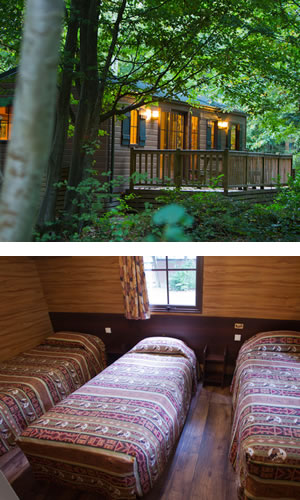 Cabins
Enjoy the calm of a nature retreat when you get nice and cosy in your own private cabin.
2 Bedroom Trapper Cabin
Frontiersmen, women - and children - will enjoy hunkering down in this cosy air-conditioned cabin. With plenty of space for the whole family, our Trapper Cabins feature two bedrooms, two shower rooms a comfortable living space, kitchenette and your own private outdoor deck and barbecue area. Offering extra peace and quiet, you will feel at one with nature as you are surrounded by the sounds of the forest.
1 double bed and 4 single beds.
2 Bedroom Pioneer Cabin
Enjoy the great indoors in our spacious air-conditioned Pioneer Cabins, complete with two bedrooms, living room, kitchenette and two shower rooms. Plus, you can have fun on your own outdoor deck with a picnic table and barbecue. Enjoy the tranquility of the forest whilst remaining within comfortable distance of all facilities.
1 double bed and 4 single beds.
Premium Cabins
Premium Plus 2 Bedroom Cabin - Pitch up right near Disney's Davy Crockett Ranch village and facilities. You'll get 2 showers, a hairdryer, cleaning kit and free cable internet connection. Plus, you can have fun on your own outdoor deck with picnic table and barbecue. 1 double bed and 4 single beds. Living room.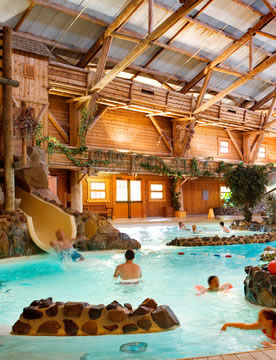 Entertainment
Extras at Disney's Davy Crockett Ranch®
Extra Magic Time for Disney hotel guests. Enjoy 1 hour of Extra Magic Time in both Disney Parks before official opening times.

Outdoor playground for children.

Indoor pool (opening hours 09:00 - 21:45) with slides and waterfall, river stream and whirlpool.

Covered tennis court, basketball, fitness trail and more family sports.

Davy Crockett's Adventure - tree-top course with rope ladders, swings and trapezes. Suitable for people over 1.10m in height (extra charge).
Fun for Kids
Lucky Racoon Game Arcade (extra charge).

Outdoor playground.

Campfire Circle - Indian-style camp with teepees and live events on some days.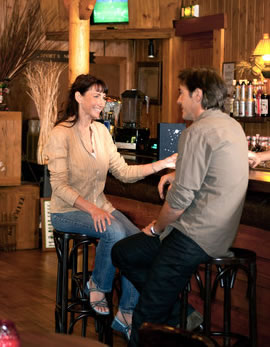 Restaurants and Bars
Eat and drink at:
Crockett's Saloon - treat yourself to a refreshing drink and enjoy country music and activities on certain days.

Crockett's Tavern - buffet restaurant serving up hearty meals for pioneers of all sizes, be sure to book ahead!

Or track down a snack at the on-site shop.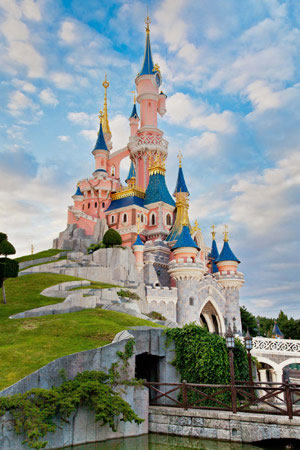 Facilities
All our cabins at Disney's Davy Crockett Ranch® have:
Parking space

Disney and international TV channels

Kitchen with dishwasher, utensils, microwave, hob, kettle and refrigerator

Coffee machine

Towels, with larger bath towels available for a charge from the pool
Accessible cabins provide added comfort and services for Guests with disabilities.
Book today!
Call free on 0800 849 1245 or click for a quote
Get a Quote - Disneyland - Paris