Fethiye Region Hotels
Relax, we have the Fethiye Region hotel for you...
Travel Empire has a wide selection of hotels and apartments in the Fethiye Region, listed below are a small selection of our clients favourite accommodation. You can search for any of the resorts hotels and apartments in the adjacent search box. For group bookings (over 9 passengers) or any destination or hotel not featured in our hotel search facility please contact our reservations department:
Call 01226 345381 or click for a quote by email.
Oyster Residence **** (Adults Only) Olu Deniz Hotels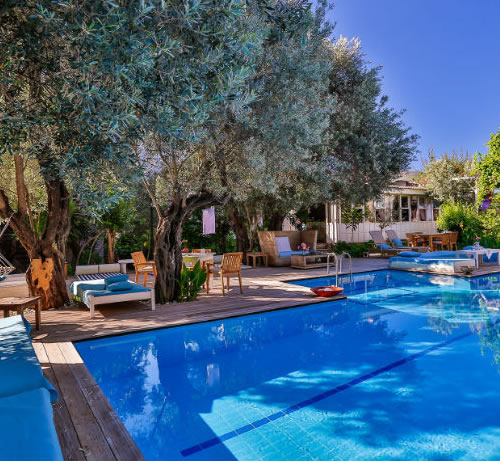 The Oyster Residence Hotel is perfectly situated on a privileged beachfront location at the famous Belcekiz beach in the popular resort of Oludeniz on the Turkish coast. Reserved for Adults only, this charming 4 Star retreat is an ideal spot for couples of all ages to relax and enjoy delicious cuisine, plenty of nearby attractions and activities, and comfortable accommodation with calm relaxation and excellent service being the hallmark of the hotel. Guests to the Oyster Residence Hotel can discover marvellous beaches, practice paragliding above the ancient cedar forests of Babadag, and experience real Turkish hospitality. Dalaman Airport is 60 km from the Oyster Residence Hotel. Check Availability »
Diana Residence **** Fethiye/Calis Hotels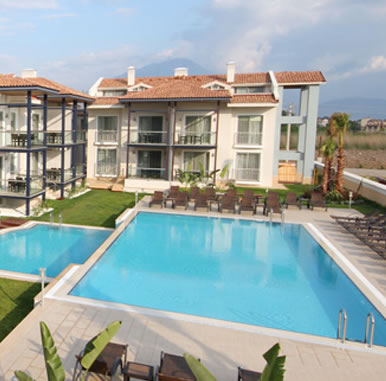 This aparthotel was built in 2010 and has a total of 22 accommodation units. It is a modern, attractive complex of apartments built on 2 floors in decorative gardens with a large split pool and children's pool and a decked area in the garden. The complex has a restaurant which also serves snacks and there is a poolside bar the hotel also provides wireless internet. The modern apartments are like a 'home from home', comfortably furnished and with a well-equipped kitchen, with appliances such a fridge, cooker, microwave, dishwasher and a washing machine. Tea and coffee making facilities and an ironing set also feature. Check Availability »
Alize Hotel **** Olu Deniz Hotels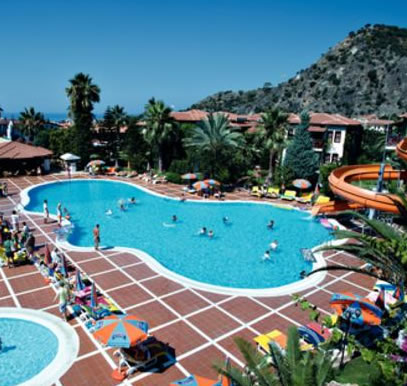 The Alize Hotel is perfectly situated at the foot of Mount Babadag occupying a privileged position just 350 m from the famous Oludeniz resort beach and 12 km from Fethiye. Set in Mediterranean style buildings nestled in lush gardens around the large pool area, this superb 4 Star hotel features 111 attractive twin rooms with modern amenities, delicious dining, and excellent service with an All Inclusive program that makes everything easy. Guests to the Alize Hotel can enjoy marvellous beaches, explore delightful villages nearby and experience real Turkish hospitality. Dalaman Airport is 62 km from the Alize Hotel. Check Availability »
Noa Hotels Oludeniz Resort **** Olu Deniz Hotels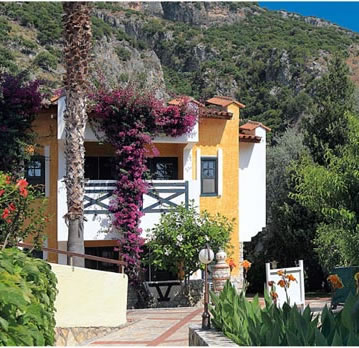 The Noa Oludeniz Resort Hotel is perfectly situated in the breathtaking resort of Olu Deniz, a popular destination in the southwest of Turkey. This 4 star hotel boasts magnificent views of the bay at the famous Belcekiz beach. The Oludeniz Resort is only half a mile from the centre of the town, where a selection of shops, bars and restaurants can be found. The 277 rooms at the Oludeniz Resort Hotel are situated in two story blocks which are located in tropical gardens. The rooms are fully equipped. All of the spacious rooms are stylishly decorated and come with double or twin beds. There is the option for rooms with bunk beds for children. All rooms have a terrace or balcony. Check Availability »
More popular Fethiye Region hotels & apartments...
*Please note the star ratings shown may not be the official rating of the hotel but on occasion may represent our own rating or that of our supplier.