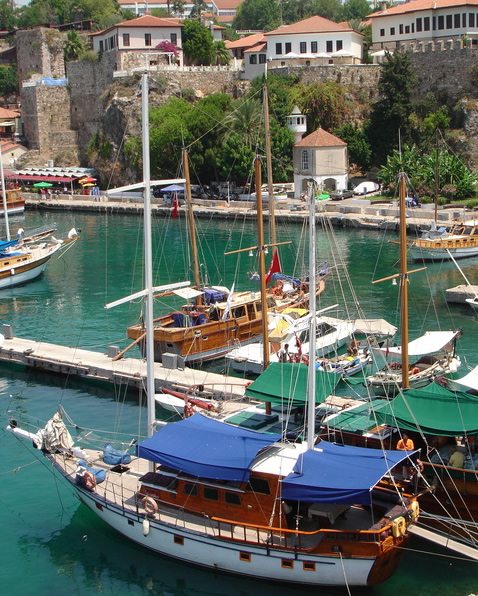 The fastest growing city in Turkey is Antalya; visitors are also flocking to this region of Turkey from round the world to delight in the heady mix of excellent beaches, turquoise waters and traditional Turkish culture. There is something for everyone including children; they'll love the Beach Park, which features the exciting slides at Aqua Land. The place is steeped in history too dating back to around 133 BC. Be sure to take time out to wander around the old town of Antalya and also visit Hadrian's Gate. The nearby airport of Antalya (10 kilometres) services the city and the other popular resorts in the area such as Belek, Lara Beach, Alanya, Side and Manavgat. More...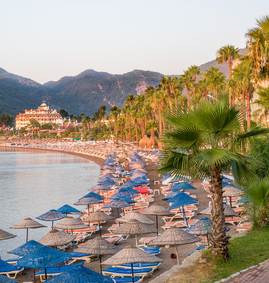 The Marmaris region of Turkey has an enviable Mediterranean climate. In the summer months the weather is hot and humid, and temperatures average over 30°C but can reach over 40°C during occasional heat-waves in July and August. Autumn is a popular time to visit when the temperatures are not so hot but the days are still warm and bright. Pine clad hillsides are the picturesque backdrop to the stunning coastline dotted with Blue Flag beaches. This region of Turkey is serviced via Dalaman airport which is around 100 kilometres away. More...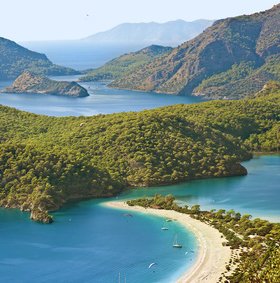 Hotels in the - Fethiye Region
The region of Fethiye is renowned for its impressive resorts as well as the port and city of Fethiye itself. The area is serviced by the airport of Dalaman which is just 50 Kilometres away and can be easily reached in under an hour. Apart from its warm climate and natural beauty, visitors are attracted by its less expensive lifestyle and the welcoming hospitality of the local people. The area has a rich history, the museum in Fethiye is worth a visit to see ancient as well as relatively modern articfacts that testify to the variety of civilizations that existed in this region. More...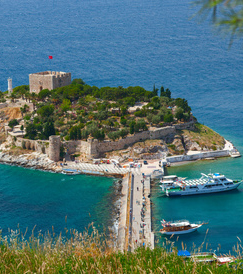 The region of Kusadasi has an enviable array of attractions to entice visitors; a wonderful climate, good nightlife, great beaches and amazing historical sites. The most famous site is the historic city of Ephesus home to a succession of ancient civilizations including the Greeks who built the amazing Artemesium temple in 356BC one of the seven wonders of the ancient world. The region is serviced by Izmir Adnan Menderes Airport that lies around 80 kilometres from the resort of Kusadasi and takes around an hour depending on traffic. More...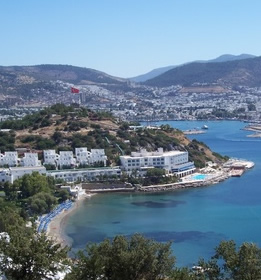 Hotels on the Bodrum Peninsula
The Bodrum Peninsula extends west into the turquoise waters of the Aegean Sea. It is not only home to the resort of Bodrum, Turkey's most popular holiday destination but also around a dozen other resort towns and villages that are scattered along its shores. Each of these resorts has its own variety of beach- life, hotels, holiday accommodation, tourist facilities and infrastructure. Each resort provides visitors with their own memorable and unique flavour of Turkish holidays. Bodrum airport services this region of Turkey and is around 36 kilometers away. More...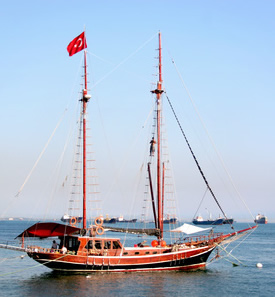 Altınkum and Didim were formerly two separate towns, but have organically grown together over time as the popularity of the area has developed. Altinkum and Didim are located in Aydın Province between the city of İzmir and the resort of Bodrum; about a 90 minute car ride either direction. The region is serviced by two airports either Bodrum airport which is around 68 Km (estimated time: 01:19) or Izmir airport which is around 146 Km (estimated time: 02:15). The weather is stunning with summer averages over 25 degrees centigrade which often rises into the 30's during July and August. More
Holidays to Turkey
Holidays to Turkey offer visitors a range of holiday options from peaceful, away from it all to buzzing cosmopolitan. With even the shortest of visits you can enjoy a glimpse of Turkey's rich history as evident by the many archaeological sites and attractions that highlight this country's amazing past. The climate is another attraction, hot dry summers with monthly averages of 87 degrees Fahrenheit in July and even a pleasant 67 degree average for October keeps customers coming until late autumn. Hotels and apartments of a wide ranging standard are available from simple self catering through to 5 star deluxe with many properties offering an all inclusive option. Please use the Turkey holiday search facility one this page to find your perfect holiday or alternatively call our specialist reservation team on 01226 345381.
The popularity of holidays to Turkey has risen rapidly over the past few years, with new resort regions opening and a range of hotels constructed, Turkey has become a firm favorite with our customers and the traveling public in general. The Country is not a member of the EEC and has benefitted from favorable exchange rates during recent times, coupled with reasonable prices this has further added to this amazing destination's allure. Turkey has six wonderful beach holiday regions from which visitors can choose, see details below to find your perfect Turkish holiday destination!