Holidays to Antalya Region

Antalya
Antalya is Turkeys fastest growing city; visitors are also flocking to this region of Turkey from round the world to delight in the heady mix of excellent beaches, turquoise waters and traditional Turkish culture. There is something for everyone including children; they'll love the Beach Park, which features the exciting slides at Aqua Land. The place is steeped in history too dating back to around 133 BC. Be sure to take time out to wander around the old town of Antalya and also visit Hadrian's Gate. The nearby airport of Antalya (10 kilometres) services the city and the other popular resorts in the area such as Belek, Lara Beach, Alanya, Side and Manavgat. As the coastline is so stunning there is no wonder that Gulet cruises are so popular in this region, please call us for a quote and further information.
Antalya doesn't disappoint, the beaches are gorgeous, there are countless sports activities and things to do, there are archaeological sites and museums to visit and nature reserves to explore. There is no wonder that this is such a popular holiday destination, blessed with natural beauty and famed for its situation on the best coastline in Turkey (the Turkish Riviera) Antalya also provides visitors with a wealth of attractions and great holiday facilities! The place is steeped in history, as well as the surrounding area including the Amphitheatres at Aspendos and Roman ruins at Perge. If that wasn't enough the amazing Lycian way, a 320 mile coastal walk that connects Antalya with Fethiye - a hikers dream! The nightlife is comprehensive and ranges from quaint restaurants to all night clubs and bars.
Antalya Region Resorts
Set with a back drop of pine forests, the lovely resort of Belek has a wide appeal, sun lovers will appreciate Belek's choice of impeccable white sandy beaches, each with its own character, sports fans will also appreciate the hotels here many of which have excellent facilities and golfers are in heaven with a choice of quality courses all within easy reach.

Holidays to the popular resort of Side provide a fascinating contrast, you can gaze at the ancient roman architecture or relax by the pool in a modern 21st Century resort hotel. Alternatively stroll around the ancient amphitheatre and the temples with magnificent columns or visit a pulsating nightclub! Side is set on a peninsula, at the head of which there is an attractive harbour, an idyllic location for an evening meal in one of the many harbour-front restaurants. At each side of the harbour there are two long golden beaches. Most of Side's nightlife is found close to the beachfront; here you will find plenty of lively bars and clubs!

Lara Beach is set just along the coast from Antalya and provides all the ingredients for a fun-packed holiday. A good beach holiday option, close to the attractions of Antalya yet you don't have to go far as Lara beach has sun, sand, sea and great nightlife in its own right including the largest floating night club in the Mediterranean!

For something different why not consider a Holiday in Manavgat? This inland resort lies close to Side and an hour's trek from the antiquities of Seleukeia, an ideal base to discover this picturesque part of Turkey. The resort itself is home to a natural attraction - the famous waterfalls.

Alanya has two distinct sides to it; the original town was origin built around its castle and fortified harbour and has an old quarter, an ideal place to pass an afternoon strolling among the ancient stone streets that provide a glimpse of the town's history and culture. In contrast, the resort has also developed in to a modern holiday destination in its own right, with bars, restaurants, shops and all the tourist infrastructure you would expect from a modern resort.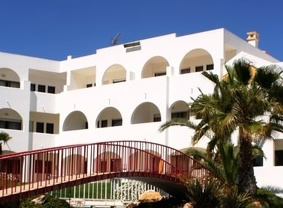 Whether you are looking for a cheap last minute holiday, an all inclusive family hotel or a luxury 4 or 5 star property, the Antalya Region has a wide variety of holiday accommodation to suit everyone.
To see a list of our favourite Antalya Region hotels please click Antalya Region Hotels
Search Antalya Region Hotels