Antalya Region Hotels
"Relax, we have the Antalya Region Hotel hotel for you..."
Travel Empire has a wide selection of hotels and apartments in the Antalya Region, listed below are a selection of our clients favourite accommodation. You can search for any of the resorts hotels and apartments in the adjacent search box. For group bookings (over 9 passengers) or any hotel not featured in our hotel search facility please contact our reservations department:
Call 0800 849 1285 or click for a quote by email.
Gloria Golf Resort ***** Belek / Antalya Hotels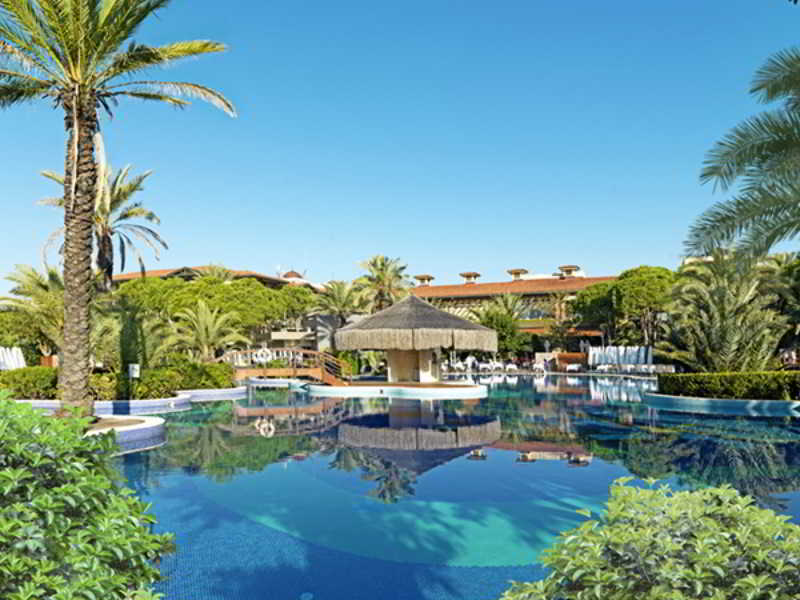 The Gloria Golf Resort boasts an impressive range of facilities, including its own golf course, the hotel is the perfect choice for a luxurious laid back holiday. The resort offers a wide selection of mouth watering eateries and bars, all of which are included with no extra charge on the fantastic All Inclusive. The pool scene is also fantastic with something for everyone to enjoy, from the relaxing lagoon style pools to a waterpark with fun filled slides. Check Availability »
Limak Lara Resort ***** Lara Beach / Antalya Hotels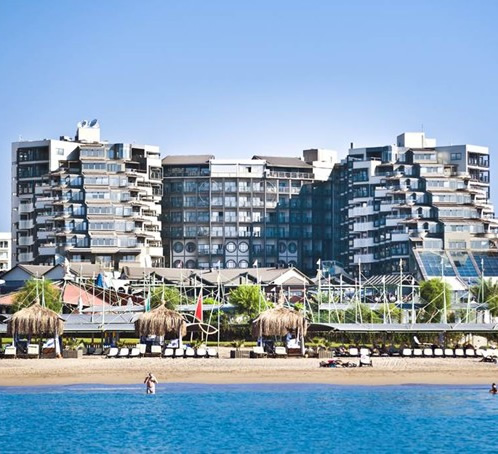 Enjoy a sun filled holiday in Antalya by booking your stay at the luxurious 5 Star Limak Lara Deluxe Hotel & Resort. The Ultra All Inclusive Limak Lara Deluxe Hotel & Resort is nestled in beautifully lush gardens in the popular resort of Lara, in Antalya. This modern Far East concept designed hotel is great for couples and families looking for an unforgettable holiday with plenty of rest and relaxation along with countless activities and attractions. The resort is situated right on the beach and there are so many state of the art facilities in this brand new property that you may never want to leave! Check Availability »
IC Green Palace ***** Lara Beach / Antalya Hotels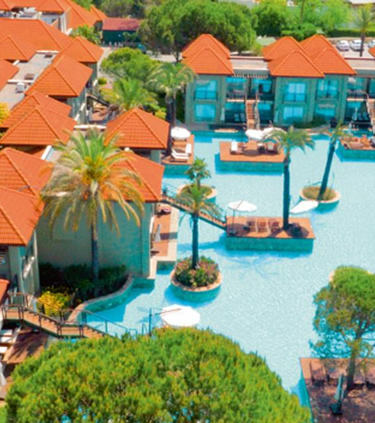 The Intercity Hotel Green Palace has its own private beach and is surrounded by tropical gardens in Kundu. Guests can make use of a wide range of facilities, including a wellness centre, equipped with spa centre, sauna, massage service, swimming pools and 50 metre water slides. Outside, the open-air swimming pool is surrounded by terraces, making it an ideal place to soak up the sun, while the various restaurants and bars provide delicious cuisine, like Chinese and Mexican, exotic cocktails and a relaxed atmosphere. In addition, this hotel features evening entertainment, a shopping centre and children's facilities (4-12 years old). The en suite guest rooms are spacious and well appointed. The complex is just 25 kilometres from the town centre of Antalya, and 15 kilometres from the airport. Click to find out Check Availability »
Saturn Palace ***** Lara Beach / Antalya Hotels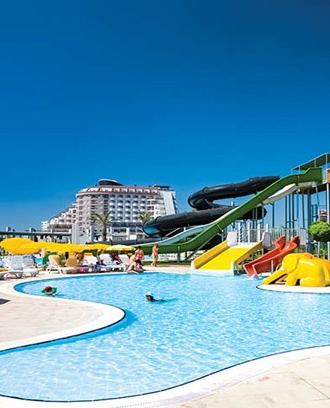 The Saturn Palace Resort Hotel is positioned in a vast area right by the beach, with an extraordinary architecture and interior design, situated in the popular resort of Lara, in Antalya. This stunning 5 Star development offers guests the best of both worlds from peaceful and relaxing surroundings to plenty of action including daytime entertainment, games and sports, making it an ideal choice for both couples and families. Onsite facilities are plentiful and will appeal to all where one pool offers a tranquil retreat away from children and noise and another features a rousing wave pool. Water sports on the private beach, plenty of games on site, fabulous restaurants and bars, spa and relaxation facilities, all this combined with a warm and friendly staff ready to help in any way makes for a memorable holiday in Antalya! Antalya International Airport is 15 km from the Saturn Palace Resort Hotel. Check Availability »
Voyage Belek ***** Belek Hotels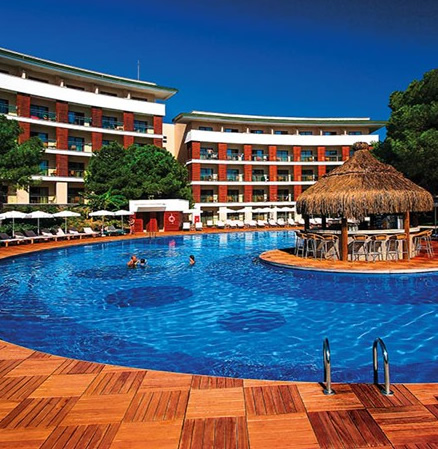 Voyage Hotels adhere to architectural designs that are in harmony with nature. Voyage Belek Golf & Spa, the newest addition to the hotel chain, has also been designed with this concept in mind. Residing like a jewel in the midst of the pine forests of Belek, Voyage Belek Golf & Spa incorporates the concepts of modern design and harmony with nature in its architecture. The great number of a la carte restaurants, unlimited food choices, golden beach, 5 swimming pools with distinctive features, as well as an infinite number of entertainment and game activities including a special amusement park for children at Voyage Belek Golf & Spa make the hotel an ideal holiday location for families with children. Check Availability »
Barut Hotel Hemera ***** Side Hotels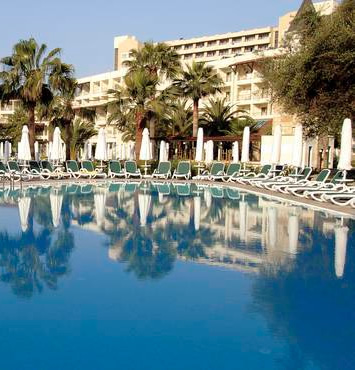 Located in Side, the resort centre is only a 20 minute stroll away and Antalya airport is located 65 kilometres from the hotel. The Hemera is a child-friendly, apartment hotel that comprises of a total of 351 rooms, spread over 3/4 floors. Guests may make use of the foyer with a 24-hour reception desk, hairdressers, lounge, bar and air-conditioned restaurants. A laundry service may be made use of and car-parking facilities are to be found outside of the hotel.
The Hotel has its own private beach where you will find Deck chairs, umbrellas, sun-beds and towles free of charge. Check Availability »
More Antalya Region Hotels...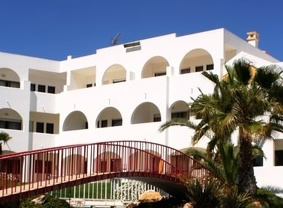 *Please note the star ratings shown may not be the official rating of the hotel but on occasion may represent our own rating or that of our supplier.