Lanzarote Hotels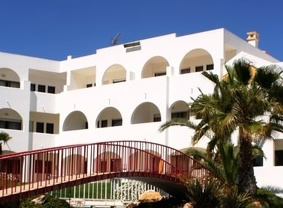 Whether you are looking for a cheap last minute holiday or a luxurious suite in a 5 star hotel you will find it in Lanzarote, the resorts all have good self catering apartments, a wide choice of hotel styles and board arrangements including all inclusive properties. Lanzarote is a great year round destination with accommodation to suit every budget.
To see a list of our favourite Lanzarote hotels please click Lanzarote Hotels
Holidays to Lanzarote
The volcanic island of Lanzarote is a holiday destination that has something for everyone, it caters for singles and couples and yet it is an ideal choice for a memorable family holiday. Lanzarote holidays can be as diverse as its resorts, from quiet sophistication to fun packed days and nights.
A major attraction is the island's tropical temperature, its blue skies are a feature virtually all year round so no wonder that Lanzarote holidays are popular even in the winter months. Ample accommodation to suit everyone from modest self catering to stunning 5 star hotels are available here and with convenient flights from all major airports there is no surprise that Lanzarote holidays remain a firm favourite with visitors from the UK.
Holidays to - Playa Blanca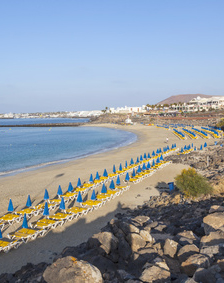 Playa Blanca is situated in the south of Lanzarote and is the fastest growing holiday resort on the island. Development initially spread around the resorts three main sandy beaches and has since continued to spread in either direction from the original fishing port.
Playa Blanca is a good choice for couples and great for family holidays, as a holiday destination it has many popular features and has retained much of its traditional charm. The small sandy town beach has views of the port and two further beaches are located in adjacent bays. Playa Dorada beach offering a variety of water sports and the equally appealing Playa Flamingo beach. Click to find out more...
Holidays to Puerto del Carmen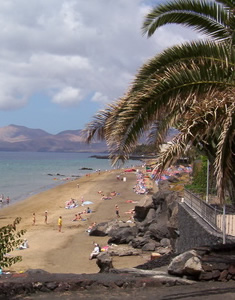 Puerto Del Carmen lies on the southeast coast of Lanzarote only 15 to 20 minutes from Arrecife Airport and is the largest and liveliest resort on the island. Set below a range of steep hills the resort benefits from a super year-round climate.
In addition to the wonderful climate holidays in Puerto del Carmen have remained popular over the years because of several factors, an excellent beach-life with the resort's long sandy beach and its facilities, the busy nightlife and the availability of good value self catering accommodation as well as a choice of hotels up to 4 star standard. Click to find out more...
Holidays to Costa Teguise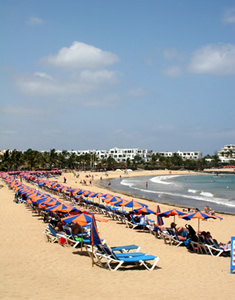 Holidays to Costa Teguise start with a convenient taxi transfer of only 20 minutes from Arrecife airport, this modern beach resort lies on the coast in the central part of Lanzarote. Costa Teguise is purpose built, with a only a few older buildings and provides a good base for your Lanzarote holiday.
The resort's central location make it an ideal location from which to explore the islands other tourist and cultural attractions, including nearby Arrecife and the northern fishing villages of Arrieta and Orzola. The resort has an enviable variety of accommodation and a wide choice of restaurants, bars, cafes, shops and night-life. Click to find out more...
Holidays to Puerto Calero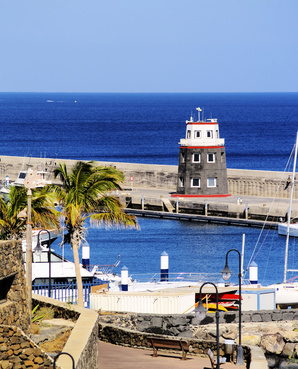 The chic resort of Puerto Calero lies to the south of Puerto del Carmen on the east coast of Lanzarote and around 20 Kilometres from Arrecife airport. The focal point of this exclusive resort is the yachting marina with its promenade of restaurants and swish boutiques.
This relatively new resort does not have a beach, the nearest is at Puerto del Carmen but it does have two quality hotels of 4 and 5 star ratings both with large swimming pools and ample sunbathing areas. Click to find out more...
Holidays to Playa de los Pocillos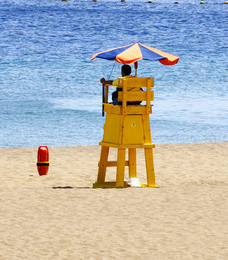 Playa de los Pocillos is a fairly low key resort located between Lanzarote's liveliest holiday spot, Puerto del Carmen and its recently developed sister resort of Matagorda. A major plus for the resort is that it only takes a convenient 10 minute taxi ride to cover the 5 miles distance from Arrecife airport to your holiday hotel or apartment.
Los Pocillos itself lines the wide sweeping beach, one of the largest on the island of Lanzarote. The resort is home to a cross section of quality hotel accommodation with choice of board arrangements from Bed and Breakfast to All-Inclusive. Click to find out more...
Need a hand?
Can't find what you're looking for? Need some help or advice?
Give us a call on 0800 849 1285 to speak to one of our team.