Disneyland Paris Enchanted Christmas
Departure Dates and Prices
Disneyland Paris Enchanted Christmas by Coach
Christmas Season 2020 Departures
2 Nights
17th Dec 2020 - Adult £319 - 1st Child Free - 2nd Child £219
3 Nights
26th Nov 2020 - Adult £349 - 1st Child Free - 2nd Child £239
10th Dec 2020 - Adult £349 - 1st Child Free - 2nd Child £239
23rd Dec 2020 - Adult £579 - 1st Child Free - 2nd Child £239
4 Nights
17th Dec 2020 - Adult £419 - 1st Child Free - 2nd Child £269
Deposits - 2 & 3 Nights = £60pp, 4 Nights = £80pp
Call 01226 345383 for more details or Click Here for a quote by email.
Single supplement prices, please ask. Prices are room only. Breakfast and other meal vouchers can be pre-booked. Prices based on minimum 2 adults in a room. Rooms sleep maximum of 4 persons plus 1 infant. (subject to availability). Child prices subject to sharing a room with 2 adults. Child age is 3-11 inclusive.
Disneyland Paris Enchanted Christmas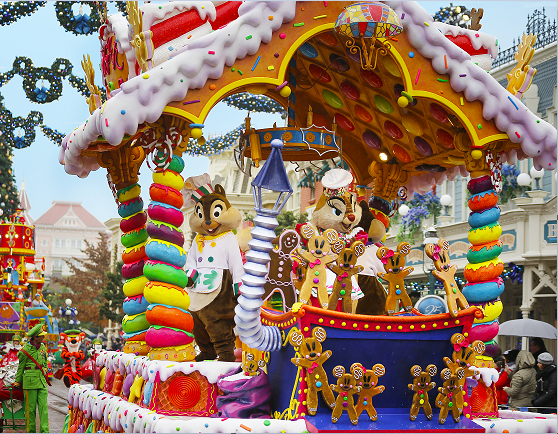 Travel with Gold Crest Holidays and Travel Empire during Disney's Enchanted Christmas season as we join Santa, Mickey and friends for what promises to be this year's jolliest musical extravaganza! From mid November through to early January each year Disneyland® Paris lights up to create the most-magical Christmas experience for all its guests. It is one of the most popular seasonal events of the year at Disneyland® Paris.
Your Itinerary
Day One (Journey to Disneyland Paris) - Relax onboard your Executive Class coach as you journey to your Channel crossing and then onto your Disney® Hotel.
Day Two (Disneyland Paris) - A full day of fun in the Disney® Parks with your included Hopper Tickets.
Day Three (Disneyland Paris) - Enjoy a second full day in both Disney® Parks with your included Hopper Ticket. If you're booked on our 2-night trip, you'll leave at 8pm this evening and settle back on the coach while journeying home overnight, arriving home on the morning of day 4. Those on our 3-night breaks can enjoy the remainder of the evening, perhaps at Disney Village® before a third night at your chosen Disney®hotel.
Day Four - If you're booked on our 3-night Disney holiday you'll depart from your Disney® Hotel for home after breakfast. Those on our 4-night breaks Enjoy a Third full day in both Disney® Parks with your included Hopper Ticket before a 4th night at your chosen Disney®hotel.
Day Five - You'll depart from your Disney Hotel for home after breakfast.
What's Included
Two-Three Day Disney® Parks Hopper Ticket

Staying 2,3 or 4 nights at Disney® Hotel Santa Fe

Return coach travel and Channel crossings

Choose from 180+ coach joining points

- Click Here for Departure Points
Contact Us
Call 01226 345383 for more details or Click Here for a quote by email.
Your Hotel - Disney's Hotel Santa Fe®
Scorching sun, giant cactus, monumental landscapes worn by time. America's southwest awakens the dreamer in us, from the continent-crossing Route 66 to the bright colours of geometric Navajo design. What better place to take a siesta... or join the fiesta? Caramba!
Disney's Hotel Santa Fe® features newly refurbished bedrooms with a Disney Pixar Cars theme which have two double beds, bathroom, telephone, television with international channels and a ceiling fan.
The hotel is an easy, approximately 20-minute, riverside walk from the Disney® Parks or a few minutes by free shuttle bus.
Featuring • A children's menu in the restaurant • Indoor children's corners with various activities on certain days • TV with Disney and international channels • The Pow Wow Game Arcade video games room (paying activity/service) • Daily meet'n'Greet with selected Disney Characters
Disney's Hotel Cheyenne® and Disney's Sequoia Lodge® are also available for a supplement - please ask.
What's Extra
BIG SAVINGS - Save up to 15% - Disney Meal Plans
Plan and budget for your Disney Holiday by pre-booking your meals and making table reservations. Staying at a Disney Hotel gives you quite a few options for dining...
Disneyland® Paris packages are room only, but to help plan your trip and save you money, we offer a selection of value-for-money meal plans. We recommend you start the day with breakfast at your Disney Hotel, with the Disney Hotels breakfast plan, which is easy and convenient. If you are on a tighter budget or prefer a hot breakfast, take a look at our Earl of Sandwich breakfast vouchers plan, which offers the choice of French or Hot American Breakfast. For lunch and dinner we offer dining plans for all the Disney restaurants and for Planet Hollywood and Earl of Sandwich too. There are many different options of Disney dining plans, the higher the plan level, the more restaurants you can choose from. Lastly, but one not to be missed, is the Disney Character Breakfast experience. Now relocated into the Disney® Parks, at the fabulous Plaza Gardens restaurant, this opportunity to dine with your favourite Disney Characters is highly recommended. The photos and experience will create memories to last a lifetime!
Please ask for latest meal plans and prices.

Please note: Every effort will be made by Disneyland Paris to ensure that all advertised facilities are available. However certain shows, parades, attractions, entertainment, shops and restaurants may be closed, modified, delayed or cancelled without prior notice, notably due to inclement weather conditions.