Holidays to San Antonio
If you are looking for a lively 24 hours a day party holiday then San Antonio is for you!. The resort is the liveliest on the island of Ibiza and a firm favourite with the British tourists that like, round-the-clock fun, spectacular sunsets, and legendary nightlife. During the peak summer months, San Antonio is inundated with young British fun-seekers who are attracted to the rocking nightlife, but either side of July and August, the resort sees more of an influx of families and couples seeking a fun holiday with plenty of amenities.
San Antonio holidays offer you a choice of small beaches set along a curving bay. Cala Gracio and Port des Torrent are the favoured option with families for their shallow waters and gently shelving sands. San Antonio offers a huge selection of water sports at the marina. The promenade is adorned with palm trees and is lined with shops, bars and restaurants so that beach lovers and sunbathers won't have to walk far for a refreshment and a snack. Those seeking a more tranquil retreat can take a ferry to the secluded coves and beaches of Cala Tarida, Cala Bassa or Cala Conta.
As the evening begins, the beachfront bars and Sunset Strip come alive with people eager to appreciate San Antonio's infamous sunsets. The hardcore party crowd flock to the West End to hear the big-name DJ's, enjoy all-night drinking and pile in to the throbbing nightclubs. After a heavy all-nighter weary party-goers head to the 'chill out' beach bars and try and refresh their batteries to be ready to do it all again!
San Antonio also offers a range of activities, including bungee jumping, boat trips, water parks, para-scending and horse riding. Public transport is quite reasonably priced so a a popular trip is to include a day wandering around Ibiza town the islands capital picking up a souvenir or memento or two.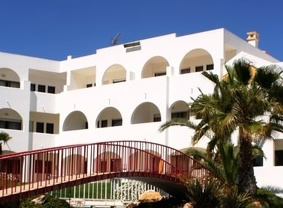 Whether you are looking for a cheap last minute holiday, an all inclusive family hotel or a luxury 4 or 5 star property, Ibiza has a wide variety of holiday accommodation to suit everyone.
To see a list of our favourite Ibiza hotels please click Ibiza Hotels
San Antonio - Google Maps
Search San Antonio Hotels