Holidays to Es Cana
Es Cana is a great choice of resort to suit the whole family there are beautiful golden sandy beaches where children can play safely all day. There is also a wide variety of bars, live entertainment, cafes, restaurants and holiday accommodation. This resort is also quite popular with golfers and has golf clubs with great facilities.
The water sports in Es Cana offer choice and thrills, ranging from windsurfing to banana boat rides there is certainly not a lack of beach activity. If you need a break from the beach and sunbed then you could try a sightseeing trip to nearby Ibiza Town, a visit here really is a must, by day you can wander the old town's cobbled streets and by night the place comes alive, another popular place to see is the resort of Santa Eulalia, this is a tranquil resort with a relaxed ambiance in comparison to the lively Ibiza Town and San Antonio.
Es Cana is one of the quieter resorts on Ibiza, recommended for families and couples looking for a relaxing break. The night life in Es Cana is fairly tame in comparison to other resorts on the island although there are a variety of friendly bars and restaurants the resort is not for the fun-seeking clubbers. Dining out is relatively inexpensive, children are welcome in the majority of establishments and there is a variety of cafes, bars and restaurants, catering for all tastes.
Es Cana has plenty of small shops selling all the usual holiday essentials as well as beachwear, arts and crafts and gift shops. On a Wednesday the 'Hippy market' comes to Es Cana. This unique market has been around since the mid-sixties and is a highly anticipated and popular weekly event. The 'hippy market' is open all day unlike most Spanish markets and has numerous stalls selling a large variety of goods.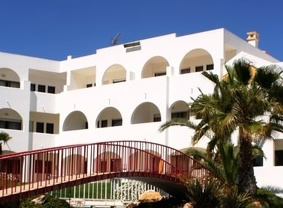 Whether you are looking for a cheap last minute holiday, an all inclusive family hotel or a luxury 4 or 5 star property, Ibiza has a wide variety of holiday accommodation to suit everyone.
To see a list of our favourite Ibiza hotels please click Ibiza Hotels