Holidays to Marbella
Marbella is one of the original Costa del Sol resorts, it built its name and international reputation by attracting Europe's rich and famous to its 2 to 3 mile glorious coastline and golden beaches.
However the resort is not just about its beach-life, it is well worth exploring the back streets of old Marbella where you will find stately buildings that date back to the 16th century or beyond, along with small traditional shops, cafes and galleries - a far cry from the modern popular Marbella just a stone's throw away.
The number one feature of this resort is the Marbella weather, this part of Spain benefits from its own micro climate which results in an average year round temperature of 19 degrees Celsius and 320 days of annual sunshine, just what every resort would wish for! Apart from the remaining 45 days you will only need shorts and t-shirts in the summer and light trousers and a thin sweater in the winter.
So, benefiting from a wonderful climate, add in a good beach, the huge diversity of accommodation, chic boutiques and shops, amazing bars, diverse nightclubs, mouth watering restaurants and cafes, it's easy to see why Marbella is enjoyed by so many people time and time again.
Along with the huge numbers of all types of holidaymakers attracted to Marbella the presence of so many top quality golf courses in the area also highlights Marbella as a haven for keen golfers too!
During the day there is plenty to do in Marbella with a great beach and water sports facilities but it is also a great base from which you can explore the region, the neighbouring resort of Puerto Banus, with its marina and designer shops must be on your list as well as half day excursions to, Mijas, the Caves of Nerja and Malaga city. Full day tour options include Granada to visit the Alhambra Palace, Seville, Cordoba and Ronda you can also visit Gibraltar for a shopping trip or even take a long full day excursion to Morocco.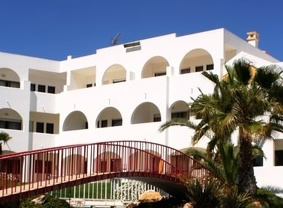 Whether you are looking for a cheap last minute apartment self catering holiday, an all inclusive family hotel or a luxury 5 star property, the Costa del Sol has a wide variety of holiday accommodation to suit everyone. To see a list of our most popular hotels and apartments please click Costa del Sol Hotels