Holidays Rhodes
There are plenty reasons why Rhodes is one of the most popular holiday destinations in the Mediterranean: it's rich history, wonderful natural surroundings, its crystal clear seas, parks and recreational facilities, its attractive resorts and not least the bright sun and the warm hospitality of the islanders themselves. Rhodes has been popular with British tourists for years, the island's wonderful subtropical climate with 3,000 hours of sunshine per year continues to attract more and more beach-lovers to this lovely Greek island.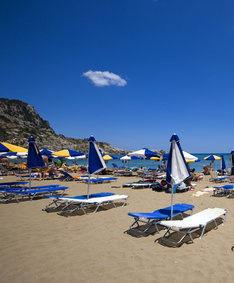 Afandou is located 26 Kilometres from Rhodes Airport and 5 Kilometres from the lively resort of Faliraki, it is one of the oldest villages on the island of Rhodes, famous for its carpets it also has a good range of shops, stores and boutiques. The village is set inland from the coast and approximately one and a quarter miles from it's long beach. Visitors to Afandou are encouraged to visit the church of Our Lady, which can be found right next to the village's main square. In the village square you will be able to meet many of the locals, who are very hospitable and also carry a very characteristic accent. During summer a small road train connects the village to the beach. More...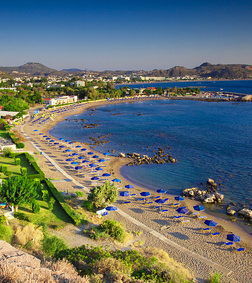 Faliraki is the party capital of the Greek Islands, this lively resort is situated on the east coast of Rhodes. Faliraki is the island's most developed beach resort is just fourteen miles (9km) south of the capital, Rhodes Town. The resort is renowned for two things its large stretch of sandy beach and its pulsating nightlife, the large beach is packed with deckchairs, umbrellas and sunbeds and offers every kind of water-based activity from para-sailing to jet skis. It is possible to take a boat trips around the other small bays of Faliraki, including Kathara Bay, which is one of the most picturesque on the island, and has a nudist beach at one end. Faliraki Square shopping centre provides everything a holidaymaker could need and shops stay open very late. More...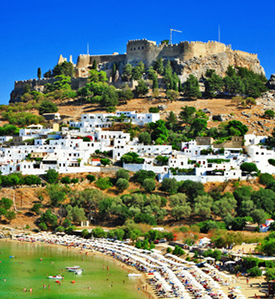 Lindos has everything; history, culture, glamour and nature. Here you will find beautiful beaches, a picturesque hillside village plus a medieval-walled hilltop acropolis containing an ancient Greek temple! The resort overlooks a deep circular bay edged by a wonderful sandy beach. The village is a maze of atmospheric narrow streets paved with black-and-white pebble-mosaics, and lined by ancient whitewashed houses and villas. Designated as a national heritage site Lindos has fortunately been spared the ravages of modern development and has retained a magical charm that captivates every visitor to this lovely resort. More...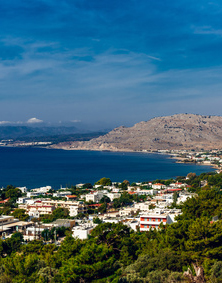 Pefkos is situated on the east coast of Rhodes not too far from the resort of Lindos and about 50 minutes from the airport. The resort is one of the most popular on the island with many clients returning year after year. Pefkos in Greek means 'pine tree' which gives you an idea of the local scenery and while it has grown from a sleepy little bay into a lively small resort with a long beach, crystal clear sea and with good water sports. The really relaxed nature of this place makes it popular with couples and families alike and it's a natural match for the freedom and flexibility of self-catering holidays. More...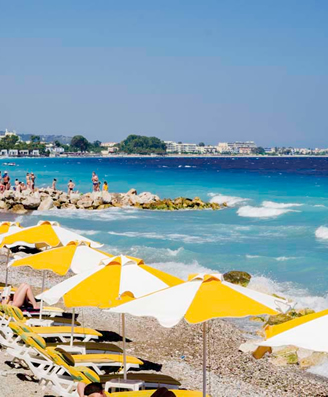 Ixia lies on the northern side of the island about 5 miles from the airport at Rhodes. The resort is home to an assortment of accommodation however there is a large selection of luxury 4 & 5 star hotels. These hotels have some superb facilities and can provide board arrangements from Bed and Breakfast to all-inclusive. If you prefer to sunbathe by the pool this resort could be a good choice for you however if you enjoy windsurfing the sand and pebble beach here is a favourite spot for windsurfers with two water sports centres renting boards and jet-skis. Ixia has a good selection of bars and tavernas, however much of the live entertainment is restricted to the hotels, if you prefer lively nightlife Rhodes town is just a short taxi ride away. More...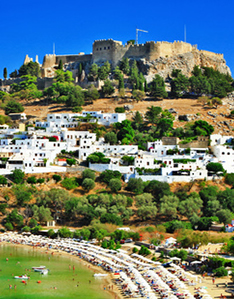 Excursions and things to do in Rhodes...
Holidays to Rhodes have plenty to offer the visitor, with great sites to see both geographical and man-made. There are every type of water-sports, horse riding, boat trips, golf courses, sea fishing, jeep safaris and a multitude of activities to keep the most active of holiday makers happy. Rhode's rich historical past provides endless opportunities to see architecture, visit museums, and ancient archeology. Our customers have recommended an island tour or car hire to see the amazing scenery that Rhodes has to offer. Not to be missed is a visit to Lindos see its acropolis and beaches, also a trip to Rhodes town and try to include the Archaeological Museum of Rhodes (Hospital of the Knights)!
Need a hand?
Can't find what you're looking for? Need some help or advice?
Give us a call on 0800 849 1285 to speak to one of our team.