Favourite Hotels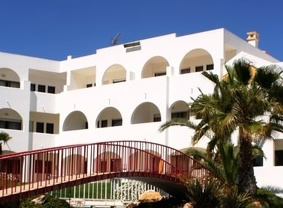 Whether you are looking for a cheap last minute holiday, an all inclusive family hotel or a luxury 4 or 5 star property, Paphos has a wide variety of holiday accommodation to suit everyone.
To see a list of our favourite Cyprus and Paphos hotels please click Cyprus Hotels
Holidays to Paphos

The holiday destination of Paphos is renowned for its resorts, lovely beaches, and a real history. The resort's facilities and nearby airport make Paphos (Pafos) a great choice for your holiday to Cyprus. Located in the western area of Cyprus, Paphos is split in to two areas, there's Kato Paphos the coastal resort area and the town of Pano Paphos, which is just inland. In recognition of the town's history and heritage it has been awarded as an UNESCO world heritage site.
The beautiful old harbour is a focal point of the resort and combined with its beaches including nearby Coral Bay have made Paphos holidays very popular with the resort attracting more and more visitors every year. This sunny destination has a wide choice of accommodation for its visitors to enjoy; from cheap self catering to 5 star all inclusive holidays making Paphos an ideal place to visit for year round relaxation and culture no matter what your budget.
If its beach life you want then Paphos is the place, it has some of the best beaches in Cyprus and with year round sunshine you can't go wrong. The resort benefits from warm temperatures and cool sea breezes (an unbeatable combination) and if you like water sports you'll be in heaven. From the beach you can windsurf, hire pedalos or try your hand at para-sailing or even take a ride on a banana boat. The fun doesn't just stop there; evenings and nightlife in Paphos are very lively too! The resort has a variety of bars and nightclubs as well as a wide selection of eateries from fast food to top international cuisine. Shopaholics will not be disappointed either; you will find an amazing selection of shopping from the local markets to department stores.
We can't mention Paphos without mentioning Coral Bay, Coral Bay is a wide crescent of soft white sand filled with calm clear waters, It is home to several hotels, bars and restaurants, this beautiful bay area has a more 'chilled out' atmosphere than Paphos and is therefore more attractive to families and those seeking a relaxing holiday.