Cyprus Hotels
"Relax, we have the Cyprus hotel for you..."
Travel Empire has a wide selection of hotels and apartments in Cyprus, listed below are a selection of our clients favourite accommodation. You can search for any of the resorts hotels and apartments in the adjacent search box. For group bookings (over 9 passengers) or any destination or hotel not featured in our hotel search facility please contact our reservations department:
Call free: 0800 849 1245 or click for a quote by email.
Olympic Lagoon Ayia Napa **** Cyprus
Set close to the gorgeous Landa Golden Beach on the island of Cyprus, just outside popular Ayia Napa, is the terrific 4-star plus Olympic Lagoon Resort beckoning all members of the family. Offering an All Inclusive package, the impressive Olympic Lagoon Resort is set in tropical landscaped gardens and offers a choice from 301 standard rooms, junior suites, bungalows and adult-only village rooms. A feature of this resort is how it manages to offer areas and facilities for all the family and also provide adult-only areas and facilities. You can enjoy an amazing array of restaurants, bars, swimming pools, kids and teenagers clubs, relaxing spa facilities and a modern gymnasium, a variety of sports fun activities and daily organised activities and evening entertainment shows for all. For a complete holiday experience, book into the 4-star plus Olympic Lagoon Resort close to Ayia Napa on the lovely island of Cyprus. Check Availability »
The King Jason **** Paphos Cyprus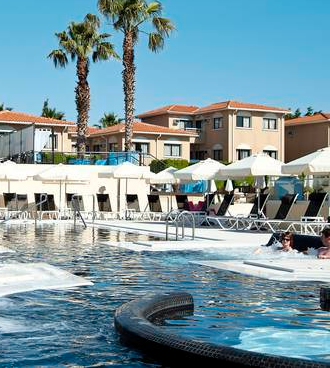 The King Jason in Paphos is situated in a quiet residential area of Paphos on the island of Cyprus. Close to the heart of Kato Paphos, some 950 metres from the sea and only a short walk to the picturesque fishing harbour and ancient fort, The King Jason allows guests to explore the numerous archeological sites of Paphos and to enjoy the many and varied resort facilities available. Within walking distance are a variety of local restaurants and bars which enable guests to really savour the real Cypriot experience. Guest can enjoy its numerous amenities such as five swimming pools (4 outdoor and 1 indoor), a fully equipped gym, spa and many others. The hotel has one main restaurant and one bar. The excellent accommodation, consisting of spacious studios and suites, offers a relaxing and comfortable vacation. It is repeatedly awarded by major Tour Operators and Tripadvisor. Check Availability »
Elysium ***** Paphos Cyprus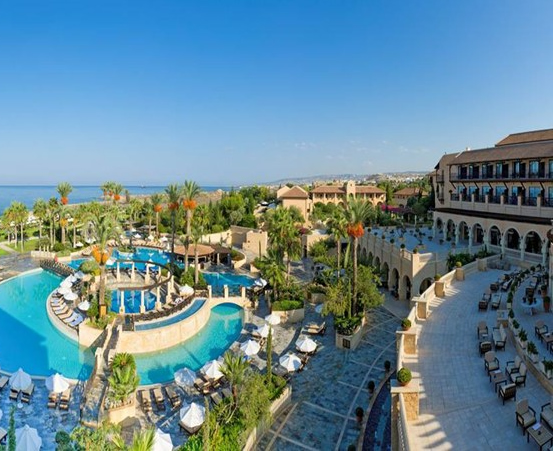 The Elysium is a beautiful 5 star deluxe hotel, boasting an E'spa Spa which offers its guests an entirely unique experience. The hotel offers luxury holiday accommodation close to the ancient city of Paphos. The adjacent ancient 'Tombs of the Kings' provided the design stimulus for the Elysium. Different elements of the resort suggest different spirits, ages and energies including the mysticism of Byzantium, the opulence of Venice and the vitality of the Mediterranean. The resort is intended to offer the visitor a series of experiences that contemplate the rich history of the island. The Elysium is situated on a rocky beach, 15 minutes walk away from the port. Check Availability »
Crystal Springs **** Protaras Cyprus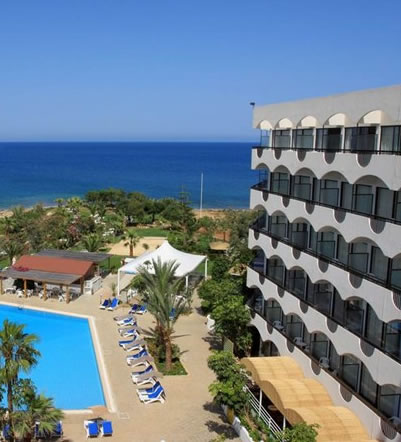 The hotel has its own lovely gardens stretching to the exclusive sandy beach, which is surrounded by unspoilt landscapes with the trees and flowers giving way to the sea. It is ideal for couples and families. The hotel consists of 125 twin rooms with en-suite bathroom. All of our rooms have side or front sea view. 20 rooms have connecting doors and 10 are family rooms with front sea view. All guest rooms are modern and elegantly furnished, with private balconies overlooking the sea and have a lot of amenities Crystal Springs Beach Hotel is a uniquely located 4-star hotel on the Mediterranean island of Cyprus. It is situated on the outskirts of Protaras resort, on the eastern side of the island. It is ideally situated both for those looking for sun, sand and sea as well as those visitors wanting to explore the traditional villages of Cyprus and the few areas of remote coastlines. Check Availability »
Napa Mermaid Hotel ***** Ayia Napa Cyprus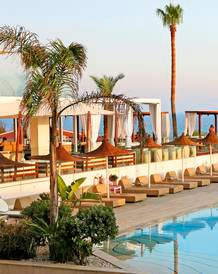 One of the most beautiful hotels in Ayia Napa, the multi awarded Napa Mermaid Hotel & Suites is a stylish contemporary hotel offering deluxe services and facilities whilst boasting one of the most privileged locations in this cosmopolitan resort. Simple in its modern, innovative design and state of the art facilities the Napa Mermaid Hotel is a sanctuary of relaxation and comfort complemented by an unparalleled reputation for excellence and friendliness. Leisure and recreation facilities include an outdoor swimming pool surrounded by sun terrace furnished with sun loungers and parasols, floodlit tennis court, indoor pool (heated during winter), sauna, Jacuzzi, steam room, Swiss needle shower, gymnasium, billiard and professional massage treatments. There is also a water sports and diving school nearby. ** Please note some facilities are at a local charge. Check Availability »
Aphrodite Hills ***** Kouklia Cyprus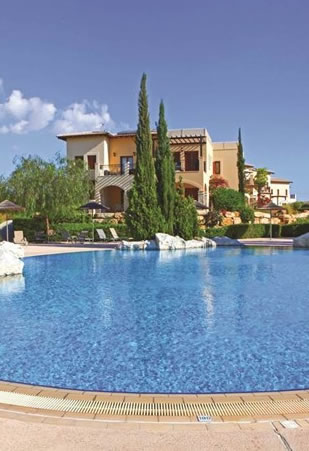 Aphrodite Hills Resort, Cyprus, is a prestigious 5-star integrated sports and leisure resort, combining the 18 hole championship Golf course and Academy, the award winning Greco-roman Retreat Spa, the Tennis Club and Academy, 2 beach clubs and luxurious accommodation at the 5-star InterContinental Hotel or the Aphrodite Hills Holiday Residences, spread throughout the Resort. A new extensive Kids Club complex (Pirates Village), a variety of bars and restaurants, an Equestrian Club and 2 nature trails just add to the wealth of activities to cater for all tastes and moods. Part of the exclusive Aphrodite Hills Resort, the Aphrodite Hills Holiday Residences offer the freedom and privacy of a private villa holiday with all the amenities of a five-star resort. An extensive range of luxury holiday homes including apartments (1, 2 & 3- bedroom),Junior villas (2 & 3- bedroom) and Superior villas (2, 3, 4 & 5 -bedroom) offer their residents uncompromising luxury accommodation, privacy, fantastic services and facilities. Although similar in style, each holiday home is unique in furnishings and decor, thus creating the feeling of a real 'home away from home'. Check Availability »
More Cyprus hotels...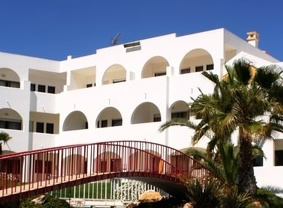 Looking for more hotels in Cyprus?
Please use the online search, and type in the name of your favourite hotel.
Alternatively give our team a call on 0800 849 1245
*Please note the star ratings shown may not be the official rating of the hotel but on occasion may represent our own rating or that of our supplier.