Favourite Hotels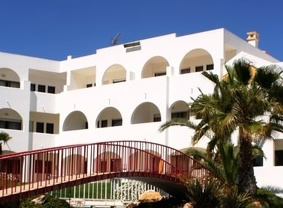 Whether you are looking for a cheap last minute holiday, an all inclusive family hotel or a luxury 4 or 5 star property, Ayia Napa has a wide variety of holiday accommodation to suit everyone.
To see a list of our favourite Cyprus hotels please click Cyprus Hotels
Holidays to Ayia Napa

Ayia Napa is world renowned for its incredible nightlife, if you have the stamina you can spend the day swimming and enjoying the myriad of water sports by the beach, in the evening grab a bite to eat from a huge choice of restaurants, then late evening hit the bars and then on to a range of top nightclubs with international DJ's to party all night long!

As well as the incredible clubs, the beach and water sports, you can try your hand at bungee jumping, visit the Water-World water park, go Go-Karting, take a boat trip, have a helicopter ride, I think you have got the message... this is where the action is!
Ayia Napa holidays are not just about the nightlife and the 18 to 30 crowd. The resort is blessed with some of the best beaches on the island, with plenty of golden sands and clear blue sea. One of the most popular beaches among the younger crowd is Nissi Beach, this glorious beach is famous for its fine sands, crystal clear waters and abundant water sports. Harbour Beach is one of the longest on the island and is a favourite with families along with New Golden Bay that provides a fine sandy beach that shelves gently into the sea.
Away from the nightlife and club scene some areas are very quiet and therefore are more popular with families. The marine life museum and the local water park and are great family fun too. If you like to shop or simply browse you will enjoy a stroll around Ayia Napa's old quarter here you will find quaint narrow streets with interesting shops and boutiques the ideal place to find leather goods, lace, ceramics and other souvenirs.
Like the bar scene here you will also find an amazing choice of eateries; ranging from fast food to international cuisine including, Indian, Chinese, British and Greek restaurants there is no shortage of choice of dining arrangements.
Hotels are aplenty too with a cross section to suit every budget. Self catering apartments are plentiful but the current popular trend seems to be all-inclusive with many hotels providing this option.