Holidays to Algarve
Located on Portugal's southern coastline, the Algarve is renowned for its year-round sunshine and beautiful beaches. Holidays to the Algarve combine long stretches of golden sandy beaches with secluded coves, and modern tourist resorts with quaint hillside villages. This south-facing coastline is flanked by the Atlantic Ocean and characterised by dramatic limestone cliffs. Heading inland, visitors will find lush valleys, rolling hills of orange groves, blossoming almond trees, and whitewashed villages.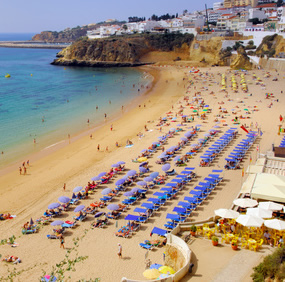 Albufeira is situated on the Algarve and is one of Portugal's most popular resorts. This sprawling resort is renowned for both its beaches and its nightlife. During the day there is the opportunity to participate in numerous watersports or simply sunbathe on a choice of beaches then at night the resort comes to life, visitors can enjoy the restaurants, bars and discos that enliven the night-time hours. More...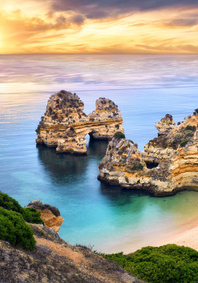 This historical port city is today one of the most popular holiday destinations on the Algarve , sited as it is within walking distance of some excellent beaches. Lagos history dates back to the Carthaginians several centuries BC and was also a staging point for the voyages of discovery for the likes of Henry the Navigator.The resort has numerous attractions and will appeal to families, couples and golfers. There is a wide range of accommodation from top quality hotels to simple self catering apartments. Following recent developments private holiday villas have become quite popular in the area with larger families and small golf groups. More...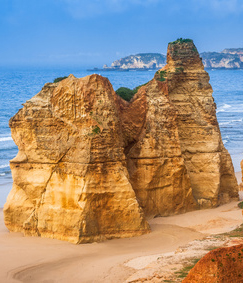 Praia da Rocha is a favourite Algarve resort with British holidaymakers, set close to Portimao, with a convenient transfer time from Faro Airport of only fifty minutes.
The resort boasts an extensive stretch of golden sand sheltered by cliffs with large rock formations both in and out of the water. The hot dry temperatures and the sandy beach with its interesting and picturesque rock formations all add to its popularity. Nightlife in Praia da Rocha is quite lively with a large number of bars, clubs and also a casino. More...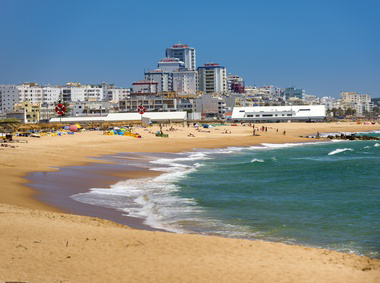 Vilamoura is one of the algarve's most popular resorts, the focal point of Vilamoura is the marina, the resort does however spread out over a large area covering some 2000 hectares. The resort owners are extremely environmentally conscious and every effort is being made to protect nature within its continued and planned development. More...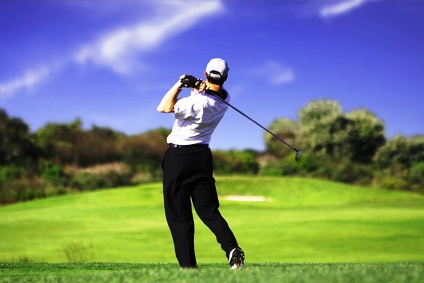 Excursions and things to do in the Algarve
Holidays to the Algarve have plenty to offer the visitor, with great sites to see both geographical and man-made. There are every type of water-sports, horse riding, camel rides, boat trips, world class golf courses, sea fishing, jeep safaris and a multitude of activities to keep the most active of holiday makers happy.
Portugal's Algarve - Google Maps