Grand Tour of India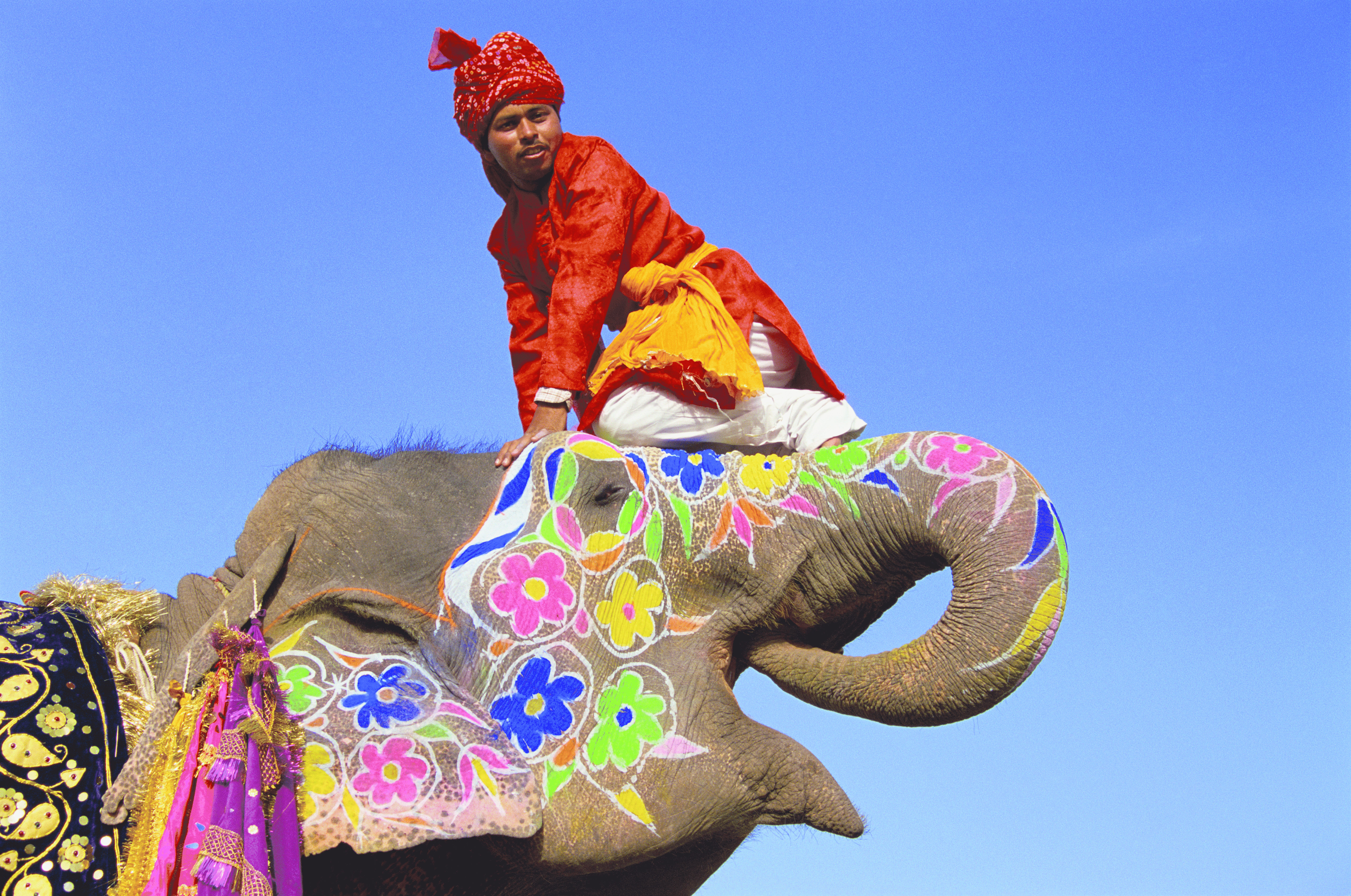 Uncover the mystery and majesty of one of the world's oldest civilisations. From ancient cities and mighty temples to tropical backwaters plied by traditional 'houseboats', and from forested uplands dotted with colonial tea plantations to dusty plains and breathtaking temples, this wonderful Indian exploration has it all.
Grand Tour Highlights
Discover Delhi's historic Red Fort and Jama Masjid Mosque, the India Gate war memorial and the ruins of the Quwwat ul-Islam

Enjoy a rickshaw ride through Old Delhi

A visit to Jaipur's Palace of the Winds and the Amber Fort

A journey to Ranthambhore National Park to search for tigers

Enjoy a village visit and a cookery demonstration in Dholpur

A visit to the wondrous Taj Mahal

Explore Kochi with its famous Chinese fishing nets

A night on a traditional houseboat

A visit to Periyar's Wildlife Sanctuary, with a lake cruise

A night time cycle-rickshaw ride in the temple-town Madurai

Visit the Munnar tea plantations and Tata Tea Museum
India Tour Itinerary
Day One: Fly to Delhi
Board your overnight flight from the UK to Delhi - the teeming, colourful, enthralling heart of India, where the ancient and modern worlds collide.
Day Two: Enjoy a guided tour of Delhi
Arriving in Delhi you'll be met by your Tour Manager and transferred to your first hotel for an included lunch. Freshen up, then join a guided tour of Delhi's Old City. Discover the historic Red Fort, the Jama Masjid Mosque and Raj Ghat, Gandhi's cremation site. We also take you on an exhilarating rickshaw ride through Chandni Chowk's narrow lanes.
Day Three: Explore New Delhi and travel to Jaipur
Today we'll explore the grandeur of New Delhi, built by the British Raj to reflect the glories of the Empire. Highlights include the historic India Gate war memorial and the vast boulevard of the Rajpath.
You'll also have time to see the impressive Agrasen ki Baoli stepwell, the ruins of the Quwwat-ul-Islam mosque and the ornate Qutb Minar tower before you travel to the 'Pink City' of Jaipur, this afternoon.
Day Four: Visit Amber Fort and tour Jaipur
This morning we'll visit Amber for the chance to discover the opulent Royal Halls and sweeping rampart-top views of this 16th-century fort. In the afternoon, we'll tour Jaipur itself, exploring the City Palace complex with its museums and ancient observatory, and the Hawa Mahal or 'Palace of the Winds', with its innumerable windows and screened balconies. Dinner tonight is with a local family in Jaipur.
Day Five: Travel to Ranthambhore National Park
Ranthambhore National Park, one of the best examples of India's conservation programme, Project Tiger, is your base for the next two nights. Once here, rest and relax at your hotel, or join an afternoon optional excursion to Ranthambhore Fort, and take in the stupendous views of the park from its 600m-high vantage point.
Day Six: Spot tigers in their natural habitat
Today you'll enjoy two open-air vehicle (canter) safaris through the Park. Scour the grasslands and waterways of this former hunting ground of princes, in the company of a knowledgeable naturalist guide, searching for signs of the famed, endangered 'Tigers of Ranthambhore' in their natural environment.
Day Seven: Travel to Dholpur and visit a local village for a cookery demonstration
Travel to Dholpur today, and enjoy a visit to the local village during the afternoon. Spend the night here, enjoying an evening cookery demonstration before dinner.
Day Eight: Enjoy a river cruise and visits to Agra Fort and the Taj Mahal
An early morning cruise on the Chambal River offers the opportunity to spot crocodiles, turtles and birds diving for fish. Then, journey to Agra, the City of Love and home of the iconic Taj Mahal. See the royal pavilions, palaces and courtyards of majestic Agra Fort, and then enjoy your first visit to the exquisite Taj Mahal, bathed in glorious evening light, at sunset.
Day Nine: Fly to Kochi
Today you'll return to Delhi. From there, you'll fly south to Kochi, on the shore of the Indian Ocean.
Day 10: Tour Old Cochin and enjoy an evening dance performance
Discover Mattancherry Palace's exquisite murals, the ancient Jewish synagogue, and enchanting Fort Cochin, where Chinese fishing nets line the shore, on this morning's guided tour of historic Cochin.
This evening, experience a traditional Kathakali dance performance - a colourful spectacle that combines elaborate costumes with literature, music, painting and dance.
Day 11: Enjoy a cruise on a traditional houseboat
Rise early to see the fresh catches of fish being landed on fishermen's beach before a tuk-tuk drive through the fish market. After breakfast with a local family, we'll head to Alleppey and board a traditional, thatch-roofed 'Kettuvallam' houseboat for a lazy cruise along the labyrinthine canals and waterways that run between the region's coconut groves, rice fields, hidden temples and tiny islands.
This evening the houseboat chef, who will prepare a series of traditional meals during your voyage, will give a cooking demonstration, and you'll enjoy a guided walk through a traditional Keralan village.
Day 12: Learn about the tea and spice industry in Periyar
Bid farewell to your floating home, and journey into a lush landscape of tea and spice plantations as you head to Periyar. Check in at your hotel, then join our guide and explore the Spice Plantation to learn about the mystery and history of the Indian tea and spice industry.
Day 13: Visit Periyar's Wildlife Sanctuary
See elephants and colourful birds - and just maybe rarely glimpsed tigers and leopards - on an optional, guided trek this morning through Periyar's Wildlife Sanctuary. The Sanctuary is home to several species of endangered mammals and over 250 bird species. This afternoon, enjoy a relaxing boat ride on the lake at its heart.
Day 14: Travel to Madurai
Journey east, into the province of Tamil Nadu, to spend the next two nights in Madurai, one of Asia's oldest cities. Soak up the atmosphere of this unforgettable metropolis, which is dominated by the vast Meenakshi Temple.
Day 15: Explore Madurai
A guided sightseeing tour introduces the Old City of Madurai, today. The ornate facade, colonnades, shrines and towering gopurams (monumental gateways) of the Meenakshi Temple are the breathtaking highlight. Marvel at the continual round of ceremonies and devotions, and the lively markets that take place within the temple enclosure. We'll also visit the beautiful 17th-century palace of Thirumalai Nayakkar Mahal.
This evening, head out from your hotel once more for a cycle-rickshaw ride through the streets and local markets of old Madurai.
Day 16: Travel to Munnar and visit a tea plantation
Leaving the bustle of the city behind, you'll drive through increasingly dense forest to the hill-station at Munnar. Spend a night in this remnant of the glories of the Raj, with its verandas and manicured lawns, and enjoy visits to a working tea-plantation and the fascinating Tata Tea Museum.
Day 17: Return to Kochi
Spend your final morning relaxing, then journey back down to the shores of the Indian Ocean and back to Kochi for a final night in India.
Day 18: Travel home
This morning we'll take a short flight to Mumbai, and connect with our flight back to the UK.
Departure Dates & Prices
Departures From London Heathrow
04th November 2020 - £3249 Per Person
11th November 2020 - £3249 Per Person
27th January 2021 - £3499 Per Person
10th February 2021 - £3449 Per Person
07th April 2021 - £3049 Per Person
06th September 2021 - £3199 Per Person
10th November 2021 - £3249 Per Person
Prices are based on 2 adults sharing
Regional Departures Available On Selected Dates Call For Dates
Call 01226 345381 to Book
What's does the price include?
15 nights' half-board accommodation staying in Delhi (1 night), Jaipur (2), Ranthambhore (2), Dholpur (1), Agra (1), Kochi (3), Periyar (2), Madurai (2) and Munnar (1) in hotels and on a traditional houseboat (1)

Nine lunches, enjoying cuisine typical to the region

Return flights from your chosen airport to Delhi, returning from Kochi via Mumbai

An internal flight from Delhi to Kochi

Comfortable, air-conditioned coach travel and transfers

Fully escorted by a friendly, experienced Tour Manager in India
Single rooms are available for a supplement
Further Information
Chambal River cruise
Cruise is dependent on river water levels.
Taj Mahal restoration work
The white marble of the Taj Mahal is being gradually cleaned in a process that will take up to four years. Parts of the monument's surface may be covered during this process though your visit and access to the main dome is not likely to be restricted.
Itinerary information
On some departure dates the order of the itinerary between days three and eight may be reversed.
Hotel transfer times
The transfer time from the airport to your hotel is approximately one hour.
Passports and visas
British citizens require machine-readable passports when travelling overseas. Your passport must contain two blank pages and be valid for 180 days after your return date from India. A visa is also required for entry to India. Full details of how and when to apply will be sent out about eight weeks before departure. British CITIZENS and some other European nationals satisfying certain conditions may use the online e-Tourist Visa application process at a cost of $75 (US) per person. Other British passport holders, who are not British CITIZENS, must apply for a full visa which costs £112. You may also, at extra cost, use the services of CIBT, our recommended visa handling partner, who will handle the whole process for you. Note that all travellers of Pakistani descent, regardless of citizenship, will generally be subject to more detailed processing by the Indian authorities, which can take up to four months from application.
Foreign Office Travel Advice
Visit www.gov.uk/foreign-travel-advice to find out the latest Foreign And Commonwealth Office travel advice for your holiday destination, as well as information about passports and visas.
On your flight
All outbound flights leave in the evening and land at your destination the next day. All return flights leave in the morning and land in the UK on the same day. On-board meals will usually include dinner and breakfast on outbound flights, and lunch and a snack on the flight home. Drinks are complimentary.
Luggage allowance
You are permitted to take one suitcase per person on the aircraft, which should not exceed 20kg.
Special requirements
If you have notified us of any special requirements, please check that they have been noted and acknowledged. This is especially important with any dietary needs you may have.
Disabled access
The majority of our tours involve a certain amount of walking, including a short walk from the coach stop to the town, attraction or venue you're visiting. If you are bringing a wheelchair, please let us know at the time of booking so that appropriate arrangements can be made. In many developing countries access is sometimes not as easy as at home. Should you have walking difficulties, getting around monuments and attractions may be harder and, in some cases, impossible. Should you have any concerns whatsoever please do contact us prior to travel.
Travel vaccinations
Requirements and advice can vary over time, and from person to person, so please contact your GP about eight weeks before your trip to check whether you need any vaccinations or any other preventive measures.
Itinerary changes
Occasionally, for operational reasons, we may have to change the order of the excursions on your holiday. The final day-by-day itinerary will be confirmed on your Final Travel Documents, which you will receive approximately three weeks prior to your departure.
Changes to your hotels & itinerary
Should circumstances require, the routing of days three to eight may be reversed without affecting the overall content or duration of the tour. We also reserve the right to accommodate you in alternative hotels, of a similar standard, nearby. Full details of your hotels will be sent with your Final Travel Documents.
Restrictions on alcohol
Please note that local restrictions do not permit some hotels in Kerala to serve alcohol.
Road Conditions
In developing countries road networks are continually being improved and expanded, which can mean that, from time to time, roadworks and rough road surfaces can extend journey times. Some journeys are made on winding mountain roads and passes, which may also make for slow travelling - although the scenery is usually worth it! Many roads do not have separate pavements or safety barriers, and great care should be taken when crossing or walking alongside roads.