Spectacular Rockies & Vancouver
Spectacular Rockies & Vancouver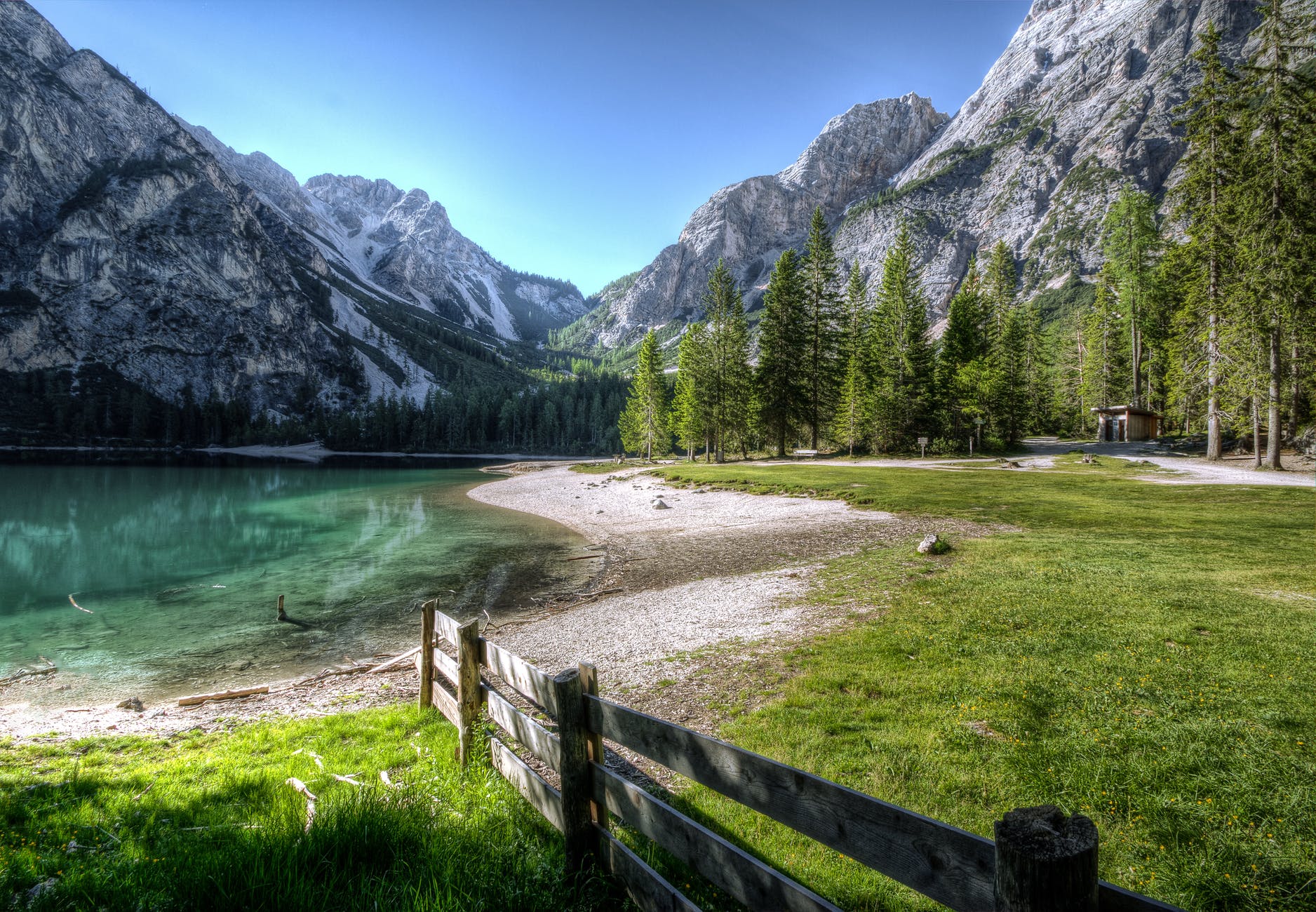 Canada's awe-inspiring Rocky Mountains and the stunning city of Vancouver combine to fill this tour with scenic wonders. Your adventure begins in Banff, with a ride of the Banff Gondola for unrivalled views. Explore the UNESCO-listed National Park in the heart of the Rockies, an incredible wilderness of glistening glaciers, ice-covered lakes and swathes of pine forest where wolves, elk and deer roam. Visit the glacial, jade-green waters of Lake Louise, said to be one of the most beautiful places in Canada, then head to Jasper to explore the world-renowned Jasper National park, home to abundant wildlife, thundering waterfalls and Maligne Lake. You'll then journey to Kamloops in British Columbia, where you'll embark a Rockies river safari through Grizzly Bear Valley on the lookout for, you guessed it, grizzly bears! There's a chance to go whale-watching in Victoria, before visiting Vancouver, where highlights include Gastown, Stanley Park and the beautiful harbour.
Canadian Rockies Tour Highlights
Tour of Banff

Explore Banff and Jasper National Parks

Discover the beauty of Lake Louise

Jasper, Maligne Lake and Maligne Canyon

Enjoy an authentic lunch accompanied by live music at the Wilderness Kitchen

Rockies river safari on the Blue River

Tour of Victoria, Vancouver Island

Visit Butchart Gardens

Vancouver city tour and Stanley Park
Spectacular Rockies & Vancouver Itinerary
Day 1 UK - Banff - You'll depart on your scheduled flight to Calgary today. On arrival we'll transfer you to Banff. Nestled in the heart of the Rockies, this is a great starting point for your adventure, and three nights here gives you plenty of time to explore.​
Day 2 Banff - You're going to get out in the great outdoors this morning on a tour of Banff. There are so many scenic highlights here, and we're going to fit in as many as possible. You'll see the Hoodoos of Bow Valley, imposing spires of rock carved by the forces of nature which stand guard over the Bow River, and Surprise Corner. As the name suggests, sensational picture-postcard views are waiting for you here, so remember to bring your camera! A great way to round off the morning is an optional ride to the top of Sulphur Mountain on the Banff Gondola.
You might choose to make your own discoveries this afternoon. However, you've also got the chance to see more spectacular views of the Rockies, but this time from the sky on an optional helicopter flight.​
Day 3 Lake Louise - A full day out today takes you to a destination often described as the most beautiful place in Canada, Lake Louise. See if you think this glacial jade-green lake surrounded by mountains lives up to its reputation.​
Day 4 Banff - Jasper - At times, the Banff-Jasper Highway reaches nearly 7,000ft above sea level, and the mountain ranges flanking it soar to more than 11,000ft. We're going to travel along this iconic route on our way to Jasper, our next base. Before we arrive, we're going to stop at the Great Columbia Icefield. If you're up for adventure, an optional Ice Explorer ride across the Athabasca Glacier is highly recommended.​
Day 5 Jasper - A former railroad town, Jasper is now known for its breathtakingly beautiful national park. You're going to discover its incredible highlights today, in particular the spectacular Maligne Lake, renowned for its azure waters, and the Maligne Canyon. During our time at Maligne Canyon we'll stop at the Wilderness Kitchen where a lunch of distinctly Canadian produce will be served such as grilled elk sausages, smoked bison ribs or oven-seared salmon. You've a couple of thrilling optional excursions to choose from today too. You could join an exhilarating Athabasca River rafting experience, and later you can take in more stunning sights on an evening nature walk.​
Day 6 Jasper - Kamloops - Our journey to Kamloops in British Columbia takes us over Yellow Head Pass, past Mount Robson – the highest peak in the Rockies – and along the Trans-Canada Highway. The scenery may be spectacular, but the highlight of your day is sure to be our stop at Blue River for an exciting Rockies river safari. This once-in-a-lifetime cruise will take you through Grizzly Bear Valley on the lookout for an array of wildlife including moose, eagles, ospreys and, of course, grizzly bears.​
Day 7 Kamloops - Victoria - The ferry terminal is where we're headed this morning, on a journey which takes us once again through the rugged scenery of the Rocky Mountains. Our ferry will take us to Vancouver Island and then we'll travel by road to Victoria, the provincial capital of British Columbia. This is our base for the next two nights, and we'll get our bearings right away with a sightseeing tour on arrival.
Day 8 Victoria - at Leisure - Soak up Victoria's old-world charm as you explore at leisure today. Highlights include the fabled Empress Hotel, which overlooks the picturesque inland harbour. The waters here are home to an array of marine mammals, so an optional whale-watching excursion is sure to leave a lasting impression.​ Another thrilling possibility is an optional seaplane flight over the city.
Day 9 Victoria - Vancouver - Your morning tour takes you to the famous Butchart Gardens to see a dazzling display of flowers and plants. Later, we return to the mainland by ferry and travel by road to Vancouver. This city boasts an idyllic setting, where the ocean meets the mountains, and you'll see its highlights this afternoon. Your tour will take you to the city's historic core, known as 'Gastown', then on to Chinatown and Stanley Park with its famous totem poles.
Day 10 Vancouver - at Leisure - Vancouver is yours to explore as you please today. If you'd like to join an optional excursion, come with us to Vancouver's north shore. Here you'll see the spectacular Capilano Suspension Bridge and take a cable-car ride up Grouse Mountain. On a clear day the views of the city, the snow-capped mountains of Washington State and Vancouver Island are just wonderful.
Day 11 Vancouver - UK - Enjoy a little more free time in Vancouver before we transfer you to the airport for your flight home.​
Day 12 UK - You'll arrive back in the UK today
Departure Dates & Prices
Departing London Heathrow
11th May 2020 - £2425 Per Person
01st June 2020 - £2699 Per Person
22nd June 2020 - £2699 Per Person
03rd August 2020 - £2899 Per Person
31st August 2020 - £2699 Per Person
14th September 2020 - £2699 Per Person
05th October 2020 - £2299 Per Person
24th May 2021 - £2249 Per Person
14th June 2021 - £2429 Per Person
21st June 2021 - £2429 Per Person
02nd August 2021 - £2429 Per Person
06th September 2021 - £2429 Per Person
13th September 2021 - £2429 Per Person
20th September 2021 - £2339 Per Person
04th October 2021 - £2429 Per Person
Call 01226 345381 to Book
What's does the price include?
Return flights from Heathrow with Air Canada

10 nights in great quality hotels plus 1 night in flight

3 Meals: 2 breakfasts, 1 lunch and welcome drink

Travelsphere Tour Manager

Overseas transfers and other transportation and porterage
Single rooms are available for a supplement
Further Information
Passports and visas
British citizens require machine-readable passports when travelling to Canada. Visitors to Canada must apply for an eTA online with Canadian Immigration at least 72 hours before departure at www.canada.ca/eta . The current charge is seven Canadian dollars for British Citizens. British subjects, and anyone who has a criminal record or has ever been arrested, should consult the Canadian Embassy as a visa may be required.
Foreign Office travel advice
Visit www.gov.uk/foreign-travel-advice to find out the latest Foreign And Commonwealth Office travel advice for your holiday destination, as well as information about passports and visas.
Helicopter flights
Sightseeing flights by helicopter are weight controlled and balanced. Please contact us if you wish to book a helicopter flight and your bodyweight exceeds 250lb. (In such cases, a seat may have to be left empty, and some companies may charge a premium.)
Tipping
Gratuities are a way of life in North America, and it is generally accepted that they form part of a person's earnings. Customary gratuity to a coach driver or tour manager is about $5 per person per day; in a taxi or a restaurant leave 12-15 per cent of the bill and, in the bar, leave a dollar or so per drink.
Smoking
Smoking is not permitted on any coach forming part of your holiday; regular stops will be made though for your comfort en route. The majority of hotels in North America are non-smoking throughout including in all bedrooms. In general smoking outside is acceptable, but do look out for signs prohibiting this close to public entrances or bus stops.
On your flight
All outbound flights depart and arrive on the same day. All return flights leave in the evening and land in the UK the next day. On-board meals will usually include lunch and a snack on outward flights, and dinner and breakfast on flight home. Soft drinks are complimentary, but some airlines will charge for alcoholic drinks.
Luggage allowance
You are permitted to take one suitcase per person on the aircraft, which should not exceed 23kg.
Special requirements
If you have notified us of any special requirements, please check that they have been noted and acknowledged. This is especially important with any dietary needs you may have.
Disabled access
The majority of our tours involve a certain amount of walking, including a short walk from the coach stop to the town, attraction or venue you're visiting. If you are bringing a wheelchair, please let us know at the time of booking so that appropriate arrangements can be made.
Itinerary changes
Occasionally, for operational reasons, we may have to change the order of the excursions on your holiday. The final day-by-day itinerary will be confirmed on your Final Travel Documents, which you will receive approximately three weeks prior to your departure.
Changes to your hotels
Should circumstances require, we reserve the right to accommodate you in alternative hotels, of a similar standard, nearby. Full details of your hotels will be sent with your Final Travel Documents.]
Please note that on 2019 departures, nights 6-7 will be based in the Century Plaza, Vancouver, instead of the Sandman Davie.
Hotel rooms
Standard hotel rooms in North America will contain one or two double- or queen-sized beds, and it is not possible to add extra beds to the room. Parties consisting of more than two travellers, but who have only booked one room, will be expected to make use of the two beds provided. If this is a concern, you may wish to consider booking more than one room for your group.