Australia & The Ghan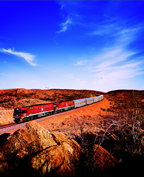 Australia & The Ghan
Embark upon a rail adventure that showcases the best of Australia's natural wonders, from the kaleidoscopic hues of the Great Barrier Reef to the fiery orange of Uluru. A journey on the legendary Ghan introduces you to Australia's remote landscapes in style, and time in Melbourne and Sydney complete this holiday of a lifetime.
Departure Dates & Prices
London Heathrow Departures
25th January 2022 - £7095 Per Person
22nd February 2022 - £6995 Per Person
15th March 2022 - £6895 Per Person
13th September 2022 - £6895 Per Person
25th October 2022 - £6995 Per Person
15th November 2022 - £7095 Per Person
All prices are per person and assume full occupancy of the room.
Please always call us for up-to-date prices and availability.
Highlights
Enjoy a day spent discovering the Great Barrier Reef from the Frankland Islands

Experience the World Heritage Rainforest of Cairns from aboard the Kuranda Scenic Railway and explore the Blue Mountains travelling on Katoomba Scenic Railway

Watch the sun set over iconic Uluru, watching the enormous rock change colour whilst savouring some sparkling wine

Journey overnight in Gold Service, aboard The Ghan train as you travel through Australia's outback

Take a tour of Sydney, including a visit to Bondi Beach for a special fish and chip lunch Australian style
Itinerary
DAYS 1-3 - LONDON TO CAIRNS
We fly overnight from London Heathrow to Singapore, continuing to Cairns in Queensland where we arrive late on Day 2. On Day 3, you're free to relax and begin your explorations at your own pace. Cairns is a vibrant tropical city. Known as the gateway to the Great Barrier Reef, the city is surrounded by mountainous rainforest and pristine beaches. You could stroll through the downtown area, perhaps pausing for lunch in one of the excellent al fresco eateries
DAY 4 - KURANDA SCENIC RAILWAY
We take the coach to Rainforestation Nature Park, in the middle of a World Heritage Rainforest. On arrival, we explore the rainforest with a unique trip on a World War II amphibious military transport unit, or 'Army Duck', seeing the unique flora that's local to this area. Afterwards, we embark on a guided Dreamtime Walk. We learn how Aborigines understand the world and its creation, before experiencing a 'pamagirri' dance performance that depicts aspects of indigenous culture, including food gathering and hunting. After enjoying a BBQ lunch, we travel by shuttle to Kuranda village where we explore the local market before transferring to the station. Here, a journey along the 125-year old Kuranda Scenic Railway awaits us, and we soak up breathtaking scenery as we travel through the rainforest and across the stunning Barron River Gorge.
DAYS 5 & 6 - GREAT BARRIER REEF
A real highlight of our holiday is today's explorations of the Great Barrier Reef, the world's largest coral reef system that's home to thousands of species of marine life. We begin with a cruise along the Mulgrave River, making our way to the Frankland Islands, a remote archipelago whose waters are filled with unique wildlife and coral reefs. During a guided snorkelling session, we may see tropical fish, giant clams, sea turtles, and even octopuses. If you prefer to stay dry, however, you can get a glimpse into this underwater world from on board a semi-submersible or glass-bottomed boat. We break for a tropical buffet lunch, before joining a marine biologist for a guided island walk. On Day 6, you're free to explore the local area further.
DAY 7 & 8 - ULURU
We leave Cairns today and fly to Uluru, the world's largest monolith which rises more than 1,142 feet out of the flat desert floor. We begin exploring this iconic area at the Aboriginal Cultural Centre, where we take a guided tour around this sacred site which holds great spiritual significance to the local Anangu people.
As the sun sets, we watch this giant rock change colour and enjoy a magical dinner under the stars. Our incredible 'Sounds of Silence' experience includes canapés and sparkling wine as the sun sets over Uluru, followed by a 3-course dinner with a bush-inspired menu. After dinner, a 'star talker' will decode the southern night sky, pointing out signs of the zodiac and the planets and galaxies visible due to the clarity of the atmosphere.
We spend Day 8 immersing ourselves in the unique beauty of Uluru and the local area. We begin our day with a sunrise visit to Uluru, watching as the sun's rising rays dance across the vivid orange rock. We then head back to our hotel for breakfast. We continue with an Olgas tour, visiting a circular group of 36 red rocky domes, or 'Olgas', that cover a large area around Uluru. We end our day back at Uluru, where we relax with a glass of sparkling wine and admire the sunset.
DAYS 9 & 10 - ALICE SPRINGS & THE GHAN
Today we travel by coach to Alice Springs, visiting the Royal Flying Doctor Service museum on arrival, learning about the history of the life-saving work of the service. On Day 10, we stop off at the Old Telegraph Station and Anzac Hill - a local lookout area - before boarding the iconic Ghan for our epic rail journey to Adelaide. We travel in Gold Service, enjoying meals freshly prepared by the on-board chefs, from menus that feature a selection of both Australian and international cuisines. We also have access to the Gold Lounge, and all drinks, including beers, wines, and spirits, are included during our time on The Ghan.
DAYS 11 To 14 - ADELAIDE, BAROSSA VALLEY AND THE OVERLAND
We arrive in Adelaide. Australia's fifth-largest city, Adelaide is known for its food and wine, and relaxed way of life. Here we embark on a tour of the city's most famous attractions, including the historic Government House and Parliament Building.
On Day 12, we dive into Adelaide's wine heritage as we explore the famous vineyards that surround the city. We travel to the lush Barossa Valley, where our day of exploration includes plenty of wine tastings and delicious pairings at some of the world's most well-known wineries, including Jacob's Creek. We also pay a visit to Hahndorf in the Mount Lofty Ranges, the oldest surviving German settlement in Australia.
On Day 13 you're free to explore Adelaide further. You could explore the city's fabulous Botanic Gardens, take a walk along the river, or visit the Art Gallery of South Australia, where you'll find impressive displays housed within a beautiful heritage building.
On Day 14, we take The Overland train to Melbourne, in Australia's 'Garden State'.
DAY 15 - MELBOURNE
We begin exploring Melbourne today, the cosmopolitan capital of Victoria. The bustling city is the country's second most populous, and it is bursting with culture and charm, with numerous lush gardens and parks, dazzling modern skyscrapers, and elegant Victorian-era buildings.
Our city tour includes the Melbourne Cricket Ground - Australia's largest stadium, and Parliament House. In the afternoon, we immerse ourselves in Melbourne's famous café culture, relaxing with a cup of coffee at one of the city's popular coffee houses. Later, we join the nostalgic Puffing Billy steam train for a journey through the rainforest and fern gullies of the Dandenong Ranges.
DAY 16 & 17 - THE GREAT OCEAN ROAD & PHILLIP ISLAND
We travel along one of the world's most scenic roads today, the Great Ocean Road. Travelling along the south-east coast of Australia, the route takes us past verdant forest, rushing waterfalls, and glittering ocean. Along the way, we see the Twelve Apostles, a collection of dramatic limestone rocks that rise from the sea. We also visit the pretty coastal town of Bells Beach and see the ancient plant-life and towering trees of the Otway Rainforest.
Day 17 is free until mid-afternoon when we head by coach to Phillip Island. Named after Governor Arthur Phillip, the island forms a natural breakwater for the shallow waters of Western Port Bay. Here we visit the Koala Conservation Centre and encounter wild fairy penguins at sunset, as they emerge from the sea and waddle across the sand to their burrows.
DAYS 18 To 20 - SYDNEY & THE KATACOOMBA SCENIC RAILWAY
We make our way by rail to Sydney today. Sydney is a vibrant city with a buzzing atmosphere, home to one of the world's most beautiful harbours and fringed by sandy beaches. On Day 19 we enjoy a cruise around the world-famous Sydney Harbour, seeing some of the city's most iconic sights. From our boat, we see the instantly recognisable Opera House, the jewel in the city's crown and a masterpiece of late modern architecture, as well as the Harbour Bridge, the largest steel arched bridge in the world.
On Day 20, we journey into the Blue Mountains. Just 30 miles outside of Sydney, the area has UNESCO World Heritage status and is named due to its dense eucalyptus forests which give the illusion of a blue haze when the sunlight hits.
Here, we enjoy a ride on the world's steepest incline railway, the Katoomba Scenic Railway. Our trip takes us past sandstone cliffs, and a rock tunnel beside the tree-covered Orphan Rock, before emerging to stunning panoramic views of the ancient rainforest. We also visit the unique Three Sisters at Echo Point. These unusual rock formations were the source of inspiration for an Aboriginal legend, in which three sisters were turned to stone in order to protect them from a tribal war, and they're a striking sight to behold.
DAYS 21 To 23 - BONDI BEACH & LONDON
We visit an Australian institution today, Bondi Beach, home to sun-kissed surfers and a laid-back vibe. We sit down to a delicious lunch at the Bondi Icebergs Club, experiencing fish and chips Australian style while admiring the views across the endless turquoise ocean.
We catch an afternoon flight to London Heathrow on Day 22. Travelling via Singapore, we arrive home early on Day 23.
What's Included & Further Information
TRANSPORTATION

All rail and coach travel throughout your tour

1 night on board The Ghan travelling in Gold Service with all meals and drinks, including beers, wines, and spirits

ACCOMMODATION

4-5* Accommodation

19 Nights' Hotel Accommodation

EXCURSIONS & ENTERTAINMENT

UK Tour Manager from start to finish

FOOD & DRINKS

28 meals including 19 breakfasts, 6 lunches and 3 dinners

FLIGHTS AND AIRPORT TRANSFERS

Flights from London Heathrow to Cairns via Singapore and Sydney to London Heathrow via Singapore

All internal flights

WHAT'S NOT INCLUDED

Cancellation & Travel Insurance is not included in the price of the tour but can be arranged
British Citizens require a visa to enter Australia.