Kusadasi Hotels
Relax, we have the Kusadasi hotel for you...
Travel Empire has a wide selection of hotels and apartments in the Kusadasi, listed below are a small selection of our clients favourite accommodation. You can search for any of the resorts hotels and apartments in the adjacent search box. For group bookings (over 9 passengers) or any destination or hotel not featured in our hotel search facility please contact our reservations department:
Call 01226 345381 or click for a quote by email.
Kustur Club Holiday Village **** Kusadasi Hotels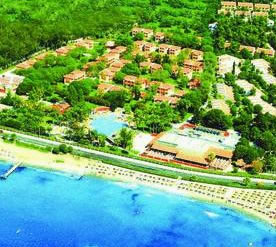 The 5 Star Kustur Holiday Village Hotel is located in the ever popular Turkish Riviera resort of Kusadasi. Guests will find luxury everywhere, with services, facilities and amenities to keep a smile on everyone's face! Lush gardens, amphitheatre, private sandy beach, the beach front hotel is surrounded by the beautiful blue Mediterranean sea yet only 3km from the bustling city centre offering an array of fine eateries, great shopping, bars and restaurants. The Kustur Holiday Village has proven to be a big hot with families and couples whether guests wish to explore the marvellous beaches,coves and bays or simply sit back relax with the newest bestseller at the poolside. For a great holiday in Turkey make the Kustur Holiday Village the choice for your next booking. Check Availability »
Charisma De Luxe ***** Kusadasi Hotels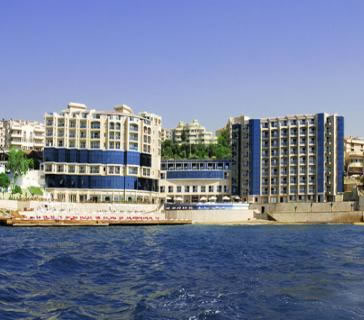 Book and enjoy the luxury Charisma De Luxe Hotel ideal choice for families and couples seeking a relaxing and joyful holiday in Turkey. The Charisma De Luxe Hotel is situated in the picturesque area of Kusadasi in Turkey. Towering over the Aegean Sea with outstanding views and only 15 minute walk from Kusadasi's shopping and entertainment venue. The Charisma De Luxe Hotel offers guest rooms equipped with bathroom, jacuzzi, LCD screen television, split air-conditioning, mini-fridge, electronic safe box, direct dial telephone, hair dryer and free internet connection. There is a sea view from the rooms. Check Availability »
Grand Blue Sky International ***** Kusadasi Hotels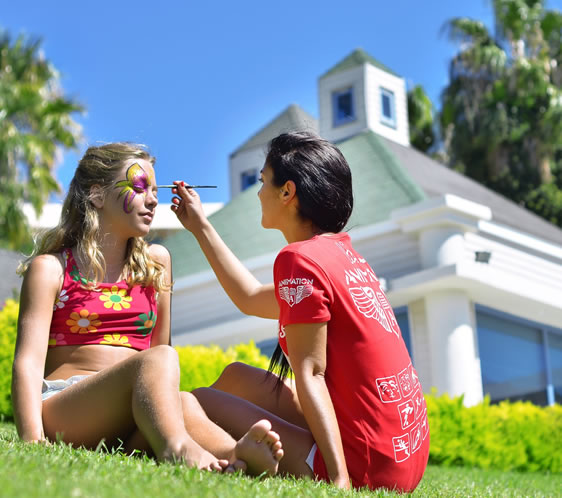 This great property offers a total of 325 rooms on 6 floors, a 24-hour reception, safe deposit boxes (with charge), lift and a cafe. In addition, there is a supermarket, a bar, a nightclub and an air-conditioned a la carte restaurant with children's highchairs. Laundry services (for an added fee), internet access area, medical assistance, and laundry services are other services that hotel provides. The Hotel offers different range of activities to those who like sports; aerobics, water skiing, jet skiing, motor boating, surfing, wind-surfing, catamaran boating, canoeing, diving, tennis, table tennis, pedalos, pool and a gym which some of might be with local a charge. Day and evening entertainment programme is also provided. Check Availability »
Palm Wings Ephesus ***** Kusadasi Hotels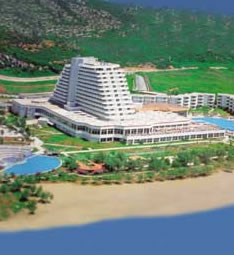 The Palm Wings Ephesus Hotel is a hotel complex situated in the beautiful area of Kusadasi. It consists of elegant rooms designed to offer guests comfort and services. The property features 10 swimming pool, including an activity pool, relax pool, children's pool with concept slide, as well as an adults pool with slide. A new mini club, special game room, hobby rooms, sleeping room area, and snack bar have been constructed. The property amenities also include indoor and outdoor bars (recently renovated), a gorgeous restaurant, massage services, sauna and conference facilities, and a new shopping centre, among others. It is an ideal choice for those looking for relaxing and joyful vacations. Check Availability »
Fantasia Hotel Deluxe ***** Kusadasi Hotels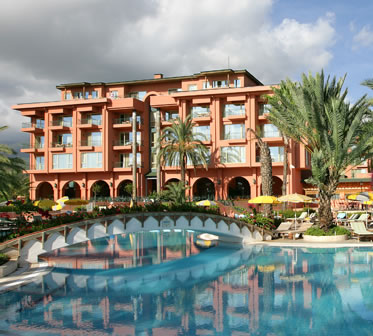 Fantasia Deluxe Hotel is an ideal choice for families and couples looking for an amazing fun packed beach holiday. Located in Kusadasi, the hotel offers a private beach, superb service and all-around high standards. The pool scene here is amazing with one large free-form pool, surrounded by a terrace laid out with loungers. A smaller circular pool overlooking the beach and even an indoor pool. There are so many dining options you'll be spoiled for choice and several bars are dotted round the hotel serving cool drinks and cocktails. If you're in need of some pampering then head over to the spa, where all manner of treatments are on offer. For the more active, stroll down to the beach and try your hand at the numerous water sports. The kids will love it here, with their own pool, kids clubs and activities from morning until night. Check Availability »
Sealight Resort ***** Kusadasi Hotels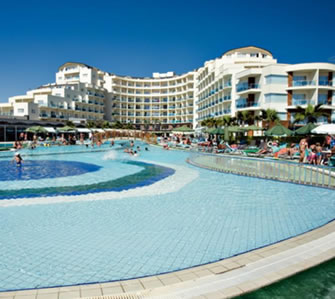 The Sealight Resort Hotel is a 5-star resort located on the west coastline of Turkey at Kusadasi, set in landscaped gardens on the beach in the region of Izmir. There are 465 smart modern rooms and suites available at the Sealight Resort Hotel with a main restaurant offering international buffet dishes, a bar, and entertainment team hosting daily activities and shows with live music included. You can relax and unwind at the outdoor pool and sun terrace, leave the children at the kid's club, refresh at the Spa and Wellness Centre, workout in the gymnasium and enjoy a host of fun and sports activities; and hit the lovely beaches. Check Availability »
Alkoclar Adakule Hotel ***** Kusadasi Hotels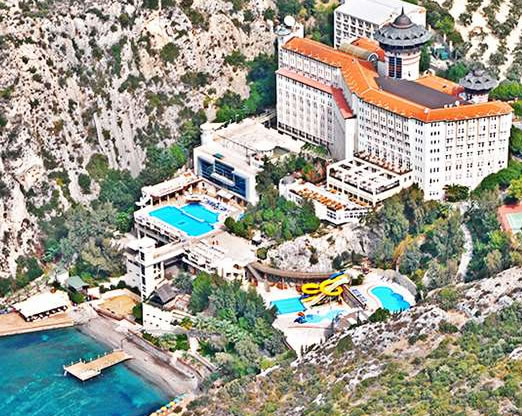 Looking down to the blue of Aegean Sea, right at the heart of the ancient Ionic lands -and therefore surrounded with unique historical places such as the unparalleled ancient city of Ephesus and the famous pilgrimage, The House of Mother Mary- and five minutes away from the crowded and fun town of Kusadasi, surrounded with cliffs of serenity, the quiet, the monumental Hotel Adakule offers you an almost private castle with its exclusive beach of its own private bay and its all around facilities, which include multi-sports areas. Check Availability »
Omer Holiday Resort **** Kusadasi Hotels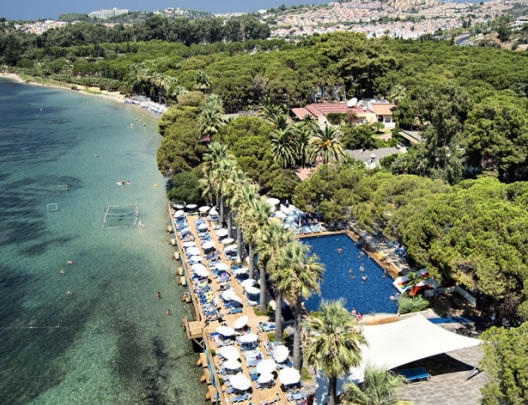 Omer Holiday Resort, Kusadasi, spans 36,000 sqm and is surrounded by pine trees. This luxury resort offers a wide range of facilities and is only 3 km from the city centre. It also boasts a genuinely stunning location. Official rating is 1st Class. Omer Holiday Resort features: swimming pool with water slides, separate childrens pool, beach access, health cabin, open buffet restaurants, a la carte restaurant, snack bar, pool bar and beach bar, fitness centre, tennis, mini-football, basketball, volleyball, mini-golf, table tennis, nightly live music, water-skiing, wind-surfing, parasailing, canoeing, and pedal boats. Check Availability »
More popular Kusadasi hotels & apartments...
*Please note the star ratings shown may not be the official rating of the hotel but on occasion may represent our own rating or that of our supplier.