Holidays to Morro Jable & Jandia
Set on the Jandia peninsular 100 kilometres from the islands airport on the southern tip of Fuerteventura lie the resorts of Morro Jable & Playa de Jandia. The old fishing port of Morro Jable and the neighbouring new resort of Playa de Jandia have developed over the last few decades so that they have almost merged into one large resort.
The glorious beaches stretch for miles and the area is a magnet for beach lovers and windsurfers. The port of Morro Jable is home to a small fishing fleet and several pleasure boats, from here you can also take the jet foil to Gran Canaria.
The two resorts are very popular with German tourists and have been for many years, however over the last few years British holiday makers have ventured down to the resorts, lured by the magnificent beaches, fantastic climate and good accommodation. Prestige holidays to Jandia with its wide selection of 4 and 5 star hotels are a common feature of the resorts here. Luxury hotels abound most of which have suites and many other holiday comforts for their guests.
The resorts are connected by a long promenade lined by shops and bars, Playa de Jandia has developed a few larger commercial centres with shops, cafes and restaurants and for those who want it, some more active nightlife can be found but still in keeping with Fuerteventura's low key reputation. Naturists have also long been visitors to the region there is a dividing line either side of the lighthouse that defines the naturist area of the beach.
If you like to take a break from the pool or beach then you could take a trip to Corralejo where you can get a ferry over to Lanzarote or visit the Baku water park. Horse-riding is also a popular pastime in the resort with all age groups as it is something different and a new way of getting round the resort. The islands latest golf course has opened in the region, the 18-hole Jandia Golf Club is situated 3 miles north of the resort. This challenging par-72 course, designed by Ron Kirby opened in 2007. Club hire and tuition are available.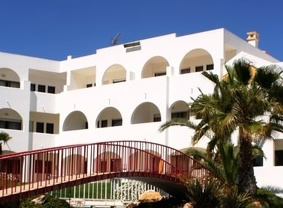 Whether you are looking for a cheap last minute hotel or a luxurious suite in a 5 star property you will find it here in Fuerteventura. The resorts all have good self catering apartments, a wide choice of hotel styles and board arrangements including a good selection of all inclusive properties.
To see our favourite Fuerteventura hotels please click Fuerteventura Hotels
Morro Jable & Jandia - Google Maps
Search Morro Jable & Jandia Now