Holidays to Costa Calma
Costa Calma as its name suggests is a relaxing beach resort located in the south east of Fuerteventura, it is around 50 miles (or 80 kilometres) from the island's airport. This purpose built resort is popular with couples and families attracted by the superb beach and the relaxing ambiance of the resort.
The beaches here are excellent, the main beach of Costa Calma is situated in a large bay, and the seas in the bay are quite calm and therefore suitable for children and inexperienced swimmers. As the resort does not have a seafront promenade many of the hotels and apartments literally are built right next to the beach.
To the south of the resort is the Playa de Sotavento beach this huge beach stretches all the way (around 12 miles) down to Morro Jable. This beach does get windy and attracts windsurfers from far and wide.
In the resort itself there are several small shopping areas, some selling clothes and leather goods but mostly the usual souvenirs and beach accessories, but for bargain hunters look out for the Sunday market that comes to Costa Calma the colourful stalls may have just have that memento you were looking for!
For nightlife the resort is fairly low key there are some music bars and nightclubs that stay open until the small hours there are also quite a few German bars here as they are the most numerous visitors to this resort (and southern Fuerteventura in general). For dining out then there is an ample choice of international options, including restaurants offering Italian, Chinese and local Spanish cuisine.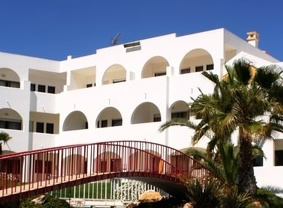 Whether you are looking for a cheap last minute hotel or a luxurious suite in a 5 star property you will find it here in Fuerteventura. The resorts all have good self catering apartments, a wide choice of hotel styles and board arrangements including a good selection of all inclusive properties.
To see our favourite Fuerteventura hotels please click Fuerteventura Hotels
Costa Calma - Google Maps