Holidays to Corralejo
Holidays to Corralejo remain a firm favourite with British holiday-makers with more and more visitors choosing to holiday here in Fuerteventura's busiest resort.
The increase in visitor numbers has prompted the development of Corralejo, with new hotels and apartments springing up each year to satisfy this demand.
A Holiday in Corralejo has changed over time as the resort has grown from what was a sleepy fishing village into a lively popular holiday resort.
The resort however has managed to retain a good proportion of its original charm and atmosphere, and there are still white sandy beaches in the town centre, where you can relax and soak up the Canarian sunshine. The excellent year round climate makes a winter holiday in Corralejo a popular option too!
Along the Corralejo main street you will find most of the shops, bars and restaurants, the street leads right down through a pretty square and on to the quaint harbour which looks across to the famous sand dunes. The dunes lie just beyond the town but stretch for several miles.
Corralejo is popular with families and couples of all ages and here there's a wide variety of things to do, from camel rides, glass bottom boat trips, water-sports, tennis, Jeep Safaris, Island tours, mountainbiking and motorbike tours to name but a few.
Corralejo is also the ferry terminal for the short ferry journey across to the neighbouring island of Lanzarote.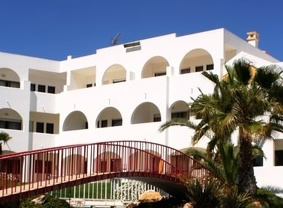 Whether you are looking for a cheap last minute hotel or a luxurious suite in a 5 star property you will find it here in Fuerteventura. The resorts all have good self catering apartments, a wide choice of hotel styles and board arrangements including a good selection of all inclusive properties.
To see our favourite Fuerteventura hotels please click Fuerteventura Hotels