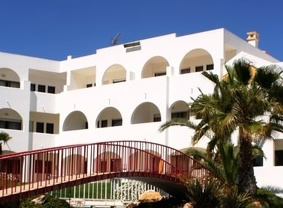 Favourite Hotels...
Whether you are looking for a cheap last minute apartment self catering holiday, an all inclusive family hotel or a luxury 4 star property Cambrils has a wide variety of holiday accommodation to suit everyone. To find your favourite Cambrils hotel or apartment and to check availability please use our search facility above. Back to the top of the page.

Holidays to Cambrils
Cambrils is situated in the Spanish region of Catalonia on the Costa Dorada. The resort has developed in to a modern, international tourist resort yet still managing to retain the charm of a traditional Spanish fishing village.
The resorts outstanding features are its golden beaches, the renowned seafood restaurants and its location close to the Port Aventura theme park. Cambrils is conveniently located near to two international airports; Reus just 12 kilometres away and Barcelona which is around an hour's drive north east.
The many beaches here extend over nine kilometres. With fine sand gently shelving into the warm waters of the Mediterranean and plenty of water sports and beach activities, Cambrils is an ideal destination for families and beach lovers.
If you enjoy sightseeing, Tarragona is not far from Cambrils and is an attractive city with lots to see and do, overlooking the beautiful sea. Also nearby is Port Aventura which is great fun especially for children as there are many scary and tempting rides to enjoy.
If you enjoy shopping there is a street market held in Cambrils every Wednesday in the centre of the resort there are also several small shops that sell gifts and souvenirs. Nearby Tarragona a little bit further along the coast provides a range of shops and is definitely worth a visit.
As Cambrils has developed from a fishing village, they have many different fish dishes that may appeal to you along with a fine selection of Spanish food served in the local restaurants and tavernas.
Cambrils also has several quality restaurants that produce great evening meals with international cuisine. Along with traditional Spanish fare there are a range of British pubs and fast food eateries.
Nightlife in the resort is more relaxed and peaceful than its busier neighbour Salou, there are however, many British style pubs and disco bars, but most things are kept fairly low key at Cambrils and the partying is left to Salou, the busier neighbour.
Our most popular hotel in Cambrils is the Tryp Port Cambrils To find more Cambrils hotels,accommodation and availability please utilise our 'search for holidays' or accommodation in the right hand column above.