Holidays to Puerto Banus
Set just to the west of its larger neighbour Marbella, on Spain's Costa del Sol, Puerto Banus is a relatively recent travel destination however, as it has only opened its doors to the general holidaymaker in the last 20 years or so; previous to that it was a very exclusive spot, known only to the locals and a few film stars! Puerto Banus is a desirable destination, not just for the famous but also for holidaymakers ranging from high-flying business men and women to professional families looking for a relaxing time in the Spanish sunshine. The resort's marina and the wealth of beautiful golf courses in the area also make Puerto Banus a haven for golfers and yachtsmen alike.
Puerto Jose Banus is only a few kilometres west of Marbella and shares many characteristics of its larger neighbour. One thing Puerto Banus has over Marbella is its picturesque and exclusive marina filled with eye catching multimillion dollar yachts. Puerto Banus also boasts a beach that stretches for one kilometre - the golden sands have attracted several 4 and 5 star hotel developments and are a major attraction to this busy holiday town that was once a traditional small Spanish fishing village only a few decades ago.
In common with other resorts associated with rich celebrities, Puerto Banus has more than its fair share of upmarket pubs, clubs, restaurants, world-class shopping and a casino. Along the marina you can find high end designer boutiques and expensive restaurants, but if you prefer to browse smaller, more traditional local shops and outlets you don't have to go far to find these too. The Spanish equivalent of Marks and Spencer the department store El Corte Ingles with its five stories, and the Marina Banus Shopping Centre are two of the most popular shopping excursions. If you prefer the local market type shopping then on Saturday morning head for the bullring here you will find a range of local products and maybe you will find that special holiday
Puerto Banus nightlife is buzzing, this renowned holiday town as it all, you can drink 'til dawn if you so desire or just sample a quiet drink and tapas in one of the many local bars dotted throughout the town. If you do get the urge to have a taste of the celebrity lifestyle (and why not?), simply head down to the Marina here you will find numerous cocktail and wine bars, a great place for a spot of people watching!
In the area surrounding Puerto Banus there are lots of places to be enjoyed. The Sierra Bermeja Mountains give a backdrop to the north of the town, and numerous top quality golf courses are within a 10 kilometre radius of Puerto Banus. These golf courses give Puerto Banus a world wide reputation and attract players from across the UK, they are popular all year round but particularly so in the winter months when its not so enjoyable to play at home.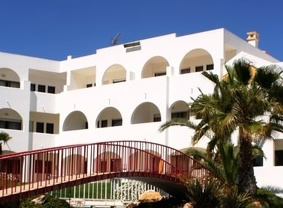 Whether you are looking for a cheap last minute apartment self catering holiday, an all inclusive family hotel or a luxury 5 star property, the Costa del Sol has a wide variety of holiday accommodation to suit everyone. To see a list of our most popular hotels and apartments please click Costa del Sol Hotels
Search Puerto Banus Hotels