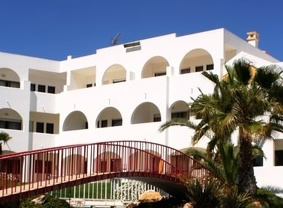 Favourite Hotels...
Whether you are looking for a cheap last minute holiday, an all inclusive family hotel or a luxury 4 star deal, the Costa Brava has a wide variety of holiday accommodation to suit everyone. To find Estartit hotels and accommodation availability please utilise our search for holidays or hotel only in the right hand column above. Back to top of the page

Holidays to Estartit
Estartit is located in the Spanish region of Catalonia at the northern end of the Costa Brava. This is a small and very pretty family resort, situated at the foot of the Montgri mountain range, the resort has a good range of holiday facilities and even comes with its own 13th century castle. Estartit is only 60 kilometres south of the French border and a mere 40 kilometres from the nearest international airport at Gerona. However many holidaymakers arrive via Barcelona airport, 150 kilometres to the south, which handles a much larger number of international flights. Estartit's charm is that it still holds on to a certain feeling of a traditional Spanish village even though it now has modern facilities such as the yachting marina.
This popular resort has developed from a quiet fishing village in to a holiday destination favoured by both local Spaniards and a range northern European tourists, especially the British, Dutch and Germans. This relaxed and laid back resort appeals to couples and families with younger children and is also popular with the gay community.
Although there are plenty of leisure activities and night clubs to keep teenagers occupied in the summer months older teenagers bent on wild all-night partying will be more suited to the Costa Brava tourist capital of Lloret de Mar.
All visitors appreciate the superb range of beautiful beaches, these are very popular and safe. On the beach visitors can enjoy the many activities that are available such as snorkeling, wing surfing or sailing are most popular. There are also other activities to take part in such as boat trips and excursions, horse riding or playing golf. An enjoyable holiday evening can be spent having a cocktail or two and a pleasant meal.
Estartit has a wide range of food available so there should be something to suit everyone's taste. Estartit has a range of waterside restaurants that serve great food. You can also find pub grub, fast food and an Indian restaurant.