Holidays to Mojacar
Mojacar is far removed from the concrete developed mega-resorts that have appeared throughout Spain, it is an engaging, beautiful and romantic corner of the Costa de Almeria. Perched high on a hill this picturesque village features lovely white washed houses, courtyards and traditional cobbled streets, it overlooks the sea and the long sandy beaches. A haven for artists and writers for many many years, Mojacar with its Moorish appearance and commanding views is a fascinating and captivating place, full of atmosphere, Mojacar provides a completely different holiday destination.
Whether it is sailing, fishing, bowling, tennis, golf or water sports that take your fancy or simply relaxing on an uncrowded beach soaking up the sun, you will find it all and more in and around Mojacar. There are cobbled streets of attractive whitewashed homes opening into ancient courtyards which boast breath taking views down to the sea. There are a host of things for holidaymakers to do, with uncrowded beaches, water sports, sailing, fishing, bowling, tennis and golf, there is literally something for everyone!
Mojacar is a very relaxed, tranquil resort. It is suitable for anyone looking for a relaxing beach holiday, if you are looking for a more upbeat clubbing holiday then Mojacar probably isn't the place for you. The resort provides an ideal base to explore this relatively undiscovered corner of Spain. Like most resorts Mojacar has the usual range of shops, including fashion, gifts and health shops.
Although Mojacar is not well known for its nightlife, it does have numerous bars and restaurants to suit most tastes. There are beach bars, music bars, karaoke bars, night clubs, and various restaurants offering a wide range of cuisine. During the day Mojacar offers a wide range of activities. Some activities are horse riding, quad trekking, golf and fishing. There is also various water sports offered on the beach.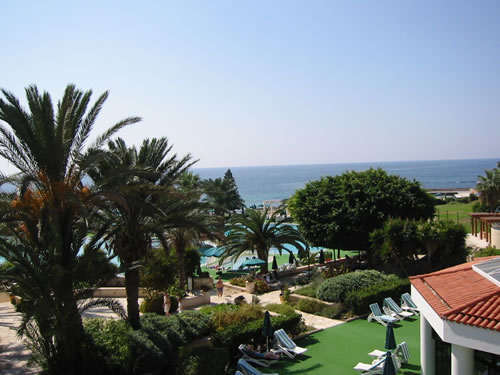 Travel Empire's favourite 4 star hotels in Mojacar; Best Mojacar and the Indalo Puerto Marina.
To see a list of our favourite Costa de Almeria hotels please click Almeria Hotels