Holidays to the Balearic Islands
Situated in the Mediterranean off the eastern coast of Spain, holidays to the Balearic islands can be enjoyed in Majorca, Ibiza, Minorca or Formentera. These world famous holiday islands provide the traveller with a wide choice of contrasting holiday resorts. Here you can discover the full range of holiday choices from exquisite sophisticated marinas, tranquil white washed villages or raucous 24 hour party beach resorts hosting some of Europe's most renowned nightclubs. Balearic Island hotels and accommodation are equally diverse from simple self catering through to 5 star luxury all inclusive hotels.
Holidays to Majorca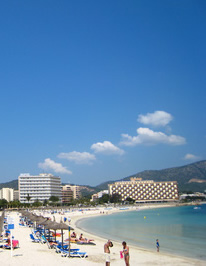 The largest of the Balearic Islands, Majorca attracts more than 8 million visitors each year. Although Majorca may conjour up an image of cheap package holidays this sunny isle offers a diverse landscape spanning the Tramuntana Mountain range, golden sandy beaches, hidden coves, hills of olive groves and citrus trees, picturesque coastal villages, Gothic architecture and modern holiday resorts.
While this holiday island is without doubt a haven for beach lovers, sunbathers, and fun-seekers, it is also an island of diverse history and stylish culture. Nowhere is this more apparent than in the island's main city and capital, Palma. more...
Holidays to Ibiza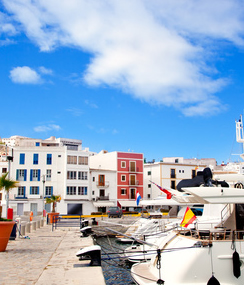 Ibiza is recognised as a paradise for youthful fun-seeking sun worshipers. While it is true that Ibiza is best known for its 24 hours a day party culture, the island is also home to fine white sandy beaches, beautiful architecture, wild countryside, rolling olive groves, wooded hillsides and hidden coves.
Ibiza offers a choice of more than 60 beautiful beaches amongst which the popular beaches of Figueretes, Playa d'en Bossa and pretty pine-fringed sands of Cala Bassa are all noteworthy.Those seeking a quiet escape can head to Es Cana, Cala Llonga or Santa Eulalia, all of which are particularly popular with families and couples. more...
Holidays to Minorca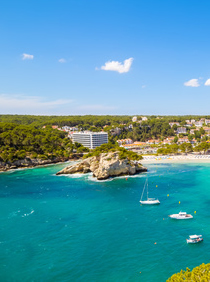 The island of Minorca (Menorca) is ideal for couples and a great choice for family holidays. The island remains a picturesque and almost tranquil holiday destination, the local planners managed to resist the high rise developments that its neighbouring islands fell victim to during the package tour boom of the sixties and seventies and because of that the island has remained largely unspoilt and relatively peaceful.
Holidays to Minorca offer a picturesque setting with glorious beaches and a family-orientated atmosphere. The island is made up of more than 100 beaches, pine forests, rocky outcrops, rolling hills and traditional fishing villages.
Holidays in Minorca are not complete without a visit to the island's capital, Mahon with its 18th-century gin distillery and bustling local markets. One of Mahon's other claims to fame is that it is the site of the world's second deepest natural harbour. more...