Holidays to Laganas
Laganas is located on the south coast of Zante, set around a wide bay. It is the largest resort on the island and is most definitely the liveliest! It has excellent facilities including a superb beach. A Laganas holiday offers guests fantastic measures of sun, sand and sea by day and an amazing party atmosphere by night. Laganas boasts a long fine sandy beach which slopes gently into the clearest of blue seas providing ideal conditions for children and less confident swimmers. Water sports are restricted here because certain areas of the beach attract the protected loggerhead turtles that come to lay their eggs.
Laganas possesses all the necessary ingredients for a fun-filled holiday. It has a long sandy beach backed by bars and taverns providing daylong refreshments. Laganas offers a good range of recreational activities and evening entertainment that continues until dawn. The nightlife in Laganas is very lively and most certainly for those who like to party! The music resounds through the night so it is not the resort to choose if you are looking for a peaceful holiday or have young children.
Laganas has a large number of restaurants and taverns providing a wide range of food to accommodate most tastes. There are establishments serving British fare for the less adventurous palate, burgers for the fast food addicts and even international cuisine such as Chinese and Indian food. After dining it is time to party, Laganas is the party capital of Zante where the many bars, discos and clubs remain open until dawn. Laganas has a good number of shops including supermarkets for essential provisions and a range of tourist and specialist shops selling leather goods, jewellery, ceramics and embroidered linens. Those requiring a greater choice of goods can take the regular bus service to Zante Town.
A Laganas holiday would be incomplete without a trip to Smuggler's cove. It is the most photographed cove in the whole of Greece with its tall cliffs, golden sands and wrecked ship half-buried in the sand. Although it can be viewed from above, the best place to see it is from out at sea. It is also worth taking a trip inland to the picturesque villages with their whitewashed houses and fertile vineyards where the authentic spirit of Greece is found.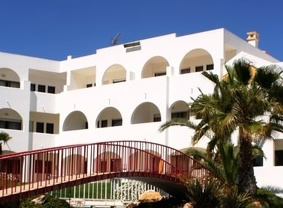 Whether you are looking for a cheap last minute holiday, an all inclusive family hotel or even a luxury 4 or 5 star property, the island of Zante has a wide variety of holiday accommodation to suit everyone. You can find your favourite hotel by using the search facility above or to see our most popular Zante hotels please click; Zante Hotels