Favourite Hotels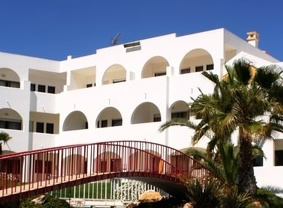 Whether you are looking for a cheap last minute holiday, an all inclusive family hotel or even a luxury 4 or 5 star property, the island of Crete has a wide variety of holiday accommodation to suit everyone. You can find your favourite hotel by using the search facility above or to see our most popular Crete hotels please click; Crete Hotels

Holidays to Elounda
The beautiful resort of Elounda lies at a distance of about 7 km from Agios Nikolaos and around 30 kilometers from Heraklion airport.
It was originally a small fishing village but over the years it has developed in to the most desirable holiday destination in Crete.
The small island of Spinalonga is located in the entrance of Elounda harbour, this island fortress was built by the Venetians in 1579 and with a boat connection around every half an hour from the resort it is definitely worth a visit.
Families and couples are attracted to this resort; the area is home to numerous luxury hotels and quality self catering units, the beach is sandy, considered to be one of the best in Crete and offers a wide range of water sport facilities throughout the summer months.
There are also lots of rocky coves along the shoreline to explore or you can swim or snorkel in the crystal clear waters.
A large and lively Cretan village, its main square is the hub of resort life, lined with shops and tavernas and looking out onto the little harbour. There are plenty of bars shops and restaurants in the resort but the resort is not for the 18-30 crowd.
Most of the hotels here provide live entertainment for their guests if this aspect is important to your holiday please ask us to confirm this at the time of booking.
There are plenty of places to discover during your holiday to Elounda, you could visit the Minoan Palace of Knossos, the Samaria Gorge, the beaches and ruins at Falasarna, the island of Elafonissi, ancient Elefterna, the monastery of Arkadi, the Sasteri Observatory, or why not take a day trip to the island of Santorini? to name just a few!