Sidari Hotels - Check Availability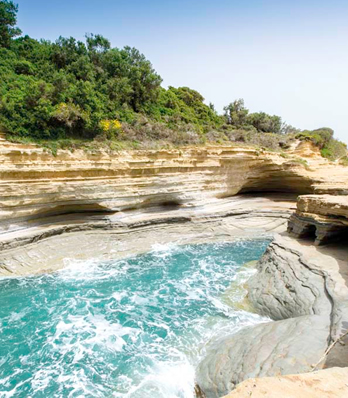 Whether you are looking for a cheap last minute hotel, an all inclusive family hotel or even a luxury 4* property, the resort of Sidari has a wide variety of holiday accommodations to suit everyone. You can find your favourite hotel by using the search facility above or to see our most popular Sidari hotels please Click Here »

Holidays to Sidari
Set on the north coast of Corfu the lively resort of Sidari is approximately 26 miles north of Corfu Town and the airport. The resort has developed from a couple of small fishing villages and has grown into a popular resort that is still growing. A firm favourite with British holidaymakers it has plenty of bars and tavernas, lots of shops and a choice of three beaches. Most bars and tavernas in Sidari offer Greek and British food; however, there are some cafes and restaurants, offering a varied cuisine to suit everyone's taste. Sidari's nightlife is definitely lively there are numerous bars, tavernas, music bars and night clubs.
The beach here is divided into three parts, the main beach is the central stretch, a long sandy bay where the water is remarkably calm and extremely shallow, making this a favourite with children and inexperienced swimmers, water sports are available there. Other Sidari beaches are found near the harbour to the east and the not to be missed lovely coves of the Canal D'Amour to the west. Visitors to Sidari can enjoy walk along the cliffs or explore inland to find quaint, unspoiled Corfu villages.
During your visit to Sidari why not visit the fascinating and historic Corfu Town including a visit to the church of Ayios Spiridon, the island's patron saint. Corfu town is easily reached by bus, along with the resorts of Kassiopi and Agios Stefanos. Other favourite Sidari excursions include the resort of Paleokastritsa and boat trips to the islands of Paxos and Erikoussa, it's also possible to do a day trip to Albania. While in corfu you can see the Achilleion Palace and Corfu Town's Old Fort, and also the Archaeological, Byzantine and Asian Art Museums in Corfu Town. Just to the south of Corfu Town is the beautiful view from Kanoni, and the villa of Mon Repos now home to the Museum of Palaiopolis. In the north of Corfu is the island's highest point, Mount Pantokrator, and the drive up here is one of the best things to do on Corfu, if you would like a car hire quote please call the number above.
Need a hand?
Can't find what you're looking for?
Need some help or advice?
Give us a call on 0800 849 1285
to speak to one of our team