Holidays to Paleokastritsa
Paleokastritsa has it all and is said to be one of the most scenic spots in the whole of Greece. The resort consists of six picturesque bays with sparkling turquoise waters, backed by sheer cliffs that are covered in greenery. On its shoreline, the cool crystal waters are ideal for swimming and water sports. The resort hosts a wide range of amenities for young and old alike and has a fine selection of restaurants and is highly regarded for the locally caught fresh lobster. Known by many simply as Paleo, the resort is a great choice for a relaxed family holiday.
On the right side of the main beach of Paleokastritsa, a road leads to the world famous Monastery built on the top of a cliff in the most idyllic setting - renowned for its beauty and magnificent scenic outlook. Daily visitors both local and from overseas come to enjoy the spectacular beauty of the resort area's scenery. The beach consists of fine pebble and is famous for its clear water and striking blue-green colours. In fact Paleokastritsa is set in one of a string of six spectacularly si tuated coves, here the rocks provide a haven for diving enthusiasts and Snorkeling in the clear waters is unsurprisingly a popular holiday activity here.
The resort has been a favourite with British holidaymakers for many years there are tavernas and accommodations scattered around the resort, many in excellent locations. Paleokastritsa is not for those seeking lots of lively nightlife but there are plenty of tavernas, bars and pubs to keep you busy if you wish.

In addition to the beach and water sports, there are plenty of sights to see on your Paleokastritsa holiday, including the ruins of ancient monasteries and castles dating from the seventeenth century. In addition to the wonderful local and beautiful scenery it's not far to the two thousand five hundred acre of mountainous terrain known as Ropa Valley located a short drive away from Paleokastritsa, and well worth a trip for nature lovers.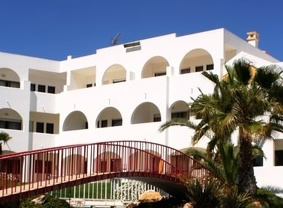 Whether you are looking for a cheap last minute holiday, an all inclusive family hotel or even a luxury 4 or 5 star property, the island of Corfu has a wide variety of holiday accommodation to suit everyone. You can find your favourite hotel by using the search facility above or to see our most popular Corfu hotels please click; Corfu Hotels
Paleokastritsa - Google Maps