Corfu Hotels
Travel Empire has a wide selection of hotels and apartments in Corfu, listed below are a selection of our clients favourite accommodation. You can search for any of the resorts hotels and apartments in the search box or if you prefer you can contact our reservations department on 01226 345381 or click for a quote by email.
Corfu Holiday Palace ***** Kanoni Corfu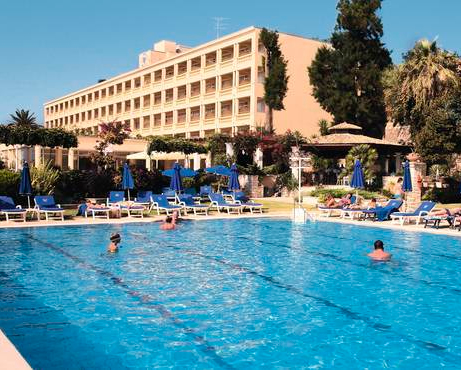 A lovely hotel, situated on the beach in Kanoni, the Corfu Holiday Palace enjoys a superb location with outstanding views and a host of facilities to keep you and your family busy, relaxed and refreshed throughout your stay. Golf fans can enjoy special discounts on fees and tennis enthusiasts can enjoy private lessons here at the Corfu Holiday Palace. Located in Kanoni, 4km from Corfu town and 4 km from the airport, the location is one of outstanding beauty with elevated panoramic views of the Ionian sea. Check Availability »
Roda Beach Resort Spa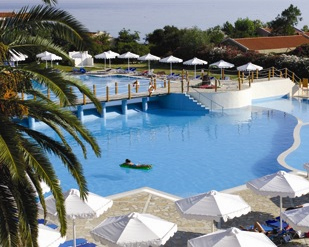 The Roda Beach Resort & Spa overlooks the tranquil Roda Bay on Corfu's north-eastern shoreline. This is an All Inclusive resort making a luxury family holiday even more affordable. The officially 4* Mitsis Roda Beach Resort & Spa is set amidst 25-acres of colourful gardens that lead down to the sandy beach and the turquoise Ionian Sea. The magnificent location is complemented by good food and entertainment and bright and spacious guest accommodation. The hotel has also added a beach bar, an Italian and a Chinese restaurant. Getting to the hotel: Check Availability »
Kontokali Bay ***** Kontokali Corfu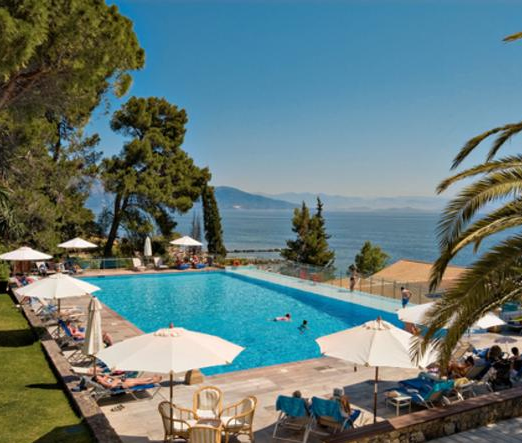 Kontokali Bay Resort & Spa is a fabulous hotel bungalow complex on the central eastern shoreline of the emerald Isle of Corfu. This charming hotel is located just 6 km from Corfu town. This hotel underwent an extensive multi-million euro renovation in 2006/2007 which reflects in its luxurious appeareance, accommodation and comforts you would expect from a 5 star hotel. This hotel was built on a densely wooded peninsula, on a gentle natural incline. This property overlooks the picturesque waters of the Lonian and the largest yacht marina in Corfu. Check Availability »
MarBella Corfu ***** Agios Ionnis Peristeron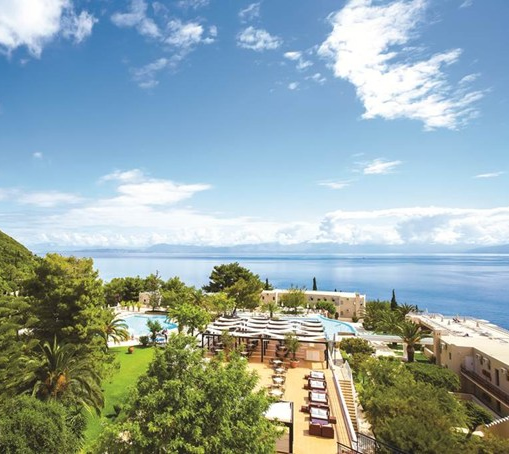 The 5-star Marbella Corfu Hotel is situated on the south-east coastline of the Greek Island of Corfu at Agios Ioannis Peristeron, set in lush landscaped gardens. Offering an All inclusive option, the Marbella Beach Hotel offers an inviting choice of double, triple, family rooms and suites spread across the beautiful gardens in cluster buildings overlooking the Ionian Sea. You can wine and dine in two great restaurants, refresh at the beach restaurant on the organized beach, exercise in the gym and revitalise at the well-equipped spa. Children are also spoiled with 2 pools and a Kid's Club. Check Availability »
More Corfu hotels...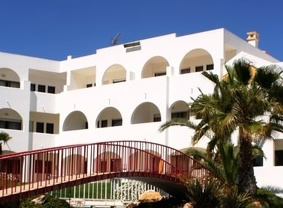 Looking for more hotels in Corfu?
Please use the online search, and type in the name of your favourite hotel.
Alternatively give our team a call on 0800 849 1285
*Please note the star ratings shown may not be the official rating of the hotel but on occasion may represent our own rating or that of our supplier.
Need a hand?
Can't find what you're looking for?
Need some help or advice?
Give us a call on 0800 849 1285
to speak to one of our team