Holidays to Playa Blanca
Playa Blanca holidays can be enjoyed in the sunny south of Lanzarote, the resort is the fastest growing holiday destination on the island. This pleasant town has been developed quite sympathetically from the tiny fishing village it was originally in to the attractive resort it is today. A holiday in Playa Blanca is a good choice for couples and great for family holidays. Holidays to Playa Blanca are truly memorable, it is a great destination with many popular features and has retained much of its traditional charm. Playa Blanca has a number of great beaches that are particularly popular with families for their gently sloping sands and safe waters, the small sandy town beach has views of the port and set either side of the port are the picturesque Playa Dorada beach offering a variety of water sports and the equally appealing Playa Flamingo beach. In addition to the resort's beaches and set just outside Playa Blanca is Lanzarote's best beach the stunning Papagayo beach.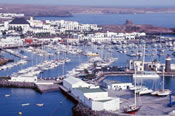 A picturesque promenade runs the length of the beach front and is lined with bars and restaurants. Visitors can enjoy refreshing drinks on the terraces and enjoy spectacular sea views. The new Marina Rubicon is great place for a stroll and a popular place for shoppers with the local market setting up their stalls a couple of times a week amid the chic boutiques and shops. Evenings are also a good time to visit the Marina area as there are several good restaurants and bars.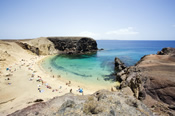 Holidays to Playa Blanca offer a good choice of nightlife, but holiday makers who prefer a lively scene with all-night drinking and dancing may prefer the resorts of Costa Teguise or the island's liveliest resort Puerto del Carmen. If you are looking for luxury accommodation then you will have no problem here, Playa Blanca hotels are some of the finest in the Canary islands, there are several top class hotels here with 4 star plus and 5 star deluxe ratings, these quality hotels feature board arrangements from bed and breakfast and half board to all inclusive.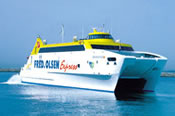 Holidays to Playa Blanca aren't just about lazing on the lovely beaches there are plenty of things to do and it has easy connections with the rest of the island, due to the efficient local buses. Ferries also depart from Playa Blanca providing an efficient service across to the neighbouring island of Fuerteventura, this regular service takes around 25 minutes to the popular seaside resort of Corralejo. There are a range of excursions available, you can take a camel ride in the Timanfaya National Park, home to more than 100 volcanoes, visit the Cave of Los Verdes formed over 3000 years ago, see the Cactus Garden with around a 1000 species of cactus, the volcanic crater of El Golfo with its green lagoon and Los Hervideros with its combination of caves and crashing waters. So if you are taking a short break in Playa Blanca or long package holiday in Playa Blanca leave some time to explore this facinating destination.

For excursions and things to do click Lanzarote to see more information.