Holidays to Lanzarote
Lanzarote is a holiday destination that has something for everyone, the island caters for singles and couples and yet it is an ideal choice for a memorable family holiday. Lanzarote holidays can be as diverse as its resorts, from quiet sophistication to fun packed days and nights. A major attraction is the island's tropical temperature, its blue skies are a feature virtually all year round so no wonder that Lanzarote holidays are also popular even in the winter months. Ample accommodation to suit everyone from modest self catering to stunning 5 star hotels are available here and with convenient flights from all major airports there is no surprise that Lanzarote holidays remain a firm favourite with visitors from the UK.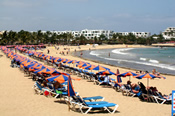 Holidays to Costa Teguise start with a convenient taxi transfer of only 20 minutes from Arrecife airport, this modern beach resort lies on the coast in the central part of Lanzarote. Costa Teguise is purpose built, with a only a few older buildings and provides a good base for your Lanzarote holiday. The resort's central location make it an ideal location from which to explore the islands other tourist and cultural attractions, including nearby Arrecife and the northern fishing villages of Arrieta and Orzola. The resort has an enviable variety of accommodation and a wide choice of restaurants, bars, cafes, shops and night-life. more...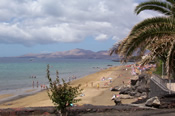 Puerto Del Carmen lies on the southeast coast of Lanzarote only 15 to 20 minutes from Arrecife Airport and is the largest and liveliest resort on the island. Set below a range of steep hills the resort benefits from a super year-round climate. In addition to the wonderful climate holidays in Puerto del Carmen have remained popular over the years because of several factors, an excellent beach-life with the resort's long sandy beach and its facilities, the busy nightlife and the availability of good value self catering accommodation as well as a choice of hotels up to 4 star standard. more..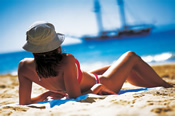 Playa de los Pocillos is a fairly low key resort located between Lanzarote's liveliest holiday spot, Puerto del Carmen and its recently developed sister resort of Matagorda. A major plus for the resort is that it only takes a convenient 10 minute taxi ride to cover the 5 miles distance from Arrecife airport to your holiday hotel or apartment. Los Pocillos itself lines the wide sweeping beach, one of the largest on the island of Lanzarote. The resort is home to a cross section of quality hotel accommodation with choice of board arrangements from Bed and Breakfast to All-Inclusive. more...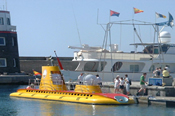 The chic resort of Puerto Calero lies to the south of Puerto del Carmen on the east coast of Lanzarote and around 20 Kilometres from Arrecife airport. The focal point of this exclusive resort is the yachting marina with its promenade of restaurants and swish boutiques. This relatively new resort does not have a beach, the nearest is at Puerto del Carmen but it does have two quality hotels of 4 and 5 star ratings both with large swimming pools and ample sunbathing areas. more...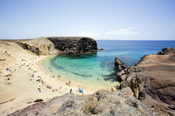 Playa Blanca is situated in the south of Lanzarote and is the fastest growing holiday resort on the island. This pleasant town has been developed quite sympathetically from the tiny fishing village it was originally into the attractive resort it is today. A holiday in Playa Blanca is a good choice for couples and great for family holidays, as a holiday destination it has many popular features and has retained much of its traditional charm. Playa Blanca has a number of great beaches that are particularly popular with families for their gently sloping sands and safe waters, the small sandy town beach has views of the port and set either side of the port are the picturesque Playa Dorada beach offering a variety of water sports and the equally appealing Playa Flamingo beach. In addition to the resort's beaches and set just outside Playa Blanca is Lanzarote's best beach the stunning Papagayo beach. more...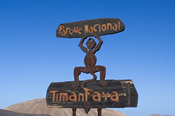 Excursions and things to do in Lanzarote...
Holidays to Lanzarote have plenty to offer the visitor, with great sites to see both man-made and geographical. There are every type of water sports, horse riding, camel rides, boat trips, fishing, submarine dives, jeep safaris and a multitude of activities to keep the most active of holiday makers happy.

Listed below are the favourite things that our customers have most enjoyed most whilst holidaying on the island in recent years.

1) The Timanfaya National Park ~ Fire Mountain, See the islands (active) volcanoes of the Timanfaya Park, here you will see the fantastic almost lunar landscape of the park which covers almost a ¼ of the island. Try out a camel ride while you are here!
2) The Jameos del Agua ~ This is an amazing cave formation and underground entertainment complex built into the volcanic rock.
3) Catlanza ~ This is a fun excursion, sail by catamaran from Puerto Calero down to the Papagayo beach area. Lunch on board and snorkeling and swimming stops make this a popular and memorable trip.
4) Cesar Manrique foundation ~ Cesar Manrique Museum, was once the home of the artist and stands as one of the artist's most impressive examples of landscape-related architecture.
5) Teguise Market ~ This popular Sunday market is held in the normally quiet inland town of Teguise. Local arts and crafts plus a wide variety of goods are available for bargain hunters.
6) Arrecife & Castles ~ A visit to the islands capital is well worth the visit plus a chance to check out a couple of castles while you are there, the Castillo de San Jose home to the modern art museum and the Castillo de San Gabriel which hosts the archaeology museum.
7) Water Park ~ If you need to keep the kids happy the Aguapark situated in Costa Teguise is a great choice for that family day out.
8 The Mirador del Rio ~ Another example of Manrique's work; this is a lookout point at the northern tip of the island. The artist created an opening in the top of the mountain then built a restaurant from which the incredible views on offer of seascape and the islands of La Graciosa and Montaña Clara will take your breath away!
9) Take the ferry to Fuerteventura and have a day exploring Corralejo and its wonderful beaches.
10) Wander around Marina Rubicon- Visit Playa Blanca especially on market days, then chill with a cocktail overlooking the yachts and sailing boats.