Holidays to Ibiza
Ibiza is recognised as a paradise for youthful fun-seeking sun worshipers. While it is true that Ibiza is best known for its amazing party culture, the island is also home to fine white sandy beaches, beautiful architecture, wild countryside, rolling olive groves, wooded hillsides and hidden coves. Ibiza offers a choice of more than 60 beautiful beaches amongst which the popular beaches of Figueretes, Playa d'en Bossa and pretty pine-fringed sands of Cala Bassa are noteworthy. Those seeking a quiet escape can head to Es Cana, Cala Llonga or Santa Eulalia, all of which are particularly popular with families and couples. The island has an enchanting allure that has brought generations under its spell from the hippies of the sixties right up today, one visit to Ibiza can start a lifetime affair with this very special place.
Cala Llonga is situated along the coast between Santa Eulalia and Ibiza Town. The resort is around 30 to 40 minutes from Ibiza airport. Cala Llonga boasts a 200-metre Blue Flag beach that is perfect for families and couples alike. The beach provides excellent snorkeling opportunities and is often used as an anchorage for yachts and boats. There are no shortage of amenities nearby with a good selection of shops, supermarkets, restaurants and bars. more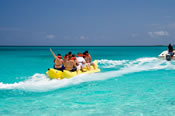 Ibiza Resorts - Es Cana
Es Cana is a great choice of resort to suit the whole family there are beautiful golden sandy beaches where children can play safely all day. There is also a wide variety of bars, live entertainment, cafes, restaurants and holiday accommodation. This resort is also quite popular with golfers and has golf clubs with great facilities. The water sports in Es Cana offer choice and thrills, ranging from windsurfing to banana boat rides there is certainly not a lack of beach activity. If you need a break from the beach and sunbed then you could try a sightseeing trip to nearby Ibiza Town more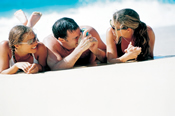 Playa d'en Bossa is one of the most popular resorts on Ibiza. Beach lovers appreciate the cleanliness and fantastic water sports facilities available here on the island's longest beach. Singles love it for the great clubs, its lively vibe and myriad of bars and night-time entertainment. Families love it for the beautiful and very long sandy beach with safe, supervised bathing and a great variety of family entertainment, in short, whatever type of holiday you are looking for, you can be pretty sure to find it here in Playa d'en Bossa. more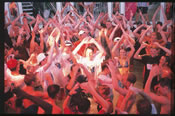 If you are looking for a lively 24 hours a day party holiday then San Antonio is for you!. The resort is the liveliest on the island of Ibiza and a firm favourite with the British tourists that like, round-the-clock fun, spectacular sunsets, and legendary nightlife. During the peak summer months, San Antonio is inundated with young British fun-seekers who are attracted to the rocking nightlife, but either side of July and August, the resort sees more of an influx of families and couples seeking a fun holiday with plenty of amenities. more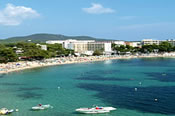 Santa Eulalia is the third largest resort in Ibiza and is approximately 21kms from the airport. It is a great destination for families and those seeking a quieter holiday. There is a lovely promenade that is lined with palm trees that runs adjacent to the wide sandy beach. The resort has some excellent quality hotels and apartments in and around the town itself. The beautiful beach in Santa Eulalia has a number of water sports available on the beach, including; jet skis and banana boats. more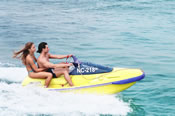 Excursions and things to do in Ibiza...
Holidays to Ibiza have plenty to offer the visitor, with great sites to see both geographical and man-made. There are every type of water-sports, horse riding, boat trips, golf courses, sea fishing, submarine dives, jeep safaris and a multitude of activities to keep the most active of holiday makers happy. Ibiza's rich historical past provides endless opportunities to see architecture, visit museums, and amazing archeology. Our customers have recommended an island tour or car hire to see the amazing scenery that Ibiza has to offer. Don't miss the Castle of Ibiza, (Dalt Vila) Es Vedera or the Hippy Market!